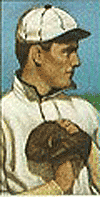 The ultimate collectible baseball card, a T-206 Honus Wagner in 4 VG-EX , was sold privately for $325,000 by SportsCards Plus of Laguna Niguel, CA. The buyer, whose identity was at first unknown, turned out to be Pacific CEO Mike Cramer who purchased the card to complete his T-206 set.
The PSA-graded Wagner card was significant according to SportsCards Plus President David Kohler, who commented, " We have handled four Wagners here at SportsCards Plus but, as with the majority of the other Wagners that exist in the hobby, the condition is usually atrocious from overhandling," explains Kohler, "This PSA example was very clean with bold colors, and was, without a doubt, one of the finest in the hobby. In fact, at the time this card was graded, it ranked as the second best Wagner ever to grade at PSA."
Currently, this Wagner example ranks third in the PSA Population Report behind a PSA 5 and the famous PSA 8 Wagner. This card also ranks high in another area. At $325,000, the price realized, is the second highest for a PSA graded sportscard. The highest price ever paid for a PSA graded card was $640,000 for a Wagner in PSA 8, a few years ago.
"It is rumored that there are only 50 Wagners that exist in the world, and when you have the chance to handle one of this quality, it's really special," explains Kohler.