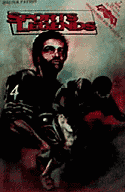 Elusive Hero Walter Payton
Walter Payton could be as elusive off the field as he was on it.
The late, great hall-of-famer, who succumbed to liver cancer last week at the age of 45, was a paradox to collectors, fans, media -- even his teammates.
He was always willing to sign an autograph when approached, even after a game, yet he regularly avoided large card and collectible shows that were held regularly around his suburban home in Chicago.
He shunned the spotlight when he was a player, and yet he made regular radio and TV appearances both during and after his career. Payton valued his privacy, particularly for his wife and two children (one of whom is a promising running back for the University of Miami football team), and yet he had a popular restaurant in Chicago's suburbs and could be seen there frequently, both when he was a player, and after his retirement.
The most telling moment of Payton's career, the day he broke Jim Brown's rushing record at Soldier Field against the New Orleans Saints in October, 1984, probably summed up his personality the best.
"He didn't want the game stopped. He said a public address announcement would be fine," recalls Rich Hofmann of the Philadelphia Daily News. "In a world that values superlatives, Payton wasn't the biggest and he wasn't the fastest and he would tell you he wasn't the best, that Brown was."
It's hard to imagine other sports superstars not cashing in on that kind of fame or accomplishment. It would be similar to dreaming that Pete Rose, after breaking Ty Cobb's record, didn't want the game stopped and didn't start hawking his own memorabilia right afterwards. Or Michael Jordan setting another NBA scoring mark and not having that fact used to become attached to another breakfast cereal or athletic shoe.
Payton was an anachronism. He played in the 70's and 80's when the National Football League was becoming America's sport. TV ratings were huge, he played in a big market city and his exploits were easy to follow. He could have cashed in on some huge endorsement and memorabilia dollars but opted to be very selective. The hard-hitting Payton didn't want the fame and celebrity that many of his colleagues and teammates would strive for; he was happy to be playing the game that he loved.
The ultimate irony of Payton's life, is that his career highlights all occurred before 1985 when he was a member of the most visible NFL team in history. Yet Payton wasn't the dominant personality on that team.
The Super Bowl champions of that year were a collectors' dream: Jim McMahon, the punky QB, William "the refrigerator" Perry (who had so much memorabilia that it eventually devalued his marketability); Willie Gault, the wide receiver who was also a track star and bobsled competitor; Steve "Mongo" McMichael, who was later transformed into a pro wrestler after his playing days, and Mike Singletary, possibly one of the best linebackers of his era.
Payton avoided many media opportunities that would have increased his value in the business place. He sidestepped the media the way he would an onrushing linebacker. He liked the media, he just didn't see why it was necessary to promote himself.
His single-game rushing mark of 275 yards was set eight years before 1985; his personal single-season rushing mark was set before 1985 as were some of his best years scoring touchdowns. Payton was just one element of that 1985 team. He suffered a personal, bitter disappointment when it was Perry, rather than himself, who was allowed to score one of the final touchdowns in the Super Bowl rout of the New England Patriots.
One of Payton's No. 34 jerseys once brought $5,000 at an auction after he retired in 1987. He authorized it because it was for charity. Afterwards, he couldn't understand what the fuss was about and why someone would pay so much for something like that. It is partly why Payton memorabilia may be relatively scarce and therefore more valuable to collectors.
Payton's career rushing mark will fall. Barry Sanders would have broken it this year or next, had he not retired. Other Payton accomplishments will fade. His low-profile personality will contribute to that fact. But we shouldn't forget that Payton was a champion until his final day. That will be his legacy, and the reason we will remember him in years to come.
Randy Minkoff is a former reporter, writer, editor and author, with more than three decades of journalism experience and a unique combination of both print and broadcasting.
For nine years, Minkoff anchored sports reports for WGN Radio, Chicago. He hosted weekend Sports Central shows and Cubs and Bears programs. He served as play-by-play announcer with the legendary Ray Meyer on DePaul basketball broadcasts. He has also served as program host on all-news WBBM Radio.
Prior to his role at WGN, he spent nearly 20 years with United Press International, including a decade as the Midwest Sports Editor in Chicago. He has covered the Olympics, numerous Super Bowls, the Final Four, the World Series, and other major events. He has also served as state news editor of the UPI bureaus Iowa and Kentucky. He has interviewed thousands of personalities and newsmakers and has won several regional awards for outstanding reporting.
As a writer, Minkoff is a regular contributor to the Chicago Tribune, Chicago Magazine, and Crain's Chicago Business. He has been syndicated nationally as a radio/tv critic and has also written a weekly column for the Daily Herald. He is the author of Ron Santo; For Love of Ivy, the biography of the former Cub third baseman and his battle against diabetes. A native of St. Louis, Mo., he is a graduate of Drake University School of Journalism.