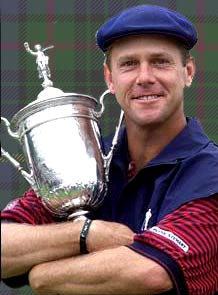 MINA, South Dakota -- Payne Stewart, on his way to play THE TOUR Championship in Houston, died on a mysterious flight that ended in a crash in a marshy South Dakota pasture Monday afternoon, four hours after taking off from Orlando enroute to Texas. Investigators believe that depressurization may have killed the popular golfer along with three other passengers and two pilots.
Stewart, known for his trademark tam-o-shanter and knickers was ranked third in this year's PGA earnings and two U.S. Open championships, his final win, perhaps his finest moment, occurred at Pinehurst, North Carolina for this year's U.S. Open in June.
The Missouri native who turned pro in 1979, won his first PGA TOUR victory in 1982 and struggled for several years, winning occasional tournaments, until he experienced a personal transformation which led to this year's Pebble Beach Pro-Am win, the U.S. Open win and a spot on the U.S. Ryder Cup team, which came from behind to win the championship, many say due to his indomitable spirit. Being a team member in the Ryder Cup had been his principal goal this year, never having a spot in previous years.
The colorful 42 year old player with an elegant swing, Stewart was feisty and outspoken. His best finish on the PGA TOUR money list was in 1989, when he ended the season in second place. He was headed into this week's Chamions Golf Club for a tournament worth more than $2 million. PGA officials said his spot in THE TOUR Championship for the top 30 on the money list this year will not be filled. A blue ribbon was tied to his nameplate on the parking space that awaited his arrival at the Champions Golf Club in Houston.
Two Air Force f-15s from Eglin Air Force Base, Florida intercepted Stewart's Learjet shortly after aircraft controllers lost contact with it, following it to Missouri where four Air National Guard F-16s based in Fargo, North Dakota took over the escort mission. Pilots reported that the crew was "non-responsive" and that the cockpit windows were obscured by frost or condensation, an indication that the craft may have experienced depressurization.
"It's a very helpless feeling to pull up alngside another aircraft and realize the people inside that aircraft potentially are unconscious or in some other way incapacitated," commented Air Force Capt. Chris Hamilton whose F-16 caught up with the Learjet over Memphis, Tennessee, "And there's nothing I can do physically from my aircraft -- even though I'm 50 to 100 feet away -- to help them at all."
The doomed jet flew as high as 48,000 feet. Planes flying above 12,000 feet are pressurized because the air is too thin for passengers to be able to breathe comfortably. At that altitude, a pressurization problem would cause all aboard to lose consciousness, or in the case of a sudden depressurization, perish in seconds from hypoxia, or oxygen deficiency.
"This is a tremendous loss for the entire golfing community and all of sports. He will always be remembered as a very special competitor and one who contirbuted enormously to the positive image of professional golf," PGA Tour Commissioner Tim Finchem said.
Those aboard the aircraft besides Stewart, included golf-course designer Bruce Borland and two officers from the firm that chartered the jet, Leader Enterprises, Robert Fraley and Van Ardan, who acted as agents for the golfer. The two pilots were identified as Michael Kling, 43, and Stephanie Bellegarrigue, 27.
Stewart is survived by his wife, Tracey, mother, Bee, and two children Chelsea, 13, and Aaron, 10. For collectors seeking items honoring Payne Stewart's legacy, we recommend that you read our PSA/DNA report on Stewart's Authentic Autograph, before you purchase memorabilia signed by the late golfer.