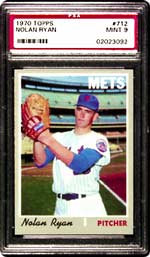 NEWPORT BEACH, CALIF. -- One of the most popular players of all time, Hall of famer Nolan Ryan, will be featured in the Collectors Universe Superior Auction October 27-28, along with a Gallery of Legends, all-time greats from baseball, football, basketball and hockey.
The first pitcher to pitch no hitters in three different decades with three different teams, Ryan's career strikeout record may never be beaten, especially since he played longer than any other pitcher: 27 years. Ryan's Major League pitching records, include the most career strikeouts (5,714), most no-hitters (7), most complete games with one hit or less (19), most 300 strikeout seasons (6), most 200 strikeout seasons (15), most 100 strikeout seasons (24), most games with 15 or more strikeouts (26), most games with 10 or more strikeouts (215), and most strikeouts in a single season (383).
The "Ryan Express" never slowed down as he became the only pitcher to strike out 16 or more batters after the age of 40, which he did three times. Ryan was the first major leaguer to strike out nineteen men in a nine-inning game (Aug. 12, 1974) and still holds the modern Major League record for most strikeouts in three straight games (47).
Fathers who had been struck out by Ryan later saw their sons suffer the same fate, including Bobby and Barry Bonds, Maury & Bump Wills, both Ken Griffey Jr. and Sr. (to read more about Ken Griffey in collectible news, Click Here) and Sandy Alomar who had two sons, Roberto and Sandy Jr. strike out against the pitching powerhouse.
Twenty of the best Ryan cards will be offered in the Superior auction, including a 1968 Topps Mets Rookie Stars #177 in PSA Mint 9, featuring the young Ryan and Mets teammate Jerry Koosman. PSA has graded none higher. Ryan's Game Used 300th Victory ball (lot1305) is also being offered, complete with letter of authenticy signed by the home plate umpire of that game, Al Clark.
Other Ryan cards include a 1969 Topps #533, Ryan's first solo appearance on a card; a 1970 Topps #712, 1972 Topps #595, 1973 Topps #220, 1974 Topps #20, 1975 Topps #500, 1976 Topps #330 and a 1977 Topps #650, all graded PSA Mint 9. A 1971 Topps #513 in PSA NM-MT 8 completes the series spanning the first decade of the unbeatable pitcher's career while he played with the Mets and later the Angels. A 1984 Donruss Nolan Ryan #60 in Mint 9 is also being offered. Savvy collectors might also want to consider a 1968 O-Pee-Chee Mets Rookies #177 PSA NM 7 which are less available and look the same as the '68 Topps #177.
To view the best of the Ryan lots, click on Superior-pg. 18, and look for more Ryan cards on, Superior-pg. 17.
The Gallery of Legends (lots 1-71), mostly graded PSA Mint 9, can be viewed by clicking on Legends, which will take you to the first page of the 71 lots in that section.
Other Lots of Interest:
Bidding begins on Wednesday, October 27th at 9:00 a.m. PST and ends at 7:00 p.m.on Thursday October 28th. To bid on these and other exciting items, please contact the Collectors Universe Superior Auction team today to update or set up your account and to receive your password for online bidding. E-mail us at [email protected] or contact us at 800-325-1121.
For more information about these exciting sports collectibles, you can also read, Ultimate American Heroes Highlight Superior's October Sports Auction.