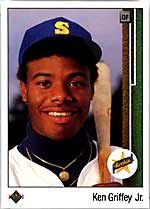 Is it Grant Hill or Kevin Garnett? How about Kobe Bryant or Tim Duncan? Sports fans have been debating for quite some time now - who will be the heir to Jordan's throne? My input is this:
No basketball player in our lifetime will equal the accomplishments or be as talented as Michael Jordan. Even if there is some life form out there that could come even close, the chances of him being embraced by sports fans, the media, and the entire universe the way that Jordan was is certainly minuscule.
But don't give up yet! There is another athlete, who is nearing world recognition. An athlete who could surpass numerous records that many thought were unbreakable. Folks, forget about finding another hoopster to replace MJ - it will never happen. But beware - Ken Griffey, Jr. is ready to take over as the athlete of the 21st Century.
His likeable personality, overall marketability unparalleled skills, and Jordan's retirement have thrust Griffey into a realm of stratospheric stardom. At only 29 years of age, it is almost assumed that Griffey will break Hank Aaron's mammoth record of 755 career home runs, a record that he didn't reached until the age of 42. Even more impressive than his assault on Aaron's record is Griffey's all-around talent; he steals bases, has strung together a nice collection of Gold Gloves, and is free of any holes in his game.
When the youth of today matures, Michael Jordan will be "some guy on the old highlight films that my dad said was the best basketball player ever." Meanwhile, they will to turn to collecting Griffey memorabilia, and eventually pass down stories about this legendary American icon that changed baseball and even American life.
Sure, it might be a stretch to look this far into the future and call Griffey the greatest baseball player ever, but when looking at his numbers, it really could happen. Take a look at how Griffey compares to Hank Aaron, when his numbers are projected to equal Hank's career at bats (Griffey's projections are based on numbers through 8118/99). The numbers in parenthesis are theoretical ranks, assuming that Griffey reaches projected totals and no other players pass these two in the meantime:


Comparing Aaron Against Griffey's Projected Future Stats

AARON
--
GRIFFEY
--
At Bats
12,364
(2)
12,364
(2)
Runs
2,174
(3)
2,257
(1)
Hits
3,771
(3)
3,720
(4)
Doubles
624
(10)
681
(5)
Home Runs
755
(2)
842
(1)
Runs Batted In
2,297
(2)
2,436
(1)
Stolen Bases
240
(<100)
357
(84)
Maybe Griffey will reach these numbers, maybe he won't. Maybe he should retire before his numbers begin to slip with age - to ensure his legend. Maybe he will be the greatest ever, maybe he won't. One thing is for sure though; there is no maybe as to which athlete will lead sports into the new millennium.
Michael Jordan has moved on from sports, although he will live eternally in record books and legend.
Ken Griffey has now assumed Jordan's role as the leader of sports and the king of cards.


Griffey Rookies - by the Numbers:

ISSUE
9
10
SMR Oct. '99
#of l0s
% of total population
1989 Score Young Superstars
$60
$375
$550+
46
22.9%
1989 ToppsTradedTiffany
$300
$1,450
$1500+
76
17.8%
1989 Scoremasters
$40
$275
$275
33
11.1%
1989 Topps Debut
$40
$325
$325
83
5.4%
1989 Score Traded
$65
$425
$425
367
4.8%
1989 Topps Traded
$35
$325
$300
719
4.6%
1989 Upper Deck
$280
$1,750
1900+
506
3.1%
1989 Bowman
$50
$1,100
$1150+
94
2.7%
1989 Donruss Baseball's Best
$65
$1,500
$1700+
4
2.0%
1989 Bowman Tiffany
$625
$2,500
4000+
2
1.0%
1989 Donruss Rookies
$60
$1,500
$1700+
8
0.9%
1989 Fleer
$60
$950
900
52
0.7%
1989 Fleer Glossy
$225
$1,200
3500+
1
0.5%
1989 Donruss
$70
1,500
1800+
9
0.2%
'According to Spring '99 Pop Report