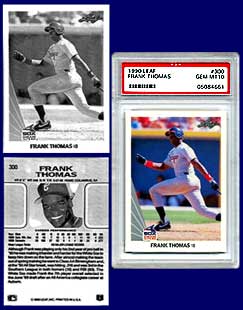 Frank Thomas is one of the biggest stars in the American League, with power, a high batting average, and great defensive skills. He's an important member of the 'Good Guys,' as the Chicago White Sox are often called, and interest in his rookie card from Leaf has pushed it to the second highest price in the set, behind only the rookie card of Sammy Sosa.

The card shown here is a dangerous counterfeit, with only a few minor errors in evidence. Here are the things to look for when authenticating this issue.

The "Chicago White Sox" logo near Thomas's left foot is dot matrix and fuzzy, while genuine cards are crisp and solid in this area.
The 'Leaf' logo in the upper right-hand corner of the obverse should be gray with a little bit of white in evidence, while this fake is sold black.
The reverse trademarks on the bottom of the card are not sharp. On genuine examples, they are well defined and clear.
The paper used on this fake is too thin when compared to the genuine article.
The reverse lettering is thicker and not as crisp as on genuine examples. In addition, there is minor 'bleeding' from the some of the letters on this fake, which is not a problem found on authentic cards of this issue.
PSA is receiving more and more counterfeit cards from the modern era as values of these cards continue to rise. Be certain to have any and all cards of value graded and authenticated by your Friends at PSA.

In the following weeks, we will present information about identifying authentic cards to help collectors determine the value of their collections. PSA grading and authentic expert Mike Baker and other expert PSA graders will take an in-depth look at an altered or counterfeit card in each article. If you would like to see an article about a specific card of questionable authenticity, write to [email protected].