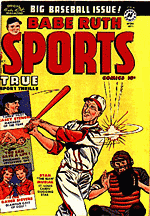 Most sports comics were slanted toward juvenile males, boys of all ages. Some publishers made patent attempts to develop "clean and wholesome" periodicals for this audience. Numbered in this camp were publishers like Star, Charlton, Dell, and Harvey.
Advertisers were attracted to this demographic. Ads for contests, money-making schemes, stamp collecting, body building, hypnotizing and fireworks predominated.
Consumer goods were skewed towards this youthful audience, too. Brands included Monark, Shelby, Roadmaster and Schwinn bikes, Aurora model kits, Lionel electric trains, Popsicles, Fudgsicles, Creamsicles, Dreamsicles, Daisy air rifles and Fleer Dubble Bubble gum. Frequently the products were endorsed by the leading sports stars of the day.
Celebrity endorsements were integral to the marketing of sports comics, too. Trading on the "name" athletes was good for the publisher and good for the ball player also, who shared royalties from sales.
As the voice of the perennially popular New York Yankees, Standard Comics hoped Mel Allen's endorsement would provide a winner. Allen was more than figurehead on this title. Although fare was standard fiction for the genre, the comic also offered a true illustrated feature with Allen as narrator, a civic lesson with Allen as teacher and sports trivia.
Mel Allen Sports Comics ran only two issues, November 1949 and June 1950. Collectors should note, however, that the two issues bear cover numbers 5 and 6. The first issue is worth $100 or more, the second issue about half as much.
Publisher Ziff Davis also attempted to fill the true-to-life void. In the early '50s, it launched several titles with realistic sports stories.
Celebrity endorsements were a key marketing element in the publisher's strategy. Its Baseball Thrills was "edited" by Bob Feller. Red Grange "edited" the companion, Football Thrills. These issues are worth $100 or more. Popular sports caster Bill Stern narrated the stories in his Sports Book. The Stern title is worth $50 or more for each of its three issues.
Stern's comic featured the golden-throated sports broadcaster. As a character in his comic, he narrated a diverse array of true-life biographies. Each was well-told and well-illustrated, but after two issues Ziff pulled Stern's plug and the company pulled out of the market.
The most outstanding of the endorsed titles featured the "King of Swat," himself, Babe Ruth. Harvey Publications launched its Babe Ruth Sports Comics in April 1949, shortly after the Babe's death. The title featured "true stories of famous athletes." The comic was billed as the "official" magazine of the most popular ball player of all time, the Babe.
Each cover sported Babe's mug and facsimile signature with a well-conceived sports action drawing. The Babe persona provided playing tips. The periodical's stories were detailed and diverse. Subjects read like a "who's who" of its day.
Joe DiMaggio, Ben Hogan, Bob Mathias, Bob Feller, Pancho Gonzales, Sid Luckman, George Mikan, Maurice Richard, Rocky Graziano, Sugar Ray Robinson, Yogi Berra, Stan Musial, Casey Stengel, Jake LaMotta, Glenn Davis, and Kyle Rote all were featured.
The series ran eleven issues through Feb. 1951 before it unfortunately folded following its "big basketball issue." Today Babe Ruth Sportsis a very popular and recognizable title among sports comics enthusiasts. Each issue in the series is worth $100 or more. The first issue regularly trades for several times that amount. For collectors, this limited-issue series is a very possible title to complete and a good read to boot!
Fred Reed is former News Editor of Coin World and Vice-President of Beckett Publications. A collector for over 40 years, Reed is a member of most national coin and stamp organizations. He is also Secretary of Society of Paper Money Collectors. SPMC awarded Reed its lifetime achievement award for his groundbreaking Civil War Encased Stamps: The Issuers and Their Times, one of his five books. Reed has also written on coins and currency, tokens and medals, stamps, comic books, post cards, Beanie Babies, sports cards and collectibles, engravings and lithographs, movie memorabilia, autographs, antique photography, and Civil War artifacts, all of which he avidly collects. Reed is a long-time member of the American Society of Magazine Editors, the Dallas Press Club and the Society for American Baseball Research.