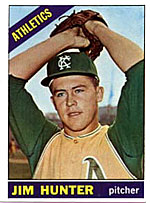 Being well-liked doesn't necessarily translate to outstanding sports memorabilia values. Nice guys can finish last both on the diamond and in the card shop. But it can't hurt either, especially when combined with All-Star and Hall of Fame credentials.
Values for memorabilia of the late Jim Catfish Hunter amply demonstrate these market forces in the sports collectibles world. Hunter, who became a big star on both coasts, piled up loyal fans throughout the country with his game arm and gentlemanly lifestyle.
Widely revered for his accomplishments and character by even those unaccustomed to rooting for Oakland's A's or New York's Yankees, Hunter's memorabilia was regrettably thrust into the forefront by the pitcher's death from ALS, Lou Gehrig's disease, September 9.
Typically such notoriety spikes card and memorabilia values for recently deceased players. Hunter's sports collectibles were already pricey because of his outstanding career and legions of loyal fans. His memorabilia did not suffer regionalism because of his national acclaim.
"Hunter's card values were already mature in a collector sense because he was elected to the Hall of Fame more than a year ago," a sports memorabilia dealer reported, "But we are experiencing increased interest now because of his death." The dealer asked to remain anonymous, so it did not appear that he was cashing in on Hunter's death.
Hunter's Rookie Card, 1965 Topps card #526, is already one of the highest priced in that set. It books for about $100 in Near Mint-Mint, but values in the hours after his death soared in the collector marketplace. "Hunter's death was not unexpected because of his condition," the dealer noted, "Many fans who are also collectors had already stocked up on his memorabilia, but casual interest always picks up in times like these."
Hunter shares his Rookie Card with fellow Kansas City hopefuls Rene Lachemann, John Blue Moon Odom and Skip Lockwood. Ironically Hunter, who outshone each of his teammates in an illustrious bound-for-Hall of Fame career, is relegated to a secondary position on the card, which was short printed at the end of the Topps set that year.
His sophomore card, 1966 Topps #36, although quite common since it was double printed, still books at $25 or more in superb condition. A fine portrait of the young hurler posed at the top of his delivery, this card has always been a collector favorite. Shortly after Hunter's death, prices for even well worn examples soared over catalog values. "The phones were ringing when I opened up this morning," another dealer reported.
It's not only Hunter's sports cards that received extra attention following his death, Sports Illustrated magazine issues featuring the popular pitcher, which normally fetched about $5-$10, were reportedly bringing twice as much.
Anything connected with Catfish's 1987 election to Baseball's Hall of Fame became featured items in the wake of his death. Hall of Fame postcards, Perez-Steele cards, induction programs and other memorabilia were thrust into the spotlight.
Autographed items also jumped in value. It's somewhat ghoulish but true in collecting circles "dead men don't sign anymore," and signed items of deceased ball players, especially Hall of Famers such as Hunter, are always in great demand.
Catfish, who lost use of his arms due to his debilitating disease, ceased signing autographs months ago. Autographed copies of his autobiography Catfish: My Life in Baseball have brought $80. Baseballs autographed by the late twirler, which were selling for $25-$40 shortly before his death were reportedly bringing twice as much later.
With time, of course, Hunter memorabilia values will stabilize. Fortunately, fans desiring to embrace even such a small piece of the man, the ball player and the legend, have ample opportunities and objects to prize.
Being a prince of a man can't hurt one's memorabilia values either, especially when you can slice the strike zone like Jim Catfish Hunter, fisherman and diamond star.
Fred Reed is former News Editor of Coin World and Vice President of Beckett Publications. A collector for 40 years, Reed is a member of most national coin and stamp organizations. He is also Secretary of Society of Paper Money Collectors. SPMC awarded Reed its lifetime achievement award for his groundbreaking Civil War Encased Stamps: The Issuers and Their Times, one of his five books. Reed has also written on coins and currency, tokens and medals, stamps, comic books, post cards, Beanie Babies, sports cards and collectibles, engravings and lithographs, movie memorabilia, autographs, antique photography, and Civil War artifacts, all of which he avidly collects. He is currently at work on six more books. Reed is a long time member of the American Society of Magazine Editors, the Dallas Press Club and the Society for American Baseball Research.