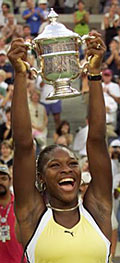 For the last couple of years, any mention of the name Williams when talking about women's tennis usually meant Venus.
Not any more.
While Venus Williams has dominated most of the headlines, it was sister Serena who stole the show at the U.S. Open.
Although hardly a pushover herself, Serena Williams vaulted herself into a new stratosphere with a 6-3, 7-6 (7-4) victory over No. 1 ranked Martina Hingis in the finals of the U.S. Open on Sept. 11. In the process, Serena became the first African American woman to win a Grand Slam title since Althea Gibson in 1958.
"It's really amazing for me to even have an opportunity to be compared to a player as great as Althea Gibson," Serena told reporters after her win. As if that weren't enough, Serena even received a congratulatory call from President Clinton, who was in Auckland, New Zealand.
"I thought for sure my day couldn't get any better," Serena said. "The next thing they told me is the president of the United States wanted to talk to me. I was like 'Wow.' "
To cap off an amazing weekend, Serena and Venus captured the doubles title a day after her singles triumph. Combined, the sisters took home $1.29 million for their efforts at the U.S. Open. That includes $750,000 won by Serena for her singles title.
That Serena won a Grand Slam is not a surprise. After all, most tennis experts have predicted she will be better than her sister when all is said and done.
That she may have already surpassed her sister, however, is a bit of a surprise.
Serena entered the U.S. Open ranked sixth in the world, but moved up to fourth thanks to her Grand Slam win. It's been an amazing climb for a player who turned pro less than two years ago. Serena's first appearance in the rankings came on Oct. 20, 1997 – she was No. 453. Three weeks later she was up to No. 102. In 1997, she ended her first full year on the tour at No. 99. She finished 1998 ranked 20th and earned the WTA Tour Most Impressive Newcomer award, an honor given to Venus a year earlier.
Today, she finds herself among the sport's elite.
The Williams sisters have been fan favorites since turning pro, but it's likely Serena went up a notch in the hearts of tennis fans and memorabilia collectors after winning her first major.
Two days after Serena's win, an oversized tennis ball autographed by her was bid up to $177.50 at one auction Web site. And there were still four days left for collectors to bid on the ball. A signed "Tennis USTA" magazine signed by both sisters was bid up to $80 with five days left in the auction.
With their trademark beads and two of the most powerful games on the WTA Tour, it would seem the Williams sisters more than anybody else have a chance to transcend their sport as athletes like Michael Jordan and Wayne Gretzky have done.
There isn't a plethora of Serena Williams memorabilia available. After all, she is just 17 and has not even played two full years as a professional. But with a Grand Slam title under her belt and unlimited potential, don't expect things to stay that way long.
Eric Breier is a staff writer for the North County Times in Escondido, Calif. He covers a variety of topics, including a monthly sports collectibles feature.