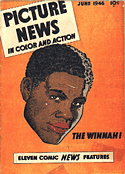 Sports celebrities have massive fan followings. Many of these fans are young, adolescent males for whom hero worship of top athletes is pronounced. Comic book publishers were quick to tap into these youthful desires.
In the biographical comics field, all the popular baseball players were covered time and again. Joe DiMaggio, Lou Gehrig, Ted Williams, Hank Greenberg, Bob Feller and Yogi Berra were perennially popular subjects. These comics as a group are the most collectible and expensive of the sports comics.
With post-World War II sports and comics booming simultaneously, there was no lack of publishers willing to take to this field. Many competitors entered the fray for the dimes of young male readers.
Chief among these was Fawcett, a very recognizable name to sports comic collectors today. During the short span of 1950-52, this company produced the finest, most valuable series in this genre.
Its Baseball Heroes comics were not unlike the recent Beckett Tributes or that company's Sports Heroes series. Their major appeal was the superstar. A roster of the Fawcett books reflects the popular players of its era.
In Autumn 1950 Fawcett did a pair of books on popular boxing champion Joe Louis. Louis, the Brown Bomber from Detroit, was a terrifically popular pugilists for fans both black and white. He took the world heavyweight crown in 1937 and defended it an unprecedented 25 times before retiring in 1949. Each of these Louis issues is worth upwards of $300.
However, Fawcett's principal contribution was baseball biography. Its choices were heavily New York-flavored, including the two dominant catchers in their respective leagues Yogi Berra and Roy Campanella. The Campanella title issued in 1950 brings $150 and up. Yogi Berra, issued later, brings about the same.
The series also included issues for the 1951 pennant-winning New York clubs, the Yankees and the Giants. Each issue is worth $200 or more. A trio of black players whose presence would alter the Grand Old Game were featured: Jackie Robinson, Larry Doby and Don Newcombe.
Doby, who integrated the American League when he came to the Cleveland Indians, is very much in demand by collectors. His title brings $300-$500 willingly from collectors, while the Newcombe issue is worth $200.
Other titles presented fan favorites Eddie Stanky, Phil Rizzuto and Ralph Kiner. Stanky sells for $80-$100. The Rizzuto title, billed as "the sensational story of the American League MVP," brings $200 or more. A separate issue was devoted to baseball's greatest stars of all, its Hall of Famers.
Fawcett's most enduring contribution, however, was its Jackie Robinson series. The first Robinson title appeared in May 1950. Five additional issues followed within two years.
Because of the social significance of the first player to break the Major League color line, these Jackie Robinson comics are pricey. In excellent condition, the first issue in the series retails for more than $500, while the other issues are worth $250 or more.
Fred Reed is former News Editor of Coin World and Vice-President of Beckett Publications. A collector for over 40 years, Reed is a member of most national coin and stamp organizations. He is also Secretary of Society of Paper Money Collectors. SPMC awarded Reed its lifetime achievement award for his groundbreaking Civil War Encased Stamps: The Issuers and Their Times, one of his five books. Reed has also written on coins and currency, tokens and medals, stamps, comic books, post cards, Beanie Babies, sports cards and collectibles, engravings and lithographs, movie memorabilia, autographs, antique photography, and Civil War artifacts, all of which he avidly collects. Reed is a long-time member of the American Society of Magazine Editors, the Dallas Press Club and the Society for American Baseball Research.