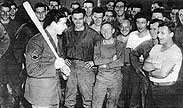 "Give 'em hell, Joe. God Bless." Those were the last - and only - words Joltin' Joe DiMaggio said to me.
The year was 1943. DiMaggio had traded his Yankee pinstripes for Army khakis, and for three years played exhibition games to hearten the troops. As a tech sergeant temporarily stationed at a redeployment airfield near Louisville, Ky., I was awaiting orders to be assigned as a C-47 crew chief and go overseas.
When the command post announced a communion breakfast would be held at the field, I jumped at the invitation. I never expected to experience the most memorable moment of my young life.
There was a sort of buzz in the crowded hall. Up front, among the top brass and field chaplain stood a tall, lean, black-haired, familiar figure.
"I can't believe it," I gasped. "That's Joe DiMaggio!"
I gulped my breakfast, staring in awe at Joe D, my baseball idol. Somehow I felt he was part of my youth whenever I thought, like every little boy, that I was destined to be a great ballplayer. That dream died an early death in my frustrating playing days, and now I was in the Army.
After a brief ceremony, GIs stormed the head table to get at Joe. Spilling my coffee, I rushed to get in line.
A certain aura surrounded Joe, and to his dying day, it never left him. Although much has been written about the shy, exceedingly private person he was, and in a setting about as far removed from baseball as could be imagined, he was a warm, outgoing individual, in no way distant to the soldiers he met that day.
The American icon began signing everything they put before him. I wasn't prepared, so out of my wallet I pulled a small photo that had been taken to show off my newly-acquired Army stripes. Then, the big show.
Joe D. signed his name on the back of my photo. I spluttered something like how I idolized him, and told him I would soon go overseas. He spoke to this innocent 20-year-old, far from home, soon to see combat. And he shook my trembling hand and uttered those unforgettable words. That inspiration carried me all through the war. I still have that treasure - the photo of me in uniform, and on the back - his signature - "Joe DiMaggio."
That was 56 years ago! And everyone knows what that magic "56" means. The Wall Street Journal explained it: "In 1941, Joe DiMaggio's record-breaking hitting streak became a national distraction from the dark headlines streaming out of Europe ... By the year's end, the red hot 56-game streak was history, and Pearl Harbor was in flames."
Connie Mack once called him "the best player who ever lived!"
A recent editorial read: "He lived as he played, without splash or scandal ... He went on being idolized, lionized, stylized, commercialized."
At 84, Joltin' Joe has left and gone away now, gone to baseball heaven, to a place where the ovations never fade. But he will never, ever leave us.
Born in Martinez, Calif., the son of an Italian immigrant fisherman with eight hungry children to feed, this "regular Joe" personified the American dream. Deciding against joining his family's San Francisco fish business, he sought fame and fortune on the field of dreams.
Joining the Pacific Coast League's San Francisco Seals at 18, Joe gave the sports world a glimpse of things to come when he hit safely in 61 straight games during the 1933 season. Joining the New York Yankees in 1936, Joe D - playing with such stars as Lou Gehrig, Tony Lazzeri, Red Rolfe, Lefty Gomez, Frank Crosetti and Bill Dickey - helped the Bronx Bombers become baseball's dynasty.
It has repeatedly been said that Babe Ruth built Yankee Stadium, but it was the great Joe DiMaggio who paid off the mortgage.
Joe went on to cast a positive spell on the baseball world. As his humble style and grace led him to success after the legendary careers of the Bambino and Iron Man Lou Gehrig, Joe D would tell reporters, "I'm just a ballplayer with only one ambition, to give all I've got to help my club win. I've never played any other way."
One of his overlooked achievements was his total of only 369 strikeouts during a career in which he hit 361 home runs - an incredible ratio for a power hitter. And who could forget the image of those sweet, sweeping swings, and the grace of his gait, how he glided into the centerfield gaps and elegantly turned doubles into outs.
When he retired in 1951, DiMaggio's strange mixture of shyness and famed aloofness never eroded. He became a cult hero in retirement by retaining the modest and "regular" lifestyle of his playing days.
In 1954 the storybook tale only grew with his brief marriage to actress Marilyn Monroe. In 1955 Joe was elected to the Baseball Hall of Fame. Later he became a spokesman for a coffee-maker, but never lost that class that was always his. Few athletes aged as gracefully. He was the Cary Grant of athletes, dapper and silver.
That autograph he gave me 56 years ago tells me that, to this day, when you think of elegance and honesty in a sports celebrity, you think of DiMaggio. When you think of modesty, and the ability to simply do the job no matter what the pressures, to win without bragging and to lose without excuses, you think of DiMaggio.
And that song from The Graduate - Mrs. Robinson - in which Simon and Garfunkel wonder, "Where have you gone, Joe DiMaggio?" The answer comes back that Joltin' Joe has left and gone away. But he is still here in spirit, still setting the example for us to follow, and still everything you could ever want in the term hero.