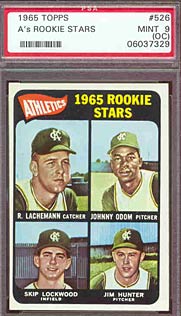 Being well-liked is not a requisite for baseball players late in the 20th century. Old-time stalwarts like Lou Gehrig, Duke Snider or Roberto Clemente seem passé. Today, bad guy bravado abounds. So when a successful "nice guy" like a Mark McGwire or a Sammy Sosa comes along fans are just naturally attracted.
That small club of high-achieving, good guys lost a charter member yesterday, September 9, when Hall of Fame twirler Jim Catfish Hunter succumbed to the ravages of ALS, Lou Gehrig's disease. Hunter, 53, died at his home in Hertford, N.C.
Hunter's death brought out deeply respectful eulogies from former teammates -and opponents alike. A man is known as much by the opinions of his friends as his enemies. But the truth of the matter is Jimmy Hunter had no enemies outside the lines of the baseball diamond.
It was former Yankee teammate, now Seattle Mariners manager, Sweet Lou Piniella who summarized the ex-Athletics and Yankee pitcher most succinctly. "If you didn't like Catfish, you just didn't like people," Piniella said.
A devout man and superb hurler, Catfish was dubbed with his colorful nickname by then A's owner Charlie Finley for Hunter's life-long love of fishing. The Fish drew fans and raves from both sides of the box score soon after he came up to Finley's last place Kansas City ball club as a teenager in 1965.
By 1967 Hunter had become the workhorse of the A's mounds crew. He made the American League All Star team and twirled the final five innings of that marathon 15-inning game before surrendering a home run to Cincinnati's Tony Perez and taking the tough loss. In that season Hunter struck out 196 batters and piled up a 2.81 ERA with his blazing fastball and pinpoint control for his pitiful Kansas City team.
Early the next season, following the A's off season move west to Oakland, Hunter pitched the finest game of his career, blanking Minnesota's powerful lineup on no hits, striking out 11, and banging home four runs himself. "I just tried to throw strikes to everybody," the 22-year-old said nonchalantly.
The perfect game thrust the casual star into the public limelight, where he remained unaffected and unchanged for the rest of his career and life. Catfish recounted his deep roots and rock solid personal values in his 1988 autobiography, Catfish: My Life in Baseball.
From 1971 to 1975 Hunter became the most dominant pitcher in his league, stringing together five consecutive 20 win seasons, and leading his invigorated team to three World Series championships. In 1974 he won the league's Cy Young Award as its outstanding pitcher.
Hunter was an acknowledged team leader in an Oakland clubhouse that included characters such as Reggie Jackson, Bert Campaneris, Joe Rudi and Sal Bando. "Catfish was a man among men," teammate and fellow All-Star hurler Vida Blue said, "I learned a lot from him both on and off the baseball field."
In 1975 the New York Yankee's megalomaniac owner George Steinbrenner purchased the ace pitcher's services for a then-unprecedented five-year $3.75 million sum. The transplanted Hunter became a keystone in that franchise's climb back to past glories.
The casual southern boy thrived on the diamond in Gotham. He won 23 games for the pennant-winning Yanks his first year and led them to two Series titles. "We were not winning until Catfish arrived," Steinbrenner recalled, "He taught us how to win."
The Fish hung up his glove following the 1979 season because of arm trouble. His 224 victories and 2,000 strikeouts earned the North Carolina native a well-earned ticket to Baseball's Hall of Fame in 1987.
Diagnosed with ALS last November, Hunter's final months were lived out with dignity and "trust in the Lord" in his rural hometown, where everybody knew the sports celebrity simply as Jimmy.
Former teammates celebrated his career in ceremonies in both Oakland and New York earlier this season. Catfish will be missed by his millions of fans, but nobody who watched his precise moves on the mound will ever forget the man nor the pitcher.
Coming up in Part II - the collectibles of Catfish Hunter.
Fred Reed is former News Editor of Coin World and Vice President of Beckett Publications. A collector for 40 years, Reed is a member of most national coin and stamp organizations. He is also Secretary of Society of Paper Money Collectors. SPMC awarded Reed its lifetime achievement award for his groundbreaking Civil War Encased Stamps: The Issuers and Their Times, one of his five books. Reed has also written on coins and currency, tokens and medals, stamps, comic books, post cards, Beanie Babies, sports cards and collectibles, engravings and lithographs, movie memorabilia, autographs, antique photography, and Civil War artifacts, all of which he avidly collects. He is currently at work on six more books. Reed is a long time member of the American Society of Magazine Editors, the Dallas Press Club and the Society for American Baseball Research.