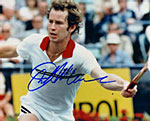 Venus Williams knows her job doesn't end when she steps off the tennis court. As one of the most recognizable athletes in the world, Williams is under constant public scrutiny.
How does she deal with all the attention?
"Smile whether I want to or not," Williams said recently. "In the end, people remember how you behave and what kind of personality you have. I can be a great person, but if I'm having a bad day, if I don't feel like signing autographs the person remembers that. If you just don't want to do that you have a smile and say 'Not right now.'
"When you're in your car driving is obviously the wrong time to ask for an autograph. And (sister and fellow tennis player) Serena and I, we can't look out the window anymore because people are looking in. So we just don't look out the window."
However, Williams, like many professional tennis players, can be accommodating to autograph seekers.
Sports memorabilia collectors who want an autograph from their favorite tennis star have a decent chance of obtaining it by attending tour events. Many players freely sign autographs after a match, even as they walk toward the locker room.
Some tournaments - such as the recently completed women's event in Carlsbad, Calif. - set up booths where the players sign for fans and collectors. And the best part for collectors is that the signatures usually come at no charge.
Not surprisingly, tennis balls are one of the items signed most often. But even though tennis memorabilia doesn't share the popularity in the United States of collectibles from other sports, a variety of items are available.
A collector may not be able to walk into their local card shop and purchase a pack of tennis cards, but thanks to the Internet, tennis cards are just a few strokes of the keyboard away.
At various Internet sites, a bevy of tennis cards are available, many of them autographed. Among the recent offerings: a Tracy Austin autographed NETPRO Legends card for $30; a Billie Jean King signed NETPRO Legends card for $30; a Mats Wilander autographed NETPRO Tour Star card for $40. And there are plenty of items advertised featuring other big names such as Andre Agassi, Chris Evert, Steffi Graf and Pete Sampras, and also less expensive non-autographed items.
There is also a market for vintage tennis memorabilia - everything from rackets to tennis balls to the cans in which the balls are packaged. Again, the Internet can be a collector's best friend.
Athletes such as Brett Favre, Ken Griffey Jr. and Shaquille O'Neal may be among the elite in their respective sports and there is always a chance of getting close enough to get an autograph or shake a hand. But the odds are probably better of doing that with a Martina Hingis or Sampras, players at the pinnacle of the tennis world.
While many athletes in other sports shy away from fans, top-ranked Hingis likes nothing better than to see them.
"I enjoy it," Hingis said. "If there wouldn't be anybody watching me I wouldn't like it."
And that's great for collectors.
Eric Breier is a staff writer for the North County Times in Escondido, Calif. He covers a variety of topics, including a monthly sports collectibles feature.