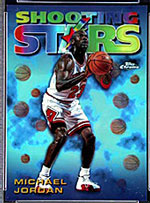 Are insert cards dead?
A peek at auction sale prices and dealer showcases nationwide suggest that this may be so - many sell at 20% of book value or below. Just a few years ago, inserts were the bread and butter of the trading card industry. In today's market, they are the rookie card's forgotten younger sibling. A case in point: the Refractor.
In 1993, Topps revolutionized the trading card industry with the introduction of Finest Baseball, the market's first hobby-only product. The set boasted advanced technology and a remarkably low production run of only 4,000 cases. Collectors were enticed by Finest's premium cards, but what made the set truly unique were the Refractors, seeded at one per 18 packs. Collectors quickly calculated that there were only 241 of each card in existence, and pack prices shot up from the suggested retail price of $3 to as high as $25.
The refractor craze carried into the 1993-94 Finest Basketball release with similar results. Some Refractors were short-printed and completing a set was a major undertaking. For collectors and dealers, this was a new facet of the hobby. Up to that point, inserts consisted of stickers and gold foil parallels. With Finest, Topps raised the stakes - the high-dollar, high-chase insert market was born.
Topps continued to produce Refractors, incorporating the technology into other premium products like Bowman's Best and Chrome, as well as their base sets and mid-grade sets like Stadium Club. But after four years of hobby dominance, Refractors lost much of their appeal. Now, $40 cards go unsold at even the lowest prices.
The Refractor is not indicative of all chase cards. Some inserts do sell. Autographs, game-jersey cards, and limited or serially numbered parallels have fetched higher prices. But there is no across-the-board guarantee. An autographed insert card of Tim Duncan, for example, might be valued at $100. An authentic 8 X 10 signed photo, however, can be purchased for $25. There's no question as to what's the better value.
And this is the fundamental problem with most insert cards - book value doesn't equal actual value. When non-collectors ask what a card is worth, they typically follow with the dubious second question: "Will someone pay you that amount?" For most inserts, the answer is no.
The sports card industry works in cycles - items forgotten for years at a time often experience a hobby rebirth. Cases of 1989 Score Traded sets were buried in warehouses for almost ten years before anyone remembered that the set featured a Ken Griffey Jr. rookie card. Under this theory, the insert collector may have hope. While hobbyists now focus on high-grade and short-printed rookies, the currently ignored inserts could see a resurgence in the years to come.
The best option for inserts may in fact lie with the graded card industry. Third-party grading services played a prominent role in the rejuvenation of the rookie card market. It may be just what the insert card market needs. For collectors who feel that inserts have hit their peak, a high grade in an uncrowded population report could be what it takes to change their minds.
Jeremy Zucker is a former price guide editor and contributing writer for a national hobby publication. He is a life-long collector of sports and celebrity memorabilia.