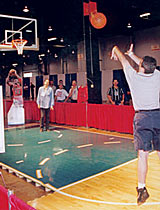 NEWPORT BEACH, CALIF. -- A "Shot From the Spot," courtesy of Collectors Universe, Inc. and Collectors Universe One-Of-A-Kind Auctions helped a Chicago sportscaster raise $10,000 for charity. Dan Bernstein, morning personality at WSCR Radio ("The Score"), made a perfect basket from the same spot as Michael Jordan's last shot as a pro player.
In fact, Bernstein actually was standing on the same Utah Jazz floor that Jordan played on when his last-seconds shot defeated the Utah Jazz and clinched the 1998 NBA title for the Chicago Bulls. The Utah Jazz court and basket where Jordan played his last game will be offered for sale by One-Of-A-Kind Auctions October 30 in Las Vegas, Nev. A portion of the Utah Jazz court was set up for visitors to see during the August 19 - 22 SportsFest Collectors Convention at the Rosemont Convention Center near Chicago.
The challenge for Bernstein was to make a "Shot From the Spot." If he did, Collectors Universe would donate $10,000 to charities. Collectors Universe selected the Ronald McDonald House Charities and Bernstein selected the Jewish United Fund as the beneficiaries of the challenge.
Collectors Universe founder David Hall handed Bernstein the ball and asked, "Do you want a warm up shot?"
Bernstein calmly replied, "We'll see." Then he aimed and lobbed the ball toward the basket. It was nothing but net, a perfect shot, and the crowd of about 100 spectators roared with approval.
One of the McDonaldland characters, Grimace, gave Bernstein a hug, and Hall handed over two enlarged, symbolic checks, each in the amount of $5,000 for the two charitable organizations.
Earlier in the week, two other Chicago broadcasters, reporter Frank Mathie of WLS-TV and sportscaster Chris Boden of WBBM-TV, took practice shots from the same floor position as Jordan's last shot as a part of their television news reports. But both required numerous attempts to finally sink it. Perhaps in a way, it was another charitable act.