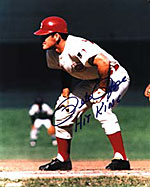 If things had gone as expected, Pete Rose memorabilia would be among the most sought-after and valuable for collectors across the country.
Rose would have wanted it that way.
But as this week marks the 10th anniversary of Rose's banishment from baseball for gambling, the market for Rose has been glutted to the point where its value has continued to diminish in the same relation to his esteem by most of the public.
It was this week in 1989 that Bart Giamatti banned Rose from the game after an exhaustive investigation led a report that claimed Rose not only bet on baseball but bet on baseball games involving his own team, the Cincinnati Reds.
Rose has admitted to gambling, but has steadfastly denied that he bet on Reds' games while he was a player or manager. It is this refusal that has been a key to Rose's continued lifetime banishment and his being barred from his place in the baseball hall of fame in Cooperstown.
Even with the banishment, Rose memorabilia back in 1989 was both plentiful and sought-after. Unlike many other superstars, Rose saved many of his baseball relics during his nearly two decades in the game. Whether he planned to pawn them out after he finally walked away from the game on his own terms will never be known.
But his decision to go public with many of his artifacts after his banishment led to a sellers' market initially. After all, Rose was baseball's all-time hit leader and was a member of the Big Red Machine back in the 1970s. Collectors knew his autograph and memorabilia would likely be worth more as the years wore on, similar to that of other contemporaries such as Willie Mays or Hank Aaron.
Rose, however, claimed he needed money after his prison term and began selling off his own memorabilia. In addition, he started hawking his own items on television on both QVC and the Home Shopping Network. He also would appear at any trade or card show he could find to sell his autograph – once a lucrative item but now seriously devalued because he was so readily available.
There is still a Rose market for his items. Ironically he goes to Cooperstown each summer to sign items at a Rose memorabilia shop located very close to the Hall of Fame. It is this typically defiant act that has angered many baseball writers who ultimately would be the ones that would decide whether he would be enshrined into the Hall if the ban was ever lifted.
The Rose market for collectors would probably change directions, should that ban ever be lifted and Rose be voted into Cooperstown.
But there are no signs that will happen in the near future.
"I have seen no evidence to indicate to me that this situation will change," explains Baseball Commissioner Bud Selig, who has the last word on whether Giamatti's lifetime banishment should change.
Some insiders insist Selig would be more inclined to hear the call of some other veterans like Aaron and forgive Rose if Rose would admit to gambling on baseball. In Cincinnati this week on the 10th anniversary of his banishment, I heard several local sports talk show hosts lobby for Rose's reinstatement.
But go outside of Cincinnati and there is either antipathy or apathy toward Rose. And Rose himself has angrily insisted he has hasn't done anything wrong, and the ban should be lifted immediately. In addition, there is history to consider: Of the 14 players banned for life from baseball, none have ever had their banishment rescinded.
Rose backers also cited the decision this summer to have troubled former New York Giants linebacker Lawrence Taylor enshrined into the football Hall of Fame in Canton, Ohio. They claim Rose, unlike Taylor, was never accused of drug usage and should be judged, like Taylor, for what he did on rather than off the field.
But election rules for football are in stark contrast to baseball for the Hall of Fame. Football's Hall clearly states consideration should be given only for accomplishments ON the field; baseball's rules clearly state conduct On and OFF the field should be considered.
Rose's arrogance isn't winning over Selig or baseball writers, so for foreseeable future, Rose's banishment will stay. And with the banishment, the continued easy availability of Rose items – spurred on mostly by Rose's own selling of these materials – will continue. Rose knows election to the Hall would increase the value of his collectibles and is doing everything he can to change the situation, outside of his admitting he violated baseball's rules.
Randy Minkoff is a former reporter, writer, editor and author, with more than three decades of journalism experience and a unique combination of both print and broadcasting. Minkoff is a regular contributor to the Chicago Tribune, Chicago Magazine, and Crain's Chicago Business. He has been syndicated nationally as a radio/TV critic and has also written a weekly column for the Daily Herald. He is the author of Ron Santo; For Love of Ivy, the biography of the former Cub third baseman and his battle against diabetes. A native of St. Louis, Mo., he is a graduate of Drake University School of Journalism.