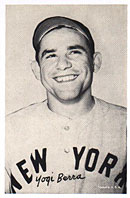 For most of the 20th Century, New York's Yankees have been the most loved and vilified franchise in Major League Baseball. Scores of pennants and dozens of World Series trophies have poised the Bronx Bombers atop both fandom's hot and cold lists.
With stars like Babe Ruth, Lou Gehrig, Joe DiMaggio, Mickey Mantle, Yogi Berra and Reggie Jackson, Gotham's Yanks have talked loudly with their big wooden sticks.
The Yanks' notoriety fuels Yankee memorabilia values in the sports collectors' marketplace. Almost without exception, Yankee memorabilia prices soar high above values for the also-ran, lack luster ball clubs.
Exhibit card values display this disparity in spades. Exhibit cards, for those unfamiliar with these items, are a lengthy series of postcard-sized sports collectibles produced by Chicago's Exhibit Supply Company.
Exhibit supply produced its first baseball star cards in 1921. As would be expected, Yankee slugger Babe Ruth tops the 64-card set with a value of $150-$500 or more depending on condition. Additional annual baseball series followed in 1922 through 1928. In each year Ruth and teammate Lou Gehrig headline the series.
In 1929 the Exhibit company switched to its "four-on-one" format for its baseball series. This format lasted a decade. In various years, the Babe is teamed with such Yankee stars as Gehrig, Bill Dickey, Tony Lazzeri and Lefty Gomez. These cards can bring $800 or more from sports enthusiasts. Even after the Babe left the Yanks in 1934, Yankee cards are the most prized – with Gehrig and Joe DiMaggio leading the way.
One of the most interesting Yankee Exhibit Cards is the blue tint card produced in 1938 to commemorate first baseman Lou Gehrig's starring role in the western Rawhide opposite Smith Ballew. This rare card was only sold in arcade machines at the Coney Island amusement park on Long Island.
The card depicts Gehrig in western attire with his horse. A vignette shows a portrait of the Iron Horse in a baseball cap. Although thiscard "catalogs" for about $35, collectors will eagerly pay several times that price for choice examples.
In 1939 the company returned to single image baseball exhibits. Collectors term those produced during the period 1939-1946 as "Salutation Exhibits" because of the personalized greeting found on the cards. By a large measure Yankee idol and iron man Lou Gehrig tops collectors' wants lists for this series. His card is worth three times that of the second most valuable card in the series, Ted Williams'.
In 1947 Exhibit Supply altered its format slightly and produced annual series of baseball stars for 20 years with player names imprinted on them. Some players (and poses) repeated from year to year. Other players appeared in only one or two years, creating some scarcity. Many variations of individual player poses have been cataloged.
Yankee stalwarts such as Mickey Mantle, Yogi Berra, Whitey Ford, Roger Maris, Bobby Richardson, and Moose Skowron are among the most coveted of this issue. Mantle's exhibits can bring hundreds of dollars, while the other stars command somewhat less.
In addition to nearly 300 player cards, the company issued 16 team photo exhibit cards during this period. Cards were issued for teams like the 1948 Braves, the 1950 Phillies, the 1951 Giants, the 1954 Indians and the 1955 Dodgers.
By far the most popular issues, however, are the six exhibits released for the championship Yankee ball clubs of the post-war era. These memorialized the great Yankee teams of 1949-1952, 1955-1956. Yankee cards, depicting all the great stars of that era, are especially prized and will bring upwards of $50.
Exhibit Supply also issued a Canadian baseball set in 1953, which included both major leaguers and members of Montreal's Royals International League team. In 1961, the company released a special set in its backyard at Chicago's Wrigley Field. Yankee DiMaggio is the priciest card in the former; Babe Ruth, in the latter.
In 1962 and 1963 Exhibit Supply issued cards with statistics imprinted on their backs. Naturally, the great Yankee center fielder Mantle headlines both sets at $100 or more.
Love 'em or hate 'em, if youse wants dem damn Yankees, bring out the big bucks!
Fred Reed is former News Editor of Coin World and Vice President of Beckett Publications. A collector for 40 years, Reed is a member of most national coin and stamp organizations. He is also Secretary of Society of Paper Money Collectors. SPMC awarded Reed its lifetime achievement award for his groundbreaking Civil War Encased Stamps: The Issuers and Their Times, one of his five books. Reed has also written on coins and currency, tokens and medals, stamps, comic books, post cards, Beanie Babies, sports cards and collectibles, engravings and lithographs, movie memorabilia, autographs, antique photography, and Civil War artifacts, all of which he avidly collects. He is currently at work on six more books. Reed is a long time member of the American Society of Magazine Editors, the Dallas Press Club and the Society for American Baseball Research.