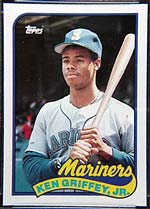 Devaluation.
It is one of the most negative words in the life of a collector and one of the key elements in any investment into sports memorabilia in any sport.
Generally, it has not been a word associated with Major League Baseball over the past year, thanks to the exploits of Mark McGwire and Sammy Sosa and to a lesser extent by performances by the New York Yankees, Kerry Wood and Ken Griffey, Jr.
However, there is growing concern that the significant achievements made in the majors over the past 12 months may have topped-out for collectors and fans, and unless a significant reversal in trends develops, the losses may wipe out the gains.
Dave Campbell of ESPN, who also serves as a color analyst for the Colorado Rockies, sounded the warning sound earlier this week.
"I am concerned about what these current numbers will mean to the Hall of Fame," says Campbell, who has certainly seen his share of high-scoring, home run dominated games at Coors Field in Denver. "What kind of meaning will the current records have compared to the past if this trend continues?"
Specific focus has to go to the home run. Before the recent explosion of round-trippers, the home run was an integral part of any collector's review of a player's value. Before last year, collectors were drawn to the likes of a Ken Griffey, Jr., because of his meteoric rise from a 18-year-old teenager spraying hits around the Kingdome to one of the premier power hitters in the league.
Sure, there was some interest for McGwire or his former bash brother teammate, José Canseco, but collectors were spreading their baseball investments over a wider range of players, including pitchers like Roger Clemens, Greg Maddux or Kevin Brown. Sammy Sosa was barely a footnote to collectors outside of Chicago.
But when the Roger Maris' chase came on to the scene last year, it was clear home run was king. Not only was McGwire reaching 70 and Sosa reaching 66, scores of other players never known for hitting home runs were suddenly showing muscular prowess.
Consider this. Before 1998, only once in the previous 35 years had a National League hitter clubbed more than 50 home runs (George Foster of the Cincinnati Reds in 1977). Last year, three players did it, and at least three – McGwire, Sosa and Jeff Bagwell – are likely to do it again this year. In the American League, before 1996, only once in the previous 40 years had anyone hit more than 50 (Cecil Fielder of Detroit with 51 in 1990). Since 1995, it has been done five times and this year three players could reach that mark again.
But it just isn't the big hitters. What has to be of more concern is the average hitters who are suddenly putting up monster home run numbers. In the past four years, 17 American leaguers have hit more than 38 home runs in a season. This year, that list could expand by at least half a dozen.
When you consider that Fred McGriff of the Toronto Blue Jays actually LED the league 10 years ago with 36 home runs, you begin to sense the devaluation of hitting a home run. Eight players in the National League had more than that total in 1999 alone.
The interest in McGwire and Sosa this year is pale in comparison to last year's fever pitch, even though both were ahead of their home run totals of a year ago in a similar number of games played. Have collectors and fans gotten desensitized to the fascination with the home run? It sure seems so.
In addition, career home run totals are going to get out of whack. Having a player get into the Hall of Fame translated into greater value to collectors for cards, autographs and other memorabilia. A player's value shoots up once he is enshrined to the select club.
Campbell has accurately pointed to this telling stat: Currently in Cooperstown, hitting more than 500 home runs is a guaranteed ticket to the Hall of Fame. Sixteen players have reached that mark, and all but McGwire are enshrined. Another 11 have hit more than 400 home runs in a career, and more than half of that group is also in the Hall of Fame.
But if the current home run binge continues, the 400 home run club will have many more members and continue the devaluation of the achievement.
The reason for the home run explosion has been well documented. Expansion and weaker pitching are leading to the inflated totals. If this trend continues, the real draw for collectors will be pitchers who are able to have earned run averages under 4.00, which will be considered more of an achievement than belting out 70 home runs.
Randy Minkoff is a former reporter, writer, editor and author, with more than three decades of journalism experience and a unique combination of both print and broadcasting. Minkoff is a regular contributor to the Chicago Tribune, Chicago Magazine, and Crain's Chicago Business. He has been syndicated nationally as a radio/TV critic and has also written a weekly column for the Daily Herald. He is the author of Ron Santo; For Love of Ivy, the biography of the former Cub third baseman and his battle against diabetes. A native of St. Louis, Mo., he is a graduate of Drake University School of Journalism.