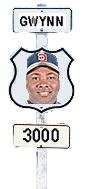 You thought there would never be another season like 1998.
Mark McGwire of the St. Louis Cardinals and Sammy Sosa of the Chicago Cubs captured the nation's fancy with the most epic home run race in the history of the game.
Major League Baseball still was trying to regain the fans it lost after a strike brought a premature end to the 1994 season when McGwire and Sosa went on a tear that made headlines on a daily basis. When it was all over, McGwire and Sosa had not just broken Roger Maris' single-season home run record, they obliterated it. McGwire finished with 70. Sosa was close behind at 66.
Most figured it would be impossible to generate the same excitement in 1999. It might even be years before a single season mesmerized baseball fans and non-fans alike.
But a funny thing is happening as the '99 season begins its final stretch: Baseball is back in the national spotlight.
Although they might not duplicate their final totals from '98, McGwire and Sosa are each on pace to hit more than 60 homers. Like '98, it is a game of "anything you can do, I can do better." Each time McGwire hits a home run, it seems Sosa does the same. And vice versa.
But unlike '98, it is not just the McGwire and Sosa home run race that is generating excitement.
Call it the Year of the Milestone.
McGwire has become the 16th player in history to hit 500 home runs. Tony Gwynn of the San Diego Padres and Wade Boggs of the Tampa Bay Devil Rays became the 22nd and 23rd players, respectively, to join the 3,000 hit club. Cal Ripken Jr. of the Baltimore Orioles is not far behind, and could make it the first time in history three players have reached 3,000 hits in the same season.
Speaking of Ripken, he has another milestone in his sights: 400 home runs. If Ripken can get healthy, he will become the seventh player to amass 3,000 hits and 400 homers before the end of the season.
Already this season, Jose Canseco of the Devil Rays hit his 400th home run. There is the possibility that the Seattle Mariners' Ken Griffey Jr. and the Devil Rays' Fred McGriff will join him in the club by the end of the year.
But it is the exploits of McGwire and Sosa, along with Gwynn, Boggs and Ripken, that is creating so much interest in the game. And with that increased interest comes more people chasing cards and collectibles of those players.
But keep in mind that just because Boggs and Gwynn reached 3,000 does not mean the value of their cards will shoot up overnight.
"It's not the reaching of 3,000 hits that has the impact," said Rich Klein, price guide analyst for Beckett Baseball Card Monthly. "It's the approaching of 3,000 hits. In other words, the anticipation of ... reaching 3,000 hits."
It is the same with McGwire reaching 500 home runs. But the long-term impactwill mean good things for collectors.
McGwire reaching 70 home runs last year drove the price of his 1985 Topps rookie card through the roof. But if he had not done anything before that or never did anything after, his cards eventually would drop in price. However, with 500 home runs, his place in baseball lore is secure.
"Season records have more of a short-term impact," Klein said. "Career records are long term. You're better off doing it over the course of your career."
Incidentally, the McGwire rookie is listed at $200 in the August issue of Beckett. Gwynn's '83 Topps rookie is at $65 and Boggs' '83 Topps rookie is at $25. Sosa's '90 Leaf card goes for $60.
But the interest in memorabilia associated with the milestones goes beyond cards. McGwire's 70th home run ball sold for $3 million in an auction. Jim Shearer, the 28-year-old fan who got McGwire's 500th home run ball, was not sure what he was going to do with it. But Josh Evans of Leland's Auctions in New York told The Associated Press the ball could fetch $1 million if it was auctioned off before the hype died down.
Meanwhile, Gwynn made no secret of his plans to keep everything associated with his 3000th hit.
"... When it's all said and done, I'll have the jersey, the pants I wore, the batting gloves and wrist bands I wore and the bat I used," Gwynn said before getting No. 3,000 against the Montreal Expos. "There aren't a lot of those going around, so I think that'll be a kick. For me, it's nice to know whatever I got on for 3,000, it'll be in my house somewhere in a trophy case. That'll be a kick because I'll always have that for my kids and my grandkids."
Boggs made things interesting with his 3,000th - he hit a home run. Never before had a player hit a home run for his 3,000th hit. But Mike Hogan, the fan who got the ball, gave it to Boggs in exchange for an autographed bat and a signed jersey from Boggs.
"People will say I'm crazy, but he's had a Hall of Fame career and it's his baseball," Hogan told The Washington Post.
For fans who cannot afford to spend $1 million for McGwire's 500th, should it be sold in an auction, there are other more affordable collectibles available associated with some of these milestones. There are ticket stubs and programs from the game, newspaper sections commemorating the occasion, not to mention numerous trinkets produced in honor of these special moments.
In Gwynn's case, he gave his wife every ball from hit No. 2,951-2,984 to sell and market in her business.
Players will continue to reach milestones in the years ahead. Rickey Henderson and Harold Baines are close to 3,000 hits. Barring injury, Griffey will reach 500 home runs in a couple of years. He even may threaten Hank Aaron's all-time record of 755.
Who knows when we will see so many reach such cherished marks in one year? Then again, who thought the 1999 would produce so many unforgettable moments? And there are still two months of the season to go.
Eric Breier is a staff writer for the North County Times in Escondido, Calif. He covers a variety of topics, including a monthly sports collectibles feature.