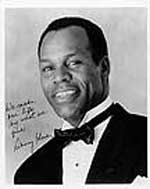 It all began one bright and sunny day (what other kinds of days do we have in Tucson?) while teaching a class at Sahuaro High School. Another teacher, Tom Pierson, came in with autographed photos of Mike Ditka and Gale Sayers. I wrote immediately to the most influential person I could think of - Dolly Parton!! She was gracious and sent two.
I knew Tom admired her, so I gave him one. Then the obsession began. For the next few years, I wrote to celebrities and requested one signed photo for the school and one for my personal collection. I now have more than 7,000 autographs. I have used an eclectic method of collecting, not focusing on any one area but, rather, writing to those currently in the news or to famous and infamous people of our time for autographs on magazines, magazine pages, newspaper clippings, 8x10 or 5x7 pictures, sports cards and posters. I thought it would be a unique idea to incorporate signed photos into my world history classes.
For years I had been showing excerpts of Hollywood films based on historical subjects, so I began to bring in signed photos of the actors, which added to the students' involvement. It was my hope that this little extra would bring another dimension to the learning process by making history come alive.
Among the films I have shown are Spartacus with Kirk Douglas, Jean Simmons and Tony Curtis, Ben Hur with Charlton Heston, El Cid with Heston and Sophia Loren, and The Vikings with Kirk Douglas, Janet Leigh and Ernest Borgnine. I often showed documentaries as well, and displayed the host's or narrator's pictures. These included Carl Sagan, Dick Cavett, Walter Cronkite, Hal Holbrook and Sam Waterston.
Movies are great for showing the action of historical events and characters, but often must be explained and clarified because they are exaggerated or not historically correct - in other words, "Hollywood-ized." During the movie, I would put signed photos of the actors in front of the classroom. These complemented pictures of the true historical figures that hung in a great timeline around the room.
For all eras of history, but especially in my Civil War class, I not only used signed photos of the actors portraying the historical characters, but also obtained authentic pictures of the actual characters, such as Abraham Lincoln, John Wilkes Booth, Secretary of State Stanton, Admiral Farragut, Generals Sherman, Sheridan, McClellan, Pope, Lee, Grant and many more. I use artifacts from every era, but especially enjoyed the Civil War with its uniforms, weapons, newspapers, currency and stamps, which the students were allowed to hold and observe closely.
After several thousand pictures, I became involved with my wife's favorite charity, the Ronald McDonald House for critically ill children. The home offers a number of services for the children and their families, and each year holds an auction to raise money for its various activities. It relies on volunteers and donations to obtain materials for these auctions, and so many people are extremely generous with their time and goodwill. Many celebrities write very inspiring statements on their pictures that run the gamut from very personal to very comical.
I have been a dropout prevention coordinator for the past five years. The students who are in my classroom have been suspended from school. Sahuaro High's dropout prevention program was designed to help students help themselves. If they are having attendance, behavioral or academic problems, they are assigned to the Isolated Classroom Experience (ICE) for 3-9 days to help them re-evaluate their situation and catch up academically.
Each year the program accommodates 300-400 students for a variety of offenses. Three-quarters of the students come to ICE only once. The program is highly structured, with a written contract between the parent(s), the student and the school. Each student has his or her own individual work area. Soft music plays in the background while students diligently complete current and past academic work.
Every day motivational or instructional videos about good role models (David Robinson, Joe Montana, Michael Jordan, etc.), people who have overcome physical and environmental obstacles, smoking, drugs, drunk driving, AIDS and other related subjects are shown. ICE packets contain a variety of materials geared toward helping students evaluate their current status and develop a plan for their future.
By design, the classroom must be unique. I have more than 400 autographs in my teaching area, which consists of one large room and three smaller rooms - one for conferencing, one for computer instruction and another for exercise. In addition to the signed photos, inspirational sayings and cartoons are dispersed throughout the room. We all need heroes, but many of these students are in need of positive adult role models. I rotate the photos depending upon who is popular at the time, and take down those who are no longer good role models.
When students first arrive in ICE, many are in awe of their new surroundings. They gaze at the pictures in disbelief. Why, they wonder, would so many celebrities and important people they recognize take the time to write to Sahuaro High School? They often ask me how I obtained the autographs and how can they get a particular item signed. This environment is (and must be) relaxing. It puts the students at ease, and allows them to drop the facade that, in many cases, has caused them problems.
In the conference room, I have assembled many of my own heroes. Among them are Sugar Ray Leonard, John Wooden, Jim Craig, Charlton Heston, Neil Armstrong, Sally Ride, The X-Files cast, Mel Gibson, Jim Varney, Sylvester Stallone, Arnold Swar-zenegger, Star Wars characters and Julia Roberts. There are also displays of sports cards bearing the signatures of Don Beebe, Kenny Lofton, Scott Hamilton, John Haber, David Robinson, Mary Lou Retton, Dan Gable, Wayne Gretzky, David Cone, Don Pooley and Bil Keane.
In the exercise room are athletes and coaches. They include Joe Paterno, Walter Payton, Lenny Wilkens, Shirley Muldowney, Nancy Lopez, Barry Sanders, Ray "Boom Boom" Mancini, Mike Krzyzewski, Dwight Stones and Dan Jansen. There is also a wall for Tucson celebrities. Among them are Linda Ronstadt, Ron Hassey, Sean Elliott, Lute Olson, Don Pooley, Pat Darcy and Kerri Strug, as well as the mayor, the police and fire chiefs, University of Arizona president, the superintendent of our school district, and other influential members of the community.
Another wall is dedicated to former Sahuaro High School students who have become noteworthy. They include Doug Northway (Olympic bronze medalist in swimming), John Mistler (New York Giants), Rodney Peete (Philadelphia Eagles), Cindy Resnik (LPGA) and Sammy Khalifa of the Pittsburgh Pirates, among others.
Another wall is marked GOALS. Around the word are pictures of Hillary Rodham Clinton and Jim Kelly, a picture of Apollo 11 astronauts Neil Arm-strong, Buzz Aldrin and Michael Collins (unsigned), high school and college diplomas, a license plate, Sahuaro letter, travel map, picture of a wedding and money from around the world, plus a military insignia and other items.
The other walls are dedicated to those around us who may inspire individual students. These include Colin Powell, the Dalai Lama, Chuck Yeager, Dean Smith, Bob Mathias, Michael Jordan, Sir Edmund Hillary, Barbara Bush, Cindy Crawford, Tim Allen, John Elway, Sidney Poitier, Clint Black, Margaret Thatcher, Ben Kingsley, Garth Brooks, Sen. John McCain, Arizona Gov. Jane Hull, Jerry West, Jay Leno, Lonnie Anderson, Eddie Robinson, Tom Cruise, Sally Field and others.
Over the years, I have often been amazed at the people who will and won't send autographed items for the school, Ronald Mc-Donald House, or just to the average fan. Many of those who are portrayed as excellent role models are non-responsive, while others - especially some of the Olympic athletes and those who can least afford to send materials - do so freely. Their responses show me so much about their character and their willingness to help others. I can only name a few here who have been more than generous with their time and efforts. They include Steve Kerr, Warren Moon, John Wooden, Jackie Joyner-Kersee, Carl Lewis, Greg Norman, Bob Mathias, Danny Glover, Mickey Rooney, Thomas Gibson, Tom Brokaw and many, many others.
Besides being an enjoyable hobby, collecting autographs in the form of signed photos, posters and cards has helped many young people who have come through my history classroom and spent time in the ICE program. The Ronald McDonald auctions have benefited as well. I would like to thank all of those celebrities who are "really" good role models and encourage them to send more autographed items for these worthy causes.

This article has been reprinted with the permission of Autograph Collector Magazine