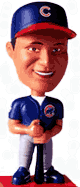 They've been in movies, commercials, possibly on your car's rear window, and they are back again.
Bobbin' head dolls were an unlikely collectible hit when they first appeared on the scene more than 20 years ago. But possibly the novelty of having these small plastic or ceramic dolls as part of a collection was just too good to resist, and they have become a staple of collecting through the years.
While manufacturers have made them for all sports, baseball seems to be the most attractive to collectors, possibly because the NFL variety had helmets on them and made them more difficult to distinguish from their baseball counterparts.
Well, the baseball ones are back, thanks to Mark Bloomquist, a Chicago-area entrepreneur whose company, Revolving Rainbow Enterprises, Inc., is making them available for about $15 each. It is a limited collection, but it doesn't take a marketing genius to figure out which players will be initially available.
St. Louis first baseman Mark McGwire and Chicago Cubs' outfielder Sammy Sosa were the obvious choices because of last year's home run chase. They join a growing list of collectibles for both sluggers whose market seems to be increasing each week as they continue to get national attention for their home run exploits. However, the McGwire-Sosa market isn't likely to match last year's mania because of the small chance they will be able to exceed last year's record home run totals.
The other four bobbin' head baseball players may cause a little more debate. Others being manufactured are Baltimore Orioles third baseman Cal Ripken, Jr., New York Mets catcher Mike Piazza, San Diego Padres outfielder Tony Gwynn and Boston Red Sox shortstop Nomar Garciaparra.
Garciaparra's selection is probably the most dubious one, except Revolving Rainbow made the dollar in conjunction with last week's all-star game. It was part of the pre-game fan-fest held in Boston. Ripken makes sense; he is coming off the consecutive games played record and figures to play only one or two more seasons. Piazza plays for a New York team and is likely to generate interest there. Gwynn's approaching the 3,000 hit milestone will likely produce added media interest at the end of this season (or early next season if his injuries continue to force him to the sidelines this year).
"They will be available at sports collectible stores and retailers like JC Penny and others," Bloomquist announced.
Bobbin' dolls have found their way into several major motion pictures, skits on national comedy programs (Saturday Night Live used the dolls once to satirize baseball), and were also used by ESPN as part of their Sunday and Wednesday night TV packages several years ago. Although many have laid claim to being the person behind the bobbin' dolls, Bloomquist claims he was the originator.
In a recent interview, he says he came up with the idea and went through the proper licensing channels to have authentic replicas.
"I was the first. And when you deal with Major League Baseball Properties and NFL Merchandising it isn't always an overnight thing," says the Chicago-area-based Bloomquist. "We wanted to make sure we had a product that would be authentic but also would stand up through the years."
Bloomquist earlier manufactured the bobbin' head dolls under SAM Inc., but don't be confused; he is president of both companies.
The dolls are just part of his enterprise. Four years ago, he came up with another original idea for collectors. He began distributing wine bottles with major league baseball teams logos on them. A novel idea indeed, although aimed at a more upscale audience.
The $75 bottles contained quality wine, he explains, and had a dark hue to them to "allow the logos to be clearly seen." Again, he had to go through Major League Baseball to get permission to use the actual team logo and the response was overwhelming. He got national attention when Sports Illustrated featured the wine bottles in a national article.
"Most of the people who bought the wines didn't buy them to drink but to collect and see them increase in value," he says.
Present plans have Bloomquist's company manufacturing six different bobbin' figures a year, in part to keep the demand up and also to feature new players. He says next year Ken Griffey Junior of Seattle and Derek Jeter of the Yankees are top candidates, possibly along with Manny Ramirez and Jose Canseco. Bloomquist doesn't want to flood the market "like everyone else." Randy Minkoff is a former reporter, writer, editor and author, with more than three decades of journalism experience and a unique combination of both print and broadcasting. Minkoff is a regular contributor to the Chicago Tribune, Chicago Magazine, and Crain's Chicago Business. He has been syndicated nationally as a radio/TV critic and has also written a weekly column for the Daily Herald. He is the author of Ron Santo; For Love of Ivy, the biography of the former Cub third baseman and his battle against diabetes. A native of St. Louis, Mo., he is a graduate of Drake University School of Journalism.