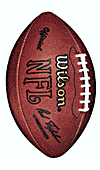 It seems every football card collector would love to get their hands on a Tim Couch rookie card.
And why not? The Cleveland Browns thought enough of Couch to take him first overall in April's NFL Draft. Couch's 1999 Donruss Elite rookie is the No. 1 Hot Single in the July issue of Beckett Football Card Monthly and books for $50. His '99 Collector's Edge Supreme error rookie is No. 3 and lists for $80. His'99 Pacific rookie is No. 4 on the Hot Singles list and goes for $12.
Perhaps the most amazing part is that Couch has yet to throw a pass in an NFL game.
With NFL training camps opening this month, collectors will really start to focus in on the top rookies. But separating the next John Elway from the next Rick Mirer is easier said than done.
A year ago, quarterback Ryan Leaf was being touted as the savior of the San Diego Chargers. The Chargers thought enough of Leaf to send two players and three draft choices to the Arizona Cardinals for the opportunity to move from No. 3 to No. 2 in the draft and take Leaf.
However, Leaf endured a miserable rookie season on the field and a worse one off it. Though he has just one pro season under his belt, many have already speculated that he will go down as one of the biggest busts in NFL history.
Although it's still too early to give Leaf that title, it seems to be one that will stick with Mirer, another quarterback who was once taken second overall. These days a collector will be hard pressed to even find Mirer listed in Beckett.
So which rookies should a collector focus on this season? Quarterbacks are always at the top of the list, but keep in mind that few make much of an impact in their first season.
Couch may be the hottest rookie among football card collectors, but it's likely he won't get much playing time behind Ty Detmer. Couch was the top pick in what many experts called the best quarterback class since 1983, which produced Elway and Dan Marino, among others. But as Leaf found out, it's not easy being a rookie quarterback in the NFL. Even Peyton Manning, last year's No. 1 pick, didn't win many games despite impressing with his abilities and mental makeup.
Daunte Culpepper, Donovan McNabb, Cade McNown and Akili Smith were the other quarterbacks taken in the first round. The Donruss Elite rookie for each is listed at $15. But the odds of any of those players making an impact in 1999 are slim.
At the running back position, however, there are a couple of players who could produce immediately. Ricky Williams' Donruss Elite rookie is second on Beckett's Hot Singles chart and books for $50. And after the New Orleans Saints traded their entire draft to get Williams, count on him to get tons of opportunities to carry the ball. The same can be said of Indianapolis Colts running back Edgerrin James, who was actually taken ahead of Williams in the draft.
But patience with the rookie quarterbacks could pay off in the long run. Elway struggled mightily as a rookie. Today his 1984 Topps rookie goes for $135.
Eric Breier is a staff writer for the North County Times in Escondido, Calif. He covers a variety of topics, including a monthly sports collectibles feature.