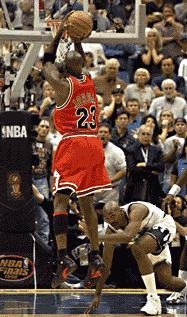 NEWPORT BEACH, CALIF––The entire Utah Jazz basketball court including the spot where Michael Jordan made the game-winning shot to end his historic career is to be on display at the National Sports Collectors Convention in Atlanta from July 22 through 25, 1999. "The National" is the largest sports memorabilia show of the year and is being held at the Georgia World Congress Center. The full Utah Jazz basketball court is slated for a live, telephone and Internet auction by Collectors Universe One-Of-A-Kind Auctions October 30.
Jordan played his final game and won the 1998 NBA Championship game for the Bulls on this court. The 40,000-pound court spans 6,270 square feet and consists of 196 4'x8' and fourteen 4'x4' floor sections. The last-shot Utah Jazz floor will be the centerpiece of the premier Collectors Universe One-Of-A-Kind auction. The court will be broken up into at least six different lots; the spot where Jordan jumped from to make his last 18-foot, game-winning shot; the "East Hoop" where Jordan made the shot with 5.6 seconds left in the game; center court; the baselines with the Jazz logos; the "West Hoop"; and the remainder of the floor.
"The Utah Jazz court where Jordan made his last shot to win one of the most exciting games in history and to end his monumental career will easily be the most valuable basketball memorabilia item ever sold," said Collectors Universe One-Of-A-Kind President Michael Barnes. "The 4' X 8' section of the floor labelled 'G10' by the Utah Jazz Delta Center, could become the most expensive piece of real estate in the world."
Collectors Universe One-Of-A-Kind Auctions, headed by memorabilia heavyweight Michael Barnes, auctions the most unique, rare and talked-about objects available in the world. Mr. Barnes is the sports and entertainment agent who represented Mark McGwire's 70th home run ball, which sold for $3.005 million in January, 1999.
If you are not able to attend the National in Atlanta, the Utah Jazz floor will also be on display at SportsFest '99 in Chicago on August 18-22, 1999. For more information, Click on One-Of-A-Kind in the blue menu bar. Readers may contact Collectors Universe One-Of-A-Kind Auctions at [email protected] or 314-933-0041. Send inquiries to: Collectors Universe One-Of-A-Kind Auctions, 615 Collins Avenue, Festus, MO 63028.