PSA SET REGISTRYSM SPOTLIGHT
D. Bryant - The Number One Current Finest 1970-71 Topps Set
D. Bryant has dominated this set since 2003 winning four Best of the Registry certificates and in 2006 winning the top award for Best Vintage Basketball Set of the Year (1971 and older). There's a reason for the accolades. The 175-card set, with a weighted GPA and Rating of 9.07, contains a large percentage of "Top Pops," which include the finest single graded #20 Earl Monroe, #27 Henry Finkel, #70 Elvin Hayes, #77 Happy Hairston, #80 Len Wilkens, #88 Larry Siegfried, #109 Connie Hawkins, #120 Walt Frazier, and #144 Clyde Lee. Very impressive, indeed! Click here to enjoy.
Basic Player Sets
A poll has gone out to those members who have basic football player sets registered to determine a set list for the basic sets. In coming weeks we will also be polling for the basketball and hockey basic sets. For more information, visit the Set Request page.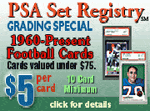 New Set Registry Special!
1960 - Present football cards. $5 per card/10 card minimum - Cards valued under $75. Click here for details.
Visit the Set Registry News page and learn which set composites have been recently added to the Registry and other Set Registry news. The following are new set composites added to the Registry:
1967 Topps Kansas City Athletics
1967 Topps Minnesota Twins
1997 Topps Texas Rangers
2001 Topps Anaheim Angels
1963 Jones-Rich Dairy Bills Football
1995 Topps Jaguars Inaugural Football
2006 SP Authentic Chirography Signatures Football
2006 SP Authentic Rookie Exclusives Autographs Football
Green Bay Packers HOF (key-card)
1973-74 Quaker Oats WHA Hockey
Tim Horton Basic Set
Tim Horton Master Set
1999 Upper Deck MLS Sign of the Times Soccer
1896-98 Sweet Caporal P-10 State Arms Pins
1926 W.D. & H.O. Wills New Zealand Early Scenes and Maori Life
1974 Topps Monster Initial Stickers
1983 Kelloggs Star Wars Return of the Jedi Decoder Discs
1994 Ultra X-Men Silver X-Overs
1960 Cassius Clay Olympic Boxing Gold Medal Championship Rome Tickets
Bookmark these important links!
To request a new set:
http://www.psacard.com/set_registry/set_request.chtml
To request a card addition to an established player set:
http://www.psacard.com/set_registry/player_additions.chtml
To delete a card from all sets at once: http://user.collectors.com/psa/set_registry/delete_items.chtml
To update your email address:
http://www.psacard.com/join/update.chtml
Fun, informative, and sometimes controversial, the PSA Set Registry Messageboard is the place to get involved with other collectors who are currently participating in the Set Registry program or are just beginning. Click here to chat on the Set Registry Messageboard.
The PSA Set Registry is a work in progress and we invite your comments and ideas. Send your suggestions to [email protected].