PSA SET REGISTRYSM SPOTLIGHT
Johnny's Elvis Set - The Number One 1956 Elvis Presley Set
The popular 1956 Elvis Presley set was dominated by John Branca from 2002-2004. Then Mighty's Graded Sets reached the top spot in 2005. In 2006, along came Johnny who tied Mighty's set. This year Johnny skipped ahead to the top spot winning the Best of the Registry award with a weighted GPA of 8.53... impressive since the best you can do is 8.79. A glance at the set shows a number of "Top Pops" with Record Collector's Checklists #2, American Singing Idol #10, Facing the Cameras #29, At the Keyboard #31, Chow Time on the Movie Set #36, Lights Camera Action! #39, Radio Broadcast #42, and Bad News #56, the single finest cards graded. Congratulations! Click here to enjoy.
Basic Player Sets
The results of the poll to determine the cards that will be listed in the basic football player sets are as follows: BOWMAN, BOWMAN CHROME, DONRUSS, FINEST, FLAIR, FLEER, FLEER TRADITION, PINNACLE, PHILADELPHIA, PRO SET, SCORE, SELECT, SP, SP AUTHENTIC, SPX, STADIUM CLUB, TOPPS, TOPPS CHROME, ULTRA, and UPPER DECK. In the next few weeks, depending on the content of the current sets online, we will either be updating the basic sets to concur with the cards listed above or renaming the sets to the Basic & Collector Issues set. At that point, if a set is reclassified as a Basic & Collector Issues set and you would like to see a basic set with just the cards listed above, please send in your set request. New basic sets will have priority and we will get them online quickly. Click here for the online set request form. A poll will be sent this week for the basketball basic player sets. Hockey will be polled in the next few weeks. For more information, visit the Set Request page.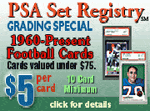 Set Registry Special!
1960 - Present football cards. $5 per card/10 card minimum - Cards valued under $75. Click here for details.
Visit the Set Registry News page and learn which set composites have been recently added to the Registry and other Set Registry news. The following are new set composites added to the Registry:
Tony Dorsett Basic Topps Set
Tony Dorsett Master Topps Set
Howie Long Basic Set
Howie Long Master Set
Lee Roy Selmon Basic Set
Lee Roy Selmon Master Set
Bookmark these important links!
To request a new set:
http://www.psacard.com/set_registry/set_request.chtml
To request a card addition to an established player set:
http://www.psacard.com/set_registry/player_additions.chtml
To delete a card from all sets at once: http://user.collectors.com/psa/set_registry/delete_items.chtml
To update your email address:
http://www.psacard.com/join/update.chtml
Fun, informative, and sometimes controversial, the PSA Set Registry Messageboard is the place to get involved with other collectors who are currently participating in the Set Registry program or are just beginning. Click here to chat on the Set Registry Messageboard.
The PSA Set Registry is a work in progress and we invite your comments and ideas. Send your suggestions to [email protected].