PSA SET REGISTRYSM SPOTLIGHT
TSM Bengals Collection - The Number One Current Finest All-Time Bengals Set
This collector has compiled a complete All-Time Bengals set and has surpassed the 2007 "Best of the Registry" award winning set. The set is populated with ten "Top Pops," three of which -- 1974 Topps Isaac Curtis #315, 1988 Topps Tim Krumrie #347, and 1996 Topps Willie Anderson #431 -- are PSA 10's and are the finest single card graded! The TSM set rating is 9.25, which places this collector well above the 2007 award winning set. Of the six members participating in this set, only two have 100% completion. Congratulations! Click here to enjoy.
Basic Player Sets
The results of the poll to determine the cards that will be listed in the basic hockey player sets are as follows: BOWMAN, DONRUSS, FLEER/FLEER TRADIITION, LEAF, OPC, OPC PREMIER, PARKHURST, PINNACLE, PRO SET, SCORE, SP/SP AUTHENTIC, STADIUM CLUB, TOPPS, and UPPER DECK. All hockey player sets have been updated or reclassified as Basic & Collector Issues where applicable. If you would like to see a basic set with just the cards listed above, please send in your set request. New basic sets will have priority and we will get them online quickly. Click here for the online set request form. For more information, visit the Set Request page.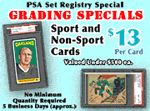 Set Registry Special!
$13 per card/No minimum - Cards valued under $500. Click here for details.
Visit the Set Registry News page and learn which set composites have been recently added to the Registry and other Set Registry news. The following are new set composites added to the Registry:
1979 Topps St. Louis Cardinals
1983 Topps St. Louis Cardinals
1998 SP Authentic Maximum Impact Football
2006 SP Authentic Authentic Autographs Football
Wayne Gretzky Basic Set
Bookmark these important links!
To request a new set:
http://www.psacard.com/set_registry/set_request.chtml
To request a card addition to an established player set:
http://www.psacard.com/set_registry/player_additions.chtml
To delete a card from all sets at once: http://user.collectors.com/psa/set_registry/delete_items.chtml
To update your email address:
http://www.psacard.com/join/update.chtml
Fun, informative, and sometimes controversial, the PSA Set Registry Messageboard is the place to get involved with other collectors who are currently participating in the Set Registry program or are just beginning. Click here to chat on the Set Registry Messageboard.
The PSA Set Registry is a work in progress and we invite your comments and ideas. Send your suggestions to [email protected].