Have your autographs authenticated by PSA/DNA, this country's foremost autograph authentication service. Submission forms are available online at the
PSA/DNA web site.
Just click here.



Find out what
your cards are
really worth.
Subscribe to the
Sports Market Report and have it delivered to your door every month. Click here.


PSA MARKET REPORT

Buried Treasure
At one time, people would stream into card shows hoping to turn their childhood collections into cash, and dealers had a ready supply of new-to-the-market material. Now with the growth of Internet and major catalog auctions, dealers can't rely on the shows to unearth solid collections like they used to. In this article, PSA President Joe Orlando looks at the current state of "treasure hunting" in the hobby. Click here to read more.
PSA PLAYERS' SPOTLIGHT

Center Stage: Legendary Big Men in NBA History
Once upon a time, building a successful NBA franchise was seemingly as simple as recruiting the most dominant center available and then getting the ball to him as often as possible. Things aren't quite the same nowadays, but players like Mikan, Chamberlain and the other "Big Men" of basketball remain icons of the sport and their cards are rightfully treasured. In this article, David Laurell takes a big look at some big players and their big cards. Click here to read on.
PSA EXPERT'S CORNER

The Collectible Paper Jewels of Boxing
At a boxing event, your ticket is the paper jewel that lets you in to witness the action. Afterward, it can become the ticket to something else -- to all the memories and history associated with a classic fight. Collecting boxing tickets is a wonderful way to feel close to the sport. In this article, Bob Pace explains what to look for in a good ticket. Click here to read all about it.
SET REGISTRY SPOTLIGHT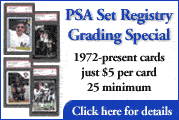 Huppertz Family - The Number One Current Finest 1954 Bowman Baseball Set
The Huppertz Family has completed this 225-card set and has landed in the top spot, receiving the "Best of the Registry" award for 2003. The grade point average for this set is 8.21 with only a sprinkling of cards grading less than PSA 8 and upgrades to the set occurring regularly. Congratulations to the Huppertz Family on this fine achievement! Click here to view.
Set Registry Special Deadline February 29th! Submit your 1972-present cards for $5 per card/25 minimum, but hurry! The deadline for this special is 2/29/04. Click here for details.
Visit the Set Registry News page and learn which set composites have been recently added to the Registry and other Set Registry news.
To see what new sets are soon to be added, visit the Set Request List. If your set is not listed, send us your request using the Set Request Form. Note: Due to an increase in requests, current load time is approximately 30 days. Thanks in advance for your patience.
New composites recently added include:
1967 Topps San Francisco Giants
1996 SPx Basketball
1997-98 E-X 2001 Jambalaya Basketball
2003-04 Topps First Edition Basketball
1971 O-Pee-Chee CFL Football
1980 Stop "N" Go Football
1993 Select Football
1996 Playoff Illusions Football
1997 Leaf Run And Gun Football
1998 Topps Season Opener Football
1999 Collector's Edge Masters Galvanized Football
1999 Finest Football
2003 Bowman Chrome Refractors Gold Football
1963 Fleer Buffalo Bills
1965 Topps San Diego Chargers
1968 Topps San Diego Chargers
1969 Topps San Diego Chargers
1970 Topps San Diego Chargers
1965-66 Coca Cola Hockey
1990-91 O-Pee-Chee Hockey
1957 Johnson & Johnson Robin Hood
1961 Donruss Idiot Cards
1964 The Munsters Stickers
1964 Topps Nutty Awards
Fun, informative, and sometimes controversial, the
PSA Set RegistryTM Messageboard
is the place to get involved with other collectors who are currently participating in the Set Registry program or are just beginning.
Click here
to chat on the Set Registry Messageboard.
The PSA Set RegistryTM is a work in progress and we invite your comments and ideas. Send your suggestions to [email protected].
PSA Q & A
Question: Do you think the A-Rod/Yankee signing will change the way his collectibles are perceived?
Answer: There is no question about it. When a player becomes part of a legendary organization like the New York Yankees, the demand for that player's collectibles soars. If you look through history, players who have been part of teams like the Yankees, Brooklyn Dodgers, L.A. Lakers, etc. have always enjoyed more fanfare. Now that A-Rod is part of the Yankees, look out. The only thing missing from his track record was major team affiliation/success. This could have a great effect on demand -- now we will have to see how he plays.
COLLECTORS SURVEY
Ten years from now, what trade/free agent signing/etc. will be looked at as the greatest acquisition in Yankee history?
A-Rod
Roger Clemens
Reggie Jackson
Babe Ruth
Luis Polonia (just kidding)
Click here to answer. Results will be posted in the next Insider.
Results from last survey: 45% said that the half-time show was the worst aspect of Super Bowl XXXVIII. Click here for a complete breakdown.
ANNOUNCEMENTS
See PSA at These Upcoming Shows!
8th Annual Winter Tri-Star Show

Location:
Cow Palace
2600 Geneva Avenue
Daly City, CA 94014

February 20-22, 2004

Show Info:
For more information on the Tri-Star Shows visit www.tristarproductions.com.

For more information about PSA services, call PSA Customer Service at (800) 325-1121 or visit www.psacard.com.

At the 8th Annual Winter Tri-Star Show:

Submit any card valued at $2500 or less at $10 per card for 10 day turnaround! This offer is only good at the 8th Annual Winter Tri-Star Show, so bring your cards and visit us at the show.
PSA/DNA autograph experts will be available to authenticate your previously signed autographs on-site.
86th Philadelphia Sports Card and Memorabilia Show

Location:
Fort Washington Expo Ctr.
1100 Virginia Drive
Fort Washington, PA 19034

March 5 - 7, 2004

Show Info:
For more information on the 86th Philly Show, visit www.phillyshow.org.

For more information about PSA services, call PSA Customer Service at (800) 325-1121 or visit www.psacard.com.

PSA representatives will be available to answer all questions and accept submissions for all levels of service through Sunday.

PSA/DNA autograph experts will be available to authenticate your previously signed autographs on-site.

SHOW SPECIAL SERVICE

$10 per card 10 day turnaround time.
PSA Saturday

Date: March 6, 2004
Time: 10am - 2pm

Location:
Collectors Universe
1921 E. Alton Ave.
Santa Ana, CA 92705

Show Info:
For more information on the PSA Saturday Show or PSA services, call PSA Customer Service at (800) 325-1121 or visit www.psacard.com.

PSA SATURDAY SPECIAL SERVICE - NO SHIPPING COSTS!!

$10 per card - Submit your cards valued at $2500.00 or less at PSA Saturday on March 6 for pick-up at the next PSA Saturday, April 3rd.

You may also have your cards mailed to you. Return shipping fees will apply. Please refer to the shipping chart located on the reverse side of all PSA invoices.

Admission is free! PSA representatives are available to answer questions and accept submissions for all levels of service.

© 1999 - 2005 Collectors Universe. All Rights Reserved.