Have your sports autographs authenticated by Jimmy Spence, this country's foremost sports autograph expert. Submission forms are available online at the
PSADNA web site.
Just click here.



Find out what
your cards are
really worth.
Subscribe to the
Sports Market Report and have it delivered to your door every month. Click here.


PSA MARKET REPORT

Modern Football PSA 10 Rarities: They May be Modern but they are Still Tough
It's usually the vintage issues that get the spotlight, but a growing number of collectors are starting to focus on cards from the post-1975 era. One area where interest is particularly heating up is modern football. In this Sports Market Report article, PSA President Joe Orlando shows why 1980s football cards are gaining popularity with the set builders. Click here to read more.
PSA PLAYER SPOTLIGHT

Autograph Analysis and Signing Habits of Hall of Fame Shortstop Joseph Bert Tinker
"Tinker to Evers to Chance" is the most famous double play combination in the history of baseball. Joe Tinker may have been immortalized as a fielder for the Chicago Cubs, but over his long baseball career he also played for the Reds and the Chicago Whales, served as a manager, owner, and even built a small ballpark of his own. In this article, Autograph expert James Spence Jr. examines the life and signing habits of the legendary Joe Tinker. Click here to read more.
PSA SPORTS HISTORY
The 2003 World Series is Only Weeks Away as the Excitement Builds
This will be the 99th clash between the National and American League champs. The Yankees have won the most titles, but which team is second? Which team was the greatest of all? How many times has Detroit won? Can you name three teams that haven't won it all since World War I? Click here to read more.
SET REGISTRY SPOTLIGHT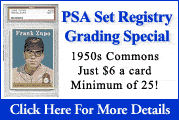 Teemu - Number One Current Finest 1954-55 Topps Hockey Set
This collector set a goal to build a complete 1954-55T collection in nothing less than PSA 8. He accomplished his goal and his set now sits on top of six other complete sets in the All Time Finest category. Teemu's Set Rating is 8.08, but he's not stopping here. He is going to upgrade with PSA 9s whenever he can! Congratulations, Teemu! Click here to view this set.
Set Registry Grading Special! If you are collecting 1950s baseball cards, you can submit your commons for $6 a card with a 25-card minimum. Click here for details.
The 2003 PSA Set Registry Awards deadline is only two months away. Be certain to get your sets updated before October 31st. Click here for details.
Visit the Set Registry News page and learn which set composites have been recently added to the Registry and other Set Registry news.
To see what new sets are soon to be added, visit the Set Request List. If your set is not listed, send us your request using the Set Request Form.
New composites recently added include:
1999-00 UD Retro Inkredible Basketball
1999-00 UD Retro Inkredible II Basketball
1999-00 Upper Deck MJ Master Collection Basketball
2001 Fleer Greats of the Game All-American Collection Autographs Basketball
2001 Fleer Greats of the Game Autographs Basketball
2001 Fleer Greats of the Game Coachs Corner Autographs Basketball
2001 Fleer Greats of the Game Feel the Game Hardwood Classics Basketball
2001 Fleer Greats of the Game Player of the Year Autographs Basketball
2001 Upper Deck Legends Legendary Jersey Autographs Basketball
2001-02 Upper Deck MJs Back Basketball
2001-02 Upper Deck MJs Back Jerseys Basketball
2001-02 Upper Deck MJs Back Dual Jerseys Basketball
Rick Barry Basic Set
Rick Barry Master Set
Kevin Garnett Basic Set
Kevin Garnett Master Set
Wes Unseld Basic Set
Wes Unseld Master Set
1997 UD Legends Autographs Football
Charlie Joiner Basic Set
Charlie Joiner Master Set
Barry Sanders Basic Set
Barry Sanders Master Set
Kellen Winslow Basic Set
Kellen Winslow Master Set
1981-82 Topps Hockey
1975 Donruss Six Million Dollar Man
Fun, informative, and sometimes controversial, the PSA Set Registry Messageboard is the place to get involved with other collectors who are currently participating in the Set Registry program or are just beginning. Click here to chat on the Set Registry Messageboard.

The PSA Set RegistryTM is a work in progress and we invite your comments and ideas. Send your suggestions to [email protected].
PSA Q & A
Question: How easy is it to counterfeit modern cards?
Answer: It is actually very difficult to do that on many of the very recent issues, due to designs that often include holograms, foil stamping, etc. The technology is so good that forgers usually avoid the attempt. The 1980s is probably the most problematic decade. With little technology and great rookie cards like Dan Marino, John Elway, Mark McGwire and Michael Jordan, the selection is great but so is the potential for fraud. PSA has seen many counterfeit cards from the 1980s over the years.
COLLECTORS SURVEY
The arguments can rage on forever about which baseball team is the all-time best. Is it the '27 Yanks or the Athletics from a couple of years later or...? Well, how about the last ten years or so? There has been no "Big Red Machine" or other totally dominant team recently, but there have definitely been some good ones. Which one was best?
1992-93 Toronto! Back-to-back crowns for a team with great balance.
1995 Atlanta! This has been the best team for the past decade even though they've been unlucky in the post-season.
1998-2000 Yankees! No Mickey, no Joe D and no Babe. They just win.
2001 Arizona! Oh, that pitching!
2002 Anaheim! How did they do it?
Click here to answer. Results will be posted in the next Insider.
Results from last survey: 48% rejected our first four choices (Oklahoma, Ohio State, Miami, and Texas), and predicted that someone else will take the NCAA football championship this year. Click here for a complete breakdown.
ANNOUNCEMENTS
See PSA at These Upcoming Shows!
84th Philadelphia Sports Card Show

Location:
Fort Washington Expo Center
1100 Virginia Drive
Fort Washington, PA 19034

September 19 - 21, 2003

Show Info:
For more information on the 84th Philadelphia Sports Card Show, call the Eastern Pennsylvania Sports Collectors Club, Inc. at (215) 643-0910 or visit www.phillyshow.org.

For more information about PSA services, call PSA Customer Service at (800) 325-1121 or visit www.psacard.com.

On-site grading available!

PSA will be offering on-site grading at the following prices:

$35 per card for the same or next day service
$50 per card for two hour service guaranteed

Cut-off time for same day/next day service is 12 noon on Sunday 9/21.

PSA representatives will be available to answer all questions and accept submissions for all levels of service through Sunday.

PSA/DNA autograph experts, James Spence and Steve Grad, will be available to authenticate your previously signed autographs on-site.
PSA Saturday

Date: October 4, 2003
Time: 10am - 2pm

Location:
Collectors Universe
1921 E. Alton Ave.
Santa Ana, CA 92705

Show Info:
For more information on the PSA Saturday Show or PSA services, call PSA Customer Service at (800) 325-1121 or visit www.psacard.com.

PSA SATURDAY SPECIAL SERVICE - NO SHIPPING COSTS!!

$10 per card - Submit your cards at PSA Saturday on October 4th for pick-up at the next PSA Saturday Show, November 1st.

You may also have your cards mailed to you. Return shipping fees will apply. Please refer to the shipping chart located on the reverse side of all PSA invoices.

Admission is free! PSA representatives are available to answer questions and accept submissions for all levels of service.

© 1999 - 2005 Collectors Universe Inc. All Rights Reserved.