Have your sports autographs authenticated by Jimmy Spence, this country's foremost sports autograph expert. Submission forms are available online at the
PSADNA web site.
Just click here.



Find out what
your cards are
really worth.
Subscribe to the
Sports Market Report and have it delivered to your door every month. Click here.


PSA MARKET REPORT
Key Rarities, Memorabilia and Americana Bring Strong Prices at Mile High and MastroNet Auctions
Mile High Card Company's May 14th auction brings $519,499. Key rarities perform beyond expectations. 1948 Berra in PSA 10 sells for $34,893! MastroNet's April auction results are in and exceed pre-sale estimates by half a million dollars. Extraordinary sports and Americana items make the sale the second largest multi-consignment auction in history. Click here to read more.
PSA SPORTS HISTORY

Cubs Win! Cubs Win! A Look Back at 1908
It has been 95 years since the Chicago Cubs were champions of the baseball world. They took out the Detroit Tigers in five games for the crown after winning the pennant on a miracle "bonehead" play by Fred Merkle of the Giants. Brown and Overall were dominating pitchers in the Series. The Cubs' last World Series appearance was in 1945. Click here to read all about it.
PSA VINTAGE SET REVIEW

No Mantle - No Respect?
The 1963 Fleer baseball set marked a departure for the card maker, one where they stopped featuring former legends and started focusing on stars of the current day. The cards featured excellent photography and showcased several future Hall of Famers. Unfortunately, a lawsuit from Topps held Fleer's set to a single series, and Mickey Mantle was left out. Despite the Mick's absence, however, 1963 Fleer is a great little set and easily worth a second look. Click here to read more about it.
SET REGISTRY SPOTLIGHT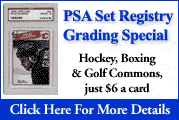 JTM - The Number One Current Finest 1959 Topps Baseball
JTM was the PSA Set Registry award winner last year for the #1 set and now, 6 months later, he remains in the number one spot against a field of heavy competition. There are 30 other registrants vying for that top ranking, but JTM keeps upgrading his set. This makes him hard to beat. His set has nothing less than a PSA 8 and has a GPA of 8.67. Click here to view!
Set Registry Grading Special! If you are collecting Hockey, Boxing or Golf cards you can submit your commons for $6 a card! There is NO MINIMUM required. Click here for details.
If you are a PSA Set Registrant you are invited to attend a reception to be held in your honor on Friday, July 25th from 1-3 p.m. at the Sheraton Hotel in conjunction with the National convention in Atlantic City. E-mail reservations will be sent out prior to the event. Make sure your e-mail account is up-to-date!
Visit the Set Registry News page and learn which set composites have been recently added to the Registry and other Set Registry news.
To see what new sets are soon to be added, visit the Set Request List. If your set is not listed, send us your request using the Set Request Form.
New composites recently added include:
Joe Montana Basic Topps
Joe Montana Master Topps
1933-34 Canadian Gum Hockey
1963 Topps Beverly Hillbillies
1964 Leaf The Munsters
2002 Yu-Gi-Oh Legend of Blue Eyes White Dragon 1st Edition
2002 Yu-Gi-Oh Metal Raiders 1st Edition
2002 Yu-Gi-Oh Magic Ruler 1st Edition
2002 Yu-Gi-Oh Pharoahs Servant 1st Edition
2002 Yu-Gi-Oh Kaiba Starter Deck
2002 Yu-Gi-Oh Yugi Starter Deck
2002 Yu-Gi-Oh Tournament Series 2
2002 Yu-Gi-Oh Playstation 2 Promo Duelist of Roses
2002 Yu-Gi-Oh Game Boy Promo Dark Duel Stories
Fun, informative, and sometimes controversial, the PSA Set Registry Messageboard is the place to get involved with other collectors who are currently participating in the Set Registry program or are just beginning. Click here to chat on the Set Registry Messageboard.

The PSA Set RegistryTM is a work in progress and we invite your comments and ideas. Send your suggestions to [email protected].
PSA Q & A
Question: With modern cards, I am having a really hard time understanding the logic on how to determine what a rookie card is. How do you tell?
Answer: Great question. There have been some bizarre rules seemingly put into place over the years. For instance, Mark McGwire's rookie card is 1985 Topps when he was an amateur on the Olympic Team so his 1987-issued cards are not considered rookie cards by most. On the other hand, Barry Bonds has a few key cards produced in 1986 like Topps Traded, Donruss Rookies and Fleer Update but his 1987 Fleer card is considered his key rookie card. Granted, those 1986 cards are not as mainstream as the regular Fleer issue. In the end, collectors decide what the best cards are and, in some cases, the perception changes over time. There was a time when the sets mentioned above (Topps Traded, etc.) were very hot, then they were very cold and then they became hot again when people realized that they were tougher than the regular issue cards. Some other publications have printed rules on the subject, however, the best way to approach this subject is to keep up-to-date on the market because time has a way of changing things. What may be true today may not be tomorrow on the rookie card debate.
COLLECTORS SURVEY
Which major league baseball park is the best? Which one would you like to spend a weekend visiting, with a Friday night game, a Saturday matinee and a Sunday doubleheader? Your choice might not be here, but it probably is.
Yankee Stadium! Wake up the echoes of the Babe, Lou Gehrig, Joe DiMaggio, Mickey Mantle and the stars of today.
Fenway Park! The Red Sox are in town to face the visiting Yankees and you swear you can see the ghost of Ted Williams patrolling left field.
Wrigley Field! This contest is over! Nothing is better than Wrigley!
Camden Yards! The new (or nearly new) Baltimore park is already filled with nostalgia!
Pac Bell Park! Not so windy, not so cold, and Barry hits one into the water.
Click here to answer. Results will be posted in the next Insider.
Results from last survey: 48% would choose a fresh-faced, young Wilt Chamberlain if given first pick in the NBA draft. Click here for a complete breakdown.
ANNOUNCEMENTS
See PSA at These Upcoming Shows!
The West Coast Sports Memorabilia & Collectibles Convention
3883 W. Century Blvd.
Inglewood, Ca. 90303
May 30 - June 2, 2003
PSA will be accepting cards for all PSA grading levels at the show. Cards submitted will be graded at PSA and returned via mail.
Special $10/10 Day Show Service: $10 per card for 10 business day turnaround.
For more information on the West Coast Sports Card Collectors Convention, call 909-592-1357 or go to http://www.halloffamesports.com.

Long Beach Coin and Collectibles Expo
100 S. Pine Ave
Long Beach, CA
May 28 - 31, 2003
PSA will be accepting cards for all PSA grading levels at the show. Cards submitted will be graded at PSA and returned via mail.
Special $10/10 Day Show Service: $10 per card for 10 business day turnaround.
For more information on the Long Beach Coin and Collectibles Expo, call 562-436-3636 or go to www.longbeachshow.com.

SportsFest
Donald E. Stephens Convention Center
5555 N. River Road
Rosemont, IL 60018
June 26-29, 2003
SportsFest Specials
• First Time Ever! - NEW! SHOW SERVICE SPECIAL $25
Submit your cards at SportsFest Thursday, June 26, by 5:00 p.m. for pick-up on Saturday, June 28.
PRE-SHOW SERVICES - NO SHIPPING COSTS!!
$20/2 day - Submit your cards to PSA by June 23 for Pick-up at SportsFest.
$15/5 day - Submit your cards to PSA by June 19 for Pick-up at SportsFest.
$10/10 day - Submit your cards to PSA by June 12 for Pick-up at SportsFest.
Make sure to mark your submission form and the outside of your package "SportsFest Special"
Bonus! Autograph Experts James Spence and Steve Grad will be on-site to offer authentication at the West Coast Sports Memorabilia & Collectibles Convention and SportsFest for previously signed memorabilia.
For more information on the SportsFest Show, call 715-445-2214 or click here.
For more information about PSA services, call PSA Customer Service at (800) 325-1121.

© 1999 - 2005 Collectors Universe Inc. All Rights Reserved.