Have your sports autographs authenticated by Jimmy Spence, this country's foremost sports autograph expert. Submission forms are available online at the
PSADNA web site.
Just click here.



Find out what
your cards are
really worth.
Subscribe to the
Sports Market Report and have it delivered to your door every month. Click here.


PSA NEWS
The Wellness Community Valley/Ventura presents "Celebrating Life through Sports: A Salute to Baseball"
This baseball event, held to benefit cancer patients and local youth baseball and softball teams, will showcase the famous T206 Honus Wagner card, Shoeless Joe Jackson's "Black Betsy," and other rare and valuable baseball memorabilia. Former Los Angeles Dodger sensations Steve Yeager and Jay Johnstone are to be special guest speakers. PSA will be taking submissions at the March 7-9 event in Simi Valley, CA, with 50% of the proceeds going to the Wellness Community. Click here to read all about it.
PSA SPORTS HISTORY
March Madness! A Look at the Early Years of National Championship Basketball
It's that time of year again! Arizona, Kentucky, Oklahoma, or...? Scalpers already want $4,250 for prime seats at the Final Four. The first champion was the Oregon Ducks. Who were the Hurryin' Hoosiers? Wisconsin has zero field goals in the second half of a Big Ten game. Let's get started! Click here to read more.
PSA EXPERT'S CORNER

The "Rookie Cards" of Boxing Collectibles
In the world of sportscards, some of the most highly sought after items are the rookie cards of superstar players. But in the world of boxing collectibles, it's often the posters, tickets, scorebooks, and especially the fight programs of a future champ's pro debut that pack the most punch. This article shows boxing collectors what to look for. Click here to read it.

SET REGISTRY SPOTLIGHT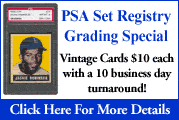 JH - The Number One Current Finest 1959 Fleer Ted Williams Set
JH has compiled a high grade Ted Williams set that has surpassed last year's Set Registry award winner. So close to a 9.00, JH just needs four more cards to reach that goal. Some of the cards in this set are low pops in PSA 9 and many are the highest grade for that card. There are 10 other members who have 100% complete sets, so JH, watch your back! Click here to view this competitive set.
Grading Special! Are you collecting Vintage cards? If so, submit your pre-1972 Vintage cards for $10 a card and receive a 10-business day turnaround! Normally, this is a $15 per card service. There is no minimum required. This special expires April 30th. Click here for details.
Please Note: We are in the process of reviewing Basic Player sets now for inconsistencies and will be making edits to these sets in the coming weeks. Your patience is appreciated and we go through this process.
Visit the Set Registry News page and learn which set composites have been recently added to the Registry and other Set Registry news.
To see what new sets are soon to be added, visit the Set Request List. If your set is not listed, send us your request using the Set Request Form.
New composites recently added include:
1980 Topps Philadelphia Phillies
Jimmie Foxx Basic Set
Jimmie Foxx Master Set
Nolan Ryan Basic Set
2001-02 Fleer Platinum Lucky 13 Basketball
All-Time NHL Top 50 Rookies
2002 Topps Pristine Football
1960 Topps Dallas Cowboys
1976 Topps Dallas Cowboys
1979 Topps Dallas Cowboys
1912-13 C57 Hockey
1938 F.C. Cartledge Boxing
1967 Topps Wacky Packages
Fun, informative, and sometimes controversial, the PSA Set Registry Messageboard is the place to get involved with other collectors who are currently participating in the Set Registry program or are just beginning. Click here to chat on the Set Registry Messageboard.

The PSA Set RegistryTM is a work in progress and we invite your comments and ideas. Send your suggestions to [email protected].
PSA Q & A
Question: How does toning affect the grade of a card?
Answer: Good question. Toning, depending on the type of card, can have a negative imapct on the grade of a card. For instance, some vintage issues are commonly found with toning such as 1940 Play Balls or 1934-36 Diamond Stars. On those issues, toning is natural in many cases. As long as the toning is not "spotty," the card should not receive a huge downgrade. If the type of card is usually found without toning, the card may receive a more severe downgrade. Remember that eye appeal is the key. Evenly distributed toning is usually not a huge problem.
COLLECTORS SURVEY

It's March Madness time, so everyone at PSA and Collectors Universe wants to know who's going to win it all? This time you get more than one team to choose from in each category. The winner will be from...
The Big 12! Kansas, Texas, Oklahoma or Oklahoma State. What a quartet!
The Pac-10! Arizona, Cal, Stanford...especially Arizona!
The SEC! Kentucky, Florida, Georgia...quite a trio to choose from.
The Big East! Pittsburgh, Syracuse or Connecticut.
The ACC! Duke, Wake Forest and Maryland, for starters. As a bonus for picking this conference, you also get The Big Surprise! How about a team from the Big 10, Conference USA or...
Click here to answer. Results will be posted in the next Insider.
Results from last survey: Take me out to the ball game! 41% of respondents picked baseball as the best spectator sport. Click here for a complete breakdown.
ANNOUNCEMENTS
See PSA in California!
The Wellness Center "presents" A Salute to Baseball
March 8 - 9 at the Ronald Reagan Presidential Library in Simi Valley
PSA Drop-off Location
East Valley Sheriff's Station
2101 East Olson Street
Simi Valley, CA 93065
Simi Valley Show: PSA will be accepting card submissions for all PSA grading levels at the show. Cards submitted will be graded at PSA and returned via mail.

Special $10/10 Day Show Service: $10 per card for 10 business day turnaround.
Half of the proceeds will go to the Wellness Community.

For more information about the Salute to Baseball Show, go to www.wellnesscommunityhope.org
For more information about PSA services, call PSA Customer Service at 800-325-1121.

See PSA at These Upcoming Shows!
Chicago Sun Times
Donald E. Stephens Convention Center
5555 N. River Road, Rosemont, IL 60018
March 14 - 16, 2003
Outfield Sports Cards Show
VFW Hall
27345 School Craft Road
Redford, Mi 48239
April 13, 2003
83rd Philadelphia Sports Card Show
Ft. Washington Expo Center
1100 Virginia Drive
Ft. Washington, PA 19034
May 2 - 4, 2003
Chicago Sun Times and 83rd Philadelphia Sports Card Shows: PSA will be accepting cards for all PSA grading levels at the shows. Cards submitted will be graded at PSA and returned via mail.

Special $10/10 Day Show Service: $10 per card for 10 business day turnaround.
For more information on the Outfield Sports Card Show, call 888-258-5811.
For more information on the Chicago Sun Times Show, call 630-663-1975 or go to www.Sportsnewsproductions.net.
For more information on the 83rd Philadelphia Sports Card Show, call 215-643-0910 or go to www.phillyshow.org.
Bonus! Autograph Experts, James Spence and Steve Grad will be on-site to offer authentication for previously signed memorabilia.
For more information about PSA services, call PSA Customer Service at (800) 325-1121.

Superior Sports Presents
THE SPRING 2003 CARD AND MEMORABILIA AUCTION
Here is a partial listing of material in this auction:

The Amon Carter collection of vintage memorabilia
Spectacular 1927 dated Babe Ruth Autographed ball
World Series tickets & ticket stubs
Season ticket passes, 1900-1950
Press Passes
Texas League memorabilia

Boxing Memorabilia
College Football tickets, ticket stubs & season passes
Kentucky Derby tickets & ticket stubs, 1930s-1950s
Also includes hundreds of PSA graded cards in all grades
And much, much more!
AUCTION CLOSING DATE: Thursday, March 27, 2003


The Spring 2003 Card and Memorabilia Auction is now online! Click here to browse through the 1000-plus lots in this sale and to place your bids!

© 1999 - 2005 Collectors Universe Inc. All Rights Reserved.