Have your sports autographs authenticated by Jimmy Spence, this country's foremost sports autograph expert. Submission forms are available online at the
PSADNA web site.
Just click here.



Find out what
your cards are
really worth.
Subscribe to the
Sports Market Report and have it delivered to your door every month. Click here.


PSA MARKET REPORT

That's the Ticket
Lots of people who attend memorable events save their tickets. But what ultimately happens to them? Usually, they end up buried in a photo album or tossed in a drawer somewhere. PSA's soon-to-be-launched Ticket Grading service is apt to change all that. Joe Orlando explains why. Click here to read more.
PSA SPORTS NEWS

Around the Circuit: News from the World of Baseball
Barry Bonds becomes the first member of the 500-500 club. Larry Doby, the first black player in the American League, passes away at age 79. Fred McGriff is on the disabled list for the first time in his career. The Rice Owls (who?) win the NCAA championship. Click here to read more.
PSA SPORTS HISTORY

The Hottest Cards on Ice
Hockey is an exciting game with well-established teams and a 100-year history, but it's the "forgotten sport" when it comes to card collecting. Nevertheless, there are some highly sought-after hockey cards out there, and one of the most desirable cards produced in the last 25 years is a hockey card. This article looks at the history of hockey and its often overlooked cards. Click here to read on.
SET REGISTRY SPOTLIGHT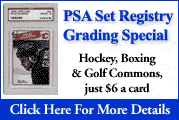 pondoft - The Number One Current Finest 1990-91 OPC Premier Hockey Set
It is absolutely perfect... every card in this 132-card set grades PSA 10! There are 11 other sets registered and red dragon is close behind with a rating of 9.97, but so far pondoft controls the lead. Congratulations to pondoft for assembling an A+ collection! Click here to view.
Set Registry Grading Special Ends June 30th! If you are collecting Hockey, Boxing or Golf cards you can submit your commons for $6 a card! There is NO MINIMUM required. But Hurry! Your submissions must be postmarked by June 30, 2003. Click here for details.
If you are a PSA Set Registrant you are invited to attend a luncheon to be held in your honor on Friday, July 25th from 1-3 p.m. at the Sheraton Hotel in conjunction with the National convention in Atlantic City. E-mail invitations were sent out June 23rd. If you did not receive your invitation, please e-mail [email protected].
Visit the Set Registry News page and learn which set composites have been recently added to the Registry and other Set Registry news.
To see what new sets are soon to be added, visit the Set Request List. If your set is not listed, send us your request using the Set Request Form.
New composites recently added include:
1963 Topps New York Yankees
1968 Topps Baltimore Orioles
1991 Pro Set Prototypes basketball
Mel Daniels Basic Set
Mel Daniels Master Set
Roger Brown Basic Set
Roger Brown Master Set
1972 Topps Denver Broncos
1972 Topps Green Bay Packers
1972 Topps Miami Dolphins
1972 Topps Minnesota Vikings
1972 Topps New York Jets
1972 Topps Oakland Raiders
1972 Topps Pittsburgh Steelers
1972 Topps Washington Redskins
All-Time NHL 500 Goal Scorers
1959 Fleer Indian Trading Cards
1964 Outer Limits
1972 Topps U.S. Presidents
1974 Topps Six Million Dollar Man
Fun, informative, and sometimes controversial, the PSA Set Registry Messageboard is the place to get involved with other collectors who are currently participating in the Set Registry program or are just beginning. Click here to chat on the Set Registry Messageboard.

The PSA Set RegistryTM is a work in progress and we invite your comments and ideas. Send your suggestions to [email protected].
PSA Q & A
Question: I heard a rumor that PSA is considering grading larger sized cards like Turkey Red cabinets and panel cut cards like Bazookas. Is this true?
Answer: Yes. By the end of the summer, the grading of these cards should be in full motion. PSA is creating a larger sized holder for the T3's and currently working on the grading standards for panel-cut and strip cards. Keep in mind that the "Hand-Cut" service will only include cards that could only be obtained by cutting them off of a panel, box, etc. -- this would not include sheet-cut cards that usually come in packs. Please keep your eyes out for these new services soon, they are just around the corner.
COLLECTORS SURVEY
Which major league baseball team has been the biggest surprise so far this year, either positively or negatively?
The Toronto Blue Jays! They don't have much pitching, but they're hanging in there with the Big Dogs (Yankees and Red Sox).
The Kansas City Royals! After a quick start it looked like they would fade into oblivion, but they're back in the race.
The Anaheim Angels! The world champions are incredibly mediocre this year at 38-37.
The Los Angeles Dodgers! Their offensive punch is minimal, but do they ever have the pitching.
The Detroit Tigers! Their current winning percentage of .247 is even worse than the "Amazin' Mets!"
Click here to answer. Results will be posted in the next Insider.
Results from last survey: 48% believe that Sammy Sosa knew he was using a corked bat and that he deserves whatever punishment he gets. Click here for a complete breakdown.
ANNOUNCEMENTS
See PSA at These Upcoming Shows!
SportsFest

Location:
Donald E. Stephens Convention Center
5555 N. River Road
Rosemont, IL 60018
June 26-29, 2003

Show Info:
For more information on the SportsFest Show, call 715-445-2214 or click here.

For more information about PSA services, call PSA Customer Service at (800) 325-1121.

FIRST TIME EVER! - NEW! SHOW SERVICE SPECIAL $25

Submit your cards at SportsFest Thursday, June 26, by 5:00 p.m. for pick-up on Saturday, June 28.

PRE-SHOW SERVICES - NO SHIPPING COSTS!!

$20/2 day - Submit your cards to PSA by June 23 for Pick-up at SportsFest.
$15/5 day - Submit your cards to PSA by June 19 for Pick-up at SportsFest.
$10/10 day - Submit your cards to PSA by June 12 for Pick-up at SportsFest.

Make sure to mark your submission form and the outside of your package "SportsFest Special"

Bonus! Autograph Experts James Spence and Steve Grad will be on-site to offer authentication for previously signed memorabilia.
PSA Saturday

Location:
Collectors Universe
1921 E. Alton Ave.
Santa Ana, CA 92705
July 5, 2003
10 a.m. - 2 p.m.

Show Info:
For more information on the PSA Saturday Show or PSA services, call PSA Customer Service at (800) 325-1121 or visit www.psacard.com





PSA SATURDAY SPECIAL SERVICE
NO SHIPPING COSTS!!

$10 per card - Submit your cards at PSA Saturday on July 5 for pick-up at the next PSA Saturday August 2.

Admission is free! PSA representatives are available to answer questions and accept submissions for all levels of service.
The 24th National Sports Collectors Convention

Location:
Atlantic City Convention Center
One Ocean Way
Atlantic City, NJ 08401
July 21-27, 2003

Show Info:
For more information about the 24th National Sports Collectors Convention call 1-877-5-NATIONAL (1-877-562-8466) or visit www.natlconv.com.

For more information about PSA services, call PSA Customer Service at (800) 325-1121.

PSA will be offering on-site grading at the following prices:

$35 per card for the same or next day service
$50 per card for two hour service guaranteed

PSA representatives will be available to answer all questions and accept submissions for all levels of service through Sunday.

PSA/DNA autograph experts, James Spence and Steve Grad, will be available to authenticate your previously signed autographs on-site. Added bonus! Game used bat authentication will also be available.

© 1999 - 2005 Collectors Universe Inc. All Rights Reserved.