1953 Stahl-Meyer Franks
Mickey Mantle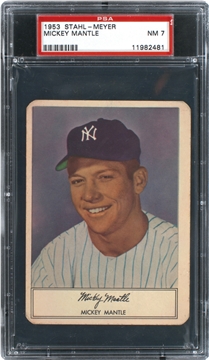 Profile
Mickey Charles Mantle (1931-1995), like his predecessor in the New York Yankees centerfield, Joe DiMaggio, became one of the most popular figures in sports history both during and after his playing career. Raised in Oklahoma, Mickey was the son of Mutt Mantle, a lead miner and former minor league player in his own right, who reared him to be a big league player and taught The Mick how to bat from both sides of the plate in anticipation of manager options as relievers were becoming more prevalent. As a teenager, his baseball career, and potentially his life was nearly ended when he suffered a injury that turned into a severe infection on the football field in high school. When a Yankees scout came to see one of Mantle's teammate's Mickey hit three home runs in the game and wowed fans and the scout alike. The New York Yankees signed Mickey a year later after his high school graduation and assigned him to the minor leagues. Mantle's meteoric rise through the ranks of the New York farm system compounded by the press' coverage of the young phenom who the dubbed to become the "next" Yankees star. He was originally assigned the number "6" to follow Babe Ruth's #3, Lou Gehrig's #4 and teammate Joe DiMaggio's #5. And, to add to the extraordinary pressure, DiMaggio announced his retirement at the conclusion of the 1951 season, Mickey's rookie campaign.
The Yankees sent the young phenom to the Kansas City Blues, but after only 40 games with the club was called up to New York for the stretch run as the Yankees ran away with the American League pennant. Facing the New York Giants in the World Series, Mantle suffered a severe knee injury, potentially a torn ACL, in Game 2 chasing down a fly ball off the bat of fellow rookie Willie Mays. The injury would nag him for the duration of his career. At the end of the season, Mickey moved over to the vacated centerfield, as Joltin' Joe DiMaggio entered retirement, and remained there for the majority of his career. In his first five seasons in New York, Mickey averaged 144 hits, 24 home runs and 89 RBI and starting in 1952, earned his first of 20 All-Star selections. In 1956, Mantle had a career year led the AL in batting average (.353), home runs (52) and RBI (130) to win the elusive Triple Crown as well as the American League Most Valuable Player award. He won his second consecutive AL MVP award in 1957 as he batted .365 with 173 hits, 34 home runs and 94 RBI as well as a league-leading 121 runs scored and 146 walks. He won a third AL MVP award in 1962. During what many refer to as the Golden Age of baseball; more young boys idolized The Mick than any other player of the era. Mantle showcased an unprecedented combination of speed and power and his tape-measure home runs thrilled fans for nearly two decades (1951-1969). He also led the Bronx Bombers to seven World Series titles during this span as he set the World Series all-time record for most career home runs with 18, most runs scored (42), RBI (40), walks (43), extra base hits (26) and total bases (123).
In 1959, the Yankee acquired the power-hitting right fielder Roger Maris from the Kansas City Athletics and the two became fast friends, earning the nickname the "M&M Boys." In 1961, Mantle and Maris captivated the American people as they began an assault on Babe Ruth's record 60 home runs in a single season. Mantle was unfortunately struck down my infection during the race for Ruth's record and finished the season with 54 dingers while Roger Maris topped The Babe on the final day of the season in Boston. But, during the chase, just as Mantle had experienced in New York after replacing the beloved Yankee Clipper, Maris struggled with the press and was portrayed as surly and "not a true Yankee" as many believed Mantle should have been the one to top Ruth's record. However, Mantle stood by Maris and helped him through all of the unwarranted criticism. Mickey played 18 years with the New York Yankees and lived a hard life of partying and carousing, not wanting to miss out on anything as he assumed he would suffer an early demise just as his father had and his grandfather before him. Though his career was riddled with injuries that kept The Mick out of the lineup far too often, Mantle finished his playing career with a .298 batting average, 2,415 hits including 536 home runs and drove in 1,509 RBI.
Following his playing career, Mickey suffered through a handful of bad investments including the failed Mickey Mantle's Country Cookin' chain of restaurants during the 1970s, but he did enjoy the success of Mickey Mantle's Restaurant & Sports Bar across from Central Park in Midtown Manhattan. The 1980s also ushered in a new era for the sports collectibles and memorabilia market, and few were a bigger draw than Mickey himself. He was unquestionable the biggest draw in the industry up until his death and he frequently insisted that lesser-known former teammates accompany him so that they too could capitalize on the recent boom. Mantle's hard living eventually caught up to him as he underwent treatment for alcoholism an eventually required a liver transplant. Unfortunately, only three months after his transplant, Mickey Mantle died on August 13, 1995. In 1969, the Yankees retire his number "7" and in 1974, he was elected to the National Baseball Hall of Fame, but for the remainder of the 1995 season the New York Yankees worn black armbands with his "7" above them in memory of their fallen comrade. Mickey Mantle remains one of the most beloved Yankees in the history of the franchise and is memorialized in Yankee Stadium's Monument Park with his plaque affectionately noting that he was "a great teammate." In 1998, The Sporting News named him to "Baseball's 100 Greatest Players" list and the following year, ESPN's SportsCentury series ranked him 37th of the "50 Greatest Athletes."
| EX 5 | EX-MT 6 | NM 7 | NM-MT 8 | MT 9 |
| --- | --- | --- | --- | --- |
| $8,500 | $12,500 | $30,000 | $45,000 | $75,000 |
Card
No.
Name
Auth
PR
1
FR
1.5
GOOD
2
VG
3
VG-EX
4
EX
5
EX-MT
6
NM
7
NM-MT
8
MINT
9
GEM-MT
10
Total
n/a

Mickey Mantle

Grade

+

Q

0

-

-

20

-

11

-

0

1

3

1

3

0

0

1

1

0

0

0

0

0

2

0

0

1

0

0

0

0

0

1

-

0

0

-

-

28

1

16
| Pos | Grade | Thumbnail | Pedigree and History |
| --- | --- | --- | --- |
| 1 | MINT 9 | | |
| 2 | NM 7 | | |
| 3 | EX-MT 6 | | |
| 3 | EX-MT 6 | | |
| 4 | VG-EX 4 | | |
| 5 | GOOD+ 2.5 | | |
| 6 | GOOD 2 | | |
| 6 | GOOD 2 | | |
| 6 | GOOD 2 | | |
| 6 | GOOD 2 | | |
From The Experts
This is one of Mickey Mantle's most elusive cards, and it resides in one of the key regional issues of the era. In 1953, this New York-based meat company decided to issue one of nine cards into packages of their hot dogs. In their first trading set, they chose to manufacture three cards from each of the three New York area teams: the Dodgers, Giants and Yankees. Stahl-Meyer, who issued three different trading cards sets from 1953-1955, included some of the brightest stars from each of those teams, such as Duke Snider and Monte Irvin, but none of those stars shined brighter than Mickey Mantle, the key to the inaugural issue. These white-bordered cards, which measure approximately 3 ¼" by 4 ½" in size, were cut with diagonal corners, and the fronts were designed with a wax coating. In addition, these cards are not only very difficult to locate, but are extremely condition sensitive. This Mantle card is rarely seen and it remains one of the missing links to collections based on the Yankee legend.