1915 Cracker Jack
Edward Collins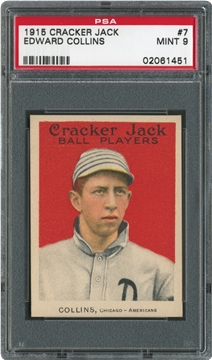 Profile
Edward Trowbridge "Eddie" Collins Sr.
Born: May 2, 1887 - Millerton, NY
Died: March 25, 1951 - Boston, MA
Batted: LH
Threw: RH
Position: 2B
Career BA: .333
Managerial Record: 174–160
Teams:
Philadelphia Athletics AL (1906–1914, 1927–1930)
Chicago White Sox AL (1915–1923; player-manager: 1924–1926)
Boston Red Sox AL (general manager-vice president: 1933–1951)
There have been many great second baseman over the annals of baseball history; Jackie Robinson and Rogers Hornsby to name a few. When you take a hard look at the numbers, it becomes difficult not to name Eddie Collins as possibly the greatest of all time. He gets our vote, hands down, as the best second baseman in this group.
The pride of Millerton, New York, Eddie Collins' contributions to the game were immense as a player, manager and general manager. As a player, his statistics and records are truly amazing. With a .333 lifetime batting average and 3,315 hits, Collins holds the MLB record for career games (2,650), assists (7,630), and total chances (14,591) at second base. He was also the first Major League ballplayer to steal 80 bases in a season. In 1914 he received the Chalmers Award as the American League's Most Valuable Player. As part of the A's famous $100,000 infield, Collins helped the Athletics to four pennants and three World Series Championships between 1910 and 1914.
Nicknamed "Cocky" because of his obvious self-confidence, the Columbia University grad was actually very superstitious. He always wore the same game socks during a winning streak, and needed someone to spit on his hat for luck before each game. Collins won the World Series with the White Sox in 1917 and joined the U.S. Navy late in the 1918 season to serve in World War I. One of the "clean" players during the Black Sox debacle, Collins continued on with Chicago serving as player-manager from 1924 through 1926. He then returned to the A's, playing on the 1929 and 1930 World Series Champs teams.
Collins coached for the A's in 1931 and 1932, before Tom Yawkey recruited him in 1933 as vice president and general manager of the Red Sox. He served as GM through 1947 and stayed on as vice president until his death in 1951. One of the original 13 players to be elected to the Hall of Fame in 1939, Eddie is still in the top 10 in career games, walks, stolen bases, hits, on base percentage, and total bases. The greatest second baseman of all time? Maybe. If not, pretty darn close!
– Tom and Ellen Zappala, The Cracker Jack Collection: Baseball's Prized Players. For more information on their book and/or to order a copy at a special PSA discount, visit http://crackerjackplayers.com/PSA_order.html
| Card Number | PR 1 | Good 2 | VG 3 | VG-EX 4 | EX 5 | EX-MT 6 | NM 7 | NM-MT 8 | MT 9 |
| --- | --- | --- | --- | --- | --- | --- | --- | --- | --- |
| 7 | $30 | $60 | $115 | $200 | $350 | $500 | $900 | $4,000 | $10,000 |
Card
No.
Name
Auth
PR
1
FR
1.5
GOOD
2
VG
3
VG-EX
4
EX
5
EX-MT
6
NM
7
NM-MT
8
MINT
9
GEM-MT
10
Total
7

Eddie Collins

Grade

+

Q

0

-

-

2

-

0

-

0

0

9

1

0

10

0

0

9

0

1

13

0

0

9

0

0

16

0

1

15

2

0

1

-

0

0

-

-

84

3

2
| Pos | Grade | Thumbnail | Pedigree and History |
| --- | --- | --- | --- |
| 1 | MINT 9 | | |
| 2 | NM-MT+ 8.5 | | |
| 2 | NM-MT+ 8.5 | | |
| 3 | NM-MT 8 (15) | | |
From The Experts
CRACKER JACK®, the sticky-sweet candy treat, will be a part of our National Pastime forever... and we are reminded of its place in baseball history during the seventh-inning stretch of every game:
Take me out to the ball game.
Take me out with the crowd.
Buy me some peanuts and Cracker Jack,
I don't care if I never get back,
Let me root, root, root for the home team,
If they don't win it's a shame.
For it's one, two, three strikes, you're out,
At the old ball game.
Most of us have vivid memories of going to baseball games in our youth and devouring boxes of these caramel-covered treats, leaving our hands so sticky that we felt like Spider-Man for a couple of hours. No, you might not have been able to scale walls like the web-slinging superhero but the Cracker Jack residue could help you snare a foul ball if one was headed your way. It was also helpful when turning the pages of your baseball program at the game.
While many baseball fans can recall the look and taste of the candy, along with the tiny wrapped gift inside each box, most of us were not around when original baseball cards were included in every package. In 1914, Cracker Jack would produce the first of two classic sets. Each inserted card from the 144-card set could be found nestled amongst the syrupy concoction that kids couldn't wait to get their hands on.
So, of course, each card that found its way into the Cracker Jack boxes was subjected to a host of condition obstacles. The cards bounced around inside the box, covered by an avalanche of candied corn and peanuts. As the temperature rose, the contents became stickier and more hazardous to the trading cards enclosed with the sweet and gooey treats. As a result, the 1914 Cracker Jack issue is terribly difficult to find in high-grade today. How some of these cards survived in presentable condition is beyond me, but it is clear that some of the best examples must have escaped being subjected to their candy cages. This is also true of other candy and tobacco issues from the first half of the 20th century. Absent rare finds of unblemished examples, ones that were never placed into the product packages, most of these types of cards are found in mid-to-lower grades.
In 1915, Cracker Jack continued planting Shoeless Joes, Ty Cobbs, Christy Mathewsons and the like inside their boxes, but they also offered the public an opportunity to acquire a complete set with an accompanying album, in exchange for coupons, to house the cards that avoided the minefield of sugar. This offer, the first major "factory set" offer of its kind, has helped to ensure that beautiful specimens could reach collectors today.
It is virtually impossible to locate high-grade copies from the 1914 set but, while still challenging and larger at 176 cards, the 1915 Cracker Jack set is one that the collector can actually assemble in top condition if they possess the financial wherewithal to do so. Ironically, despite being technically easier to find in high grade, the 1915 cards actually sold for more than their 1914 counterparts for a long time. Many collectors dared not try to collect the 1914 set. The difficulty operated as a deterrent so, in turn, more collectors flocked towards the technically more attainable 1915 set.
It was only recently, perhaps the last several years, that collectors began fully appreciating the great disparity in scarcity. As a result, collectors began paying stronger prices for the 1914 Cracker Jack cards across the board. There were always great price premiums paid for key cards, such as the 1914 Christy Mathewson (pitching pose) card, but the premiums now applied to all the cards in the set.
At the time of this writing, the legendary 1914 and 1915 Cracker Jack baseball card issues were approaching their 100th anniversary. While not considered part of The Big Three baseball sets in the hobby, which includes the classic 1909–1911 T206, 1933 Goudey and 1952 Topps issues, the Cracker Jack cards would arguably round out The Big Four if the list was expanded. Some would argue the Cracker Jack issue should be part of The Big Three. One thing is certain, the cards have always been desirable.
The Cracker Jack issue, which is loaded with great stars from the period, is one of the most eye-appealing releases ever manufactured. The distinct poses, which lie against the rich, red background, provide some of the best visuals ever captured on cardboard. From the ferocity in Ty Cobb's gaze to the regal portrait of Christy Mathewson to the joyous look on Shoeless Joe Jackson's face prior to the Black Sox scandal, many collectors feel that this set provides some of the finest-looking cards known of many of its featured figures.
There was one major star who could have been included in the 1915 release but didn't make the cut. This man was a young pitcher for the Boston Red Sox who made his debut in 1914. First, he became the most dominant left-hander on the mound but, once he was sent to the New York Yankees in 1920, he became the most dangerous hitter at the plate. Yes, you guessed it, Babe Ruth. Falling under the heading of "what could have been," a mainstream Babe Ruth rookie card could have appeared in the set, but it wasn't meant to be.
If the Cracker Jack Ruth rookie card had ever been made, there is no doubt it would be one of the most coveted and valuable cards in the entire hobby. Prior to 1948, there weren't what most collectors would describe as "mainstream sets" produced each year. Many great players like Jimmie Foxx and Lou Gehrig did not have official rookie cards, at least the way we define rookie cards today. There are two rookie-era Ruth cards and both are worth a tremendous amount of money. In 1914, Ruth appeared on a Minor League card as a member of the Baltimore Orioles. This Baltimore News card has fetched well into six figures with the highest price ever paid exceeding $500,000 in 2008.
Ruth's first appearance as a Major Leaguer came in the black and white M101-5 and M101-4 Sporting News sets, which are now both believed to have been released in 1916. Several copies of that Ruth card, in various grades, have sold for in excess of $100,000 during the past several years. The Cracker Jack Babe Ruth rookie card may not exist but, as collectors, we can still dream.
As long as the hobby exists, Cracker Jack baseball cards will remain a part of the collecting fabric. Their link to the classic American confection, their stunning eye-appeal and fantastic player selection have made these tiny time capsules one of the most desired card productions of all time
- Joe Orlando: The Cracker Jack Collection: Baseball's Prized Players