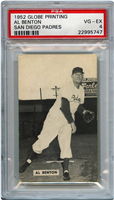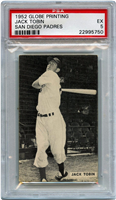 Denver-based auction firm, Small Traditions LLC, invites you to explore its Monthly Masterpieces Plus #22 Auction, which contains 850 lots, consisting primarily of single graded cards. The auction ends this Saturday night 6/28. Register here, and see below for a list of highlights and also a list of Small Traditions various consignment options, including 0% sellers fees and cost-free grading, for its upcoming August Premium Event and its Exclusive Derek Jeter Farewell Auction in September.
HIGHLIGHTS ENDING THIS SATURDAY 6/28 INCLUDE:
Extraordinarily scarce 1952 Globe Printing San Diego Padres PCL singles
Hundreds of PSA-graded vintage stars with many Mickey Mantle, Willie Mays, Hank Aaron & so many more
Hundreds of PSA-graded 1952 Topps cards in mid to upper-mid grades
The second installment of one of the hobby's most admired Derek Jeter collections. Derek is just 34 hits shy of tying Honus Wagner for most hits ever by a shortstop, and demand for his better cards is skyrocketing. Included in this month's installment are more and better Derek Jeter insert and rookie cards than will appear in live eBay auctions the entire month of June. Stock up now, and don't miss out!
Hundreds of certified autographs from all sports
A fine selection of football, basketball, and hockey cards, loaded with rookies
June Auction Giveaway – See Lot 845 in this month's auction to learn how to play for your chance to win compelling prizes worth hundreds of dollars!
CONSIGN TO BACK 2 BACK SMALL TRADITIONS PREMIUM AUCTIONS FOR A 0% SELLERS FEE
Small Traditions invites you to consider consigning your PSA, BGS & SGC graded cards and certified autographs for 0% to any of its forthcoming summer auctions:
Exclusive 100-Lot August Premium Auction -- Saturday, Aug. 30th -- Consign by Friday 8/15 
All Premium Auction items must be valued at a minimum of approximately $1,000. All items receive premium treatment with extensive professional write-ups and aggressive marketing. Space is very limited and available on a first-come basis. Call 303.832.1975 or write [email protected] to discuss your premium collectibles and to reserve your premium placement today.  
Derek Jeter Farewell Auction -- Saturday, Sept. 27th -- Consign by Friday 9/12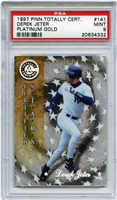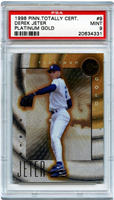 Small Traditions is also pleased to announce that it will be auctioning off one of the hobby's most significant Derek Jeter collections over the course of this summer, culminating in a special Derek Jeter Farewell Auction in September. This auction will feature the finest Derek Jeter collectibles in existence, and the company is aggressively seeking additional consignments of exceptionally high-end cards, certified autographs, certified game-used material, and artwork on a limited basis. The company also welcomes consignments of other high-end New York Yankees items for this special event, and it will be donating 2% of all proceeds to Derek Jeter's Turn2 Foundation "to motivate young people to turn away from drugs and alcohol and Turn2 healthy lifestyles."   
ADDITIONAL SMALL TRADITIONS CONSIGNMENT SERVICES:
Free Auction Listings: Sell Your Certified Collectibles for a 0% Sellers Fee
The hallmark service of Small Traditions is free auction listings for its consignors' graded cards and third-party certified autographs and memorabilia. Call 303.832.1975 or write [email protected] to discuss your items, and then simply mail them to the company's office in Denver. They'll list your material in their next monthly auction, and in as little as 2-4 weeks after the auction, they'll send you a check for 100% of the final bid price of your item(s). The total inverse of eBay, there is no selling fee whatsoever for this standard Small Traditions auction service. Instead of charging its sellers, the company charges its bidders a modest Buyers Premium of 15% that it adds to their final bids, so if your item generates a final bid of $1,000, you get a check for $1,000, and the buyer pays $1,150. Why tolerate eBay and PayPal for 15% of your profits, and why consign to other auction houses that charge up to 20% from their sellers plus as much as 20% or more from their buyers, when you can consign to Small Traditions for free?
Cost-Free Grading: Grade 10 to 100 Cards with PSA, SGC & BGS at No Cost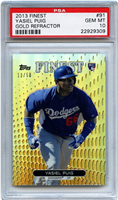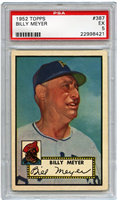 Certified third-party grading is an expensive and delicate process that typically adds multiple factors of value to properly handled and selected cards. In the grading process, experienced professionals scrutinize every square millimeter of both surfaces of a card, and even a pixel-sized print dot can lower a card's final grade. A simple smudge from a fingerprint can lower a grade a full level, and the tiniest imaginable nicks and scratches from handling can impact a grade even more.
Use your discretion to select 10 to 100 of your best "raw" or ungraded cards to submit to Small Traditions, and they'll use their expertise to further screen your cards for grading with PSA, SGC, or BGS, the hobby's leading third-party certification companies. You'll consult with Small Traditions owner Dave Thorn before and after the grading process to discuss your expectations and to ensure not just your satisfaction with the process but also your understanding of its many challenges. After initial consultation, the company will then do the delicate work of sorting and preparing your cards for grading. Small Traditions will pay to ship them off, it will pay to grade them, pay to ship them back, and pay to auction them. The company will pay for all charges up front and then deduct your grading fees only after the completed auction(s) of your item(s).
Collection Management Service: Grade & Auction Your Entire Collection for 10-20%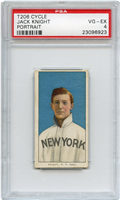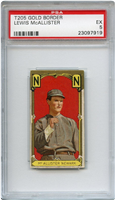 Small Traditions is pleased to introduce its Collection Management Service, a consultation and asset liquidation program aimed at maximizing the sales value of collections and groups of cards in excess of 10 to 100. Whether your collection consists of 200 cards or 200,000, instead of selling it for far less than its potential market value -- sometimes far less, as most dealers will usually pay 60% of "raw" or ungraded book value for cash deals -- Small Traditions will organize your entire collection, identify candidates for grading, auction the graded cards, and then sell the leftovers in detailed groups. This labor intensive process typically increases the value of the collections with which the company works by multiple factors, so instead of realizing just $10,000 for your collection, Small Traditions will work hard to earn you $20,000 to $30,000, or more, all at a modest cost of 10-20%, depending on size.  
Finally, don't forget to follow Small Traditions on Facebook and on Twitter for more updates and for the company's popular giveaway promotions. 
To contact the company directly, email [email protected] or call 303.832.1975.