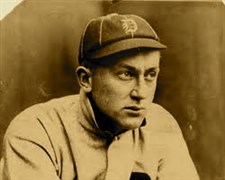 Hello fellow T206 enthusiasts. We are pleased to announce that our newly launched website is now live, and our inaugural auction is underway, and will close for bidding on Sunday, November 3, 2013. We recommend that you review our Terms and Conditions so that you may properly understand our bidding structure.
We at the T206 Society are passionate about our hobby, and it is our mission to provide you the best T206 experience possible. We pride ourselves on running a clean auction house, with the highest standards of ethics, providing maximum respect to all T206 cards and you the collectors, as is well deserved.
We are now accepting consignments for our next auction, which will open for bidding on Sunday, November 10, 2013, and will close for bidding on Sunday, November 24, 2013. If you have any T206 pieces that you wish to consign to the T206 Society, please contact us at: [email protected], and we will get back to you as soon as possible. We are honored to serve you.
Thank you, and we sincerely wish you all the best of luck in feeding your MONSTER!
ENJOY THE HUNT!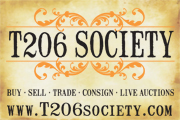 Buy, Sell, Trade, Consign, Live Auctions