Nothing captivates the sportscard and sports memorabilia collecting world like the news that one of the hobby's whales – a super-high-end collector who has compiled an important and extensive collection – has decided to part with their amassment of treasures. When news such as this hits, it stirs the soul and races the pulse of both those who have the financial wherewithal to compete for these prized artifacts, as well as with those who will simply pore over every page of the catalogue in dreamy awe that these magnificent items actually exist and are being made available.
As 2012 dawns, such news has in fact hit the hobby and the quickened heartbeats and stirred souls of sports memorabilia lovers and collectors are clamoring to see just what will be rendered from one of the largest and most impressive treasure troves ever amassed – The Dreier Collection.

"This will be the first eight-figure collection to come to the market since the Barry Halper collection," says Doug Allen, president and chief executive officer of Legendary Auctions who will represent the sale. "This is a highly significant collection that will present amazing, never-before-offered items into the hobby."
A Family Affair
The Dreier Collection is unique, not just in its scope and breadth, but also by virtue of how it came together. While most private collections of this significance have been the result of one person's dream and dedication, this has truly been a family affair headed up by the family's patriarch, Chad Dreier.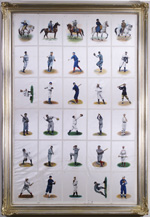 The son of a World War II veteran who grew up in the inner-city of Los Angeles, Dreier graduated from Loyola University and served in the U.S. Air Force as a prelude to his career as a Certified Public Accountant. In the 1970s, his work as a CPA transitioned into the home building industry and led him on a 32-year career path that would ultimately see him named chairman of the board and president of the Ryland Group – one of the nation's largest homebuilders and a leading mortgage-finance company – a position he held until his 2009 retirement. While Dreier reached the pinnacle of his profession through hard work, knowledge and passion, those attributes were also implemented in his love for sports and sports-related collectibles.
"When I was a kid, in the 1950s, I loved sports and played basketball, football and baseball," says Dreier. "Like other kids, I collected Topps Baseball and Football cards but, I didn't have any money, so building my card collection only came when my dad would give me a quarter and I would go get five packs of cards."
With his love of sporstcards never wavering as the years went by, Dreier continued to collect with an ever-growing passion, knowledge and desire for the best offerings available. "As I progressed in my career, I got much more sophisticated in my card collecting," says Dreier. "Throughout the 1980s, I really got into trying to complete sets. Then, in the '90s, I moved into another level of collecting by purchasing a Honus Wagner card – which, is the thing to own if you're a heavy hitter collector. It was a beat up old card – a PSA PR 1. I had paid around $75,000 for it – which was a lot of money – and then, years later, traded it, along with some other cards, to get my current Wagner card which is a really nice looking PSA VG-EX 4."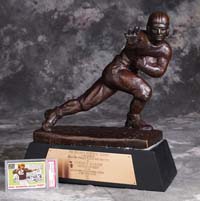 In 2000, Dreier and his wife, Ginni, bought a hilltop-home in Santa Barbara. That move didn't just give them an extraordinary view of the Pacific Ocean; it also brought the Dreier family together through their individual and collective passions for collecting.
"Soon after we moved into that house, we acquired the property next door that included a 20-thousand-square-foot building," Dreier explains. "Purchasing that property was really Ginni's idea. She thought it would be a great place to display all my collectibles." And display them he did – in such grand fashion that within a short period of time, his display had become a full-fledged museum.
"I called my son, Doug, who was an eighth grade teacher in Albuquerque, and told him I really needed him to come home and start-up and run the museum," says Dreier. "At the time, I was running a three-billion-dollar corporation and traveling a lot and just didn't have the time to keep up with the day-to-day operation of a museum."
A passionate sports collector in his own right, Doug heeded the patriarchal call and took over as the curator and executive director of the Dreier Museum. "When Doug took over, we moved from collecting sportscards to branching out into all sorts of memorabilia," Dreier recalls. "We started out with game-used Rams jerseys, Lakers jerseys and Steve Garvey's Gold Glove award. Then, we got a Heisman Trophy, and one of Babe Ruth's bats, and the Angels World Series Trophy from 2002. It just snowballed and that led to our purchase of the Kareem Abdul-Jabbar collection. We had a relationship with Kareem and ended up acquiring almost all of his personal collection."
While Dreier and his son, Doug, were busy acquiring items and building a world-class sports collection and museum, Ginni felt it was time for her to get into the act. "All this sports stuff was pouring in and the museum displays were really coming together," says Dreier. "Then, one day, my wife said: 'If we're going to do a museum, what are we going to do for the people who aren't into sports?'"
That was all diehard passionate collectors like Chad and Doug had to hear. Taking Ginni's comment as a green light to expand their "search and acquire" mission, they began working on a branch of the collection they call the non-sports side. "We branched out into pop culture," Dreier explains. "First, we got into material like Westerns, Lucille Ball and classic television. From there, it was Disney and G.I. Joe stuff. Most recently, we've been into first-edition books. Then we decided to do a natural history side with gems, minerals and fossils. So, even though the museum was always heavy on sports, it became a pop culture museum that had something for anyone from a ticket to every Super Bowl, championship rings, Arnold Schwarzenegger's jacket from Terminator and Fonzie's jacket from Happy Days, to the Energizer Bunny that was used in the commercials and lots of Michael Jackson stuff."
Making the museum available for charities, non-profit organizations and private parties, the endeavor brought the already-close Dreier family together in a way that had a profound impact on each family member. "Growing up, we were always a tight family that shared our passions with one another," recalls Doug. "But, establishing this collection and the museum became a huge part of our family and we always made it a point to have everyone involved – my mother, my sister, Kristin, my wife, Hanne, who had been an archival framer and is very knowledgeable about collecting and archiving. We have all shared the pride of putting this collection and museum together. It has always been a family endeavor. We were raised to be collectors and each of our own passions – our own collections – have been incorporated into the museum. It has given each one of us great memories and has been a true pleasure. We've used it for the good – for various organizations and causes that each of us respectively has been involved with. To some extent, the collection has been another member of our family. It has been such a big part of our life – part of our existence."
A Family Decision
Soon after Dreier retired in 2009, Doug made the observation that as a collecting family, with a huge collection, they had items packed away that hadn't been looked at in years. "He was right," says Dreier. "As a family, we made the decision to go through that stuff and sell off the duplicates."
As the family's focus began slowly shifting from acquisition to liquidation, Dreier experienced an epiphany. "That came in the late summer of 2011," says Dreier. "I had turned 64, a good friend passed away, and I saw what it was like for his family to have to deal with estate attorneys and tax lawyers. I didn't want that to happen to my family. I began to think of the collection and the museum in an entirely new light. It was taking up a lot of my time and was costing a considerable amount of money to run. Along with those issues, I simply felt I had worked for the past 40 years and was now at a point in my life that I want to play with my grandkids and take my wife to the movies. We all talked this over, made the decision that the time had come to liquidate the collection, and contacted Doug Allen at Legendary."
"This decision, to liquidate this collection, will have a huge impact on the hobby," says Allen. "What marks this collection is its diversity. It covers the major professional sports with a very heavy leaning towards baseball. It also has a Southern California twist to it. There's stuff from Coach John Wooden, a lot of USC Football stuff, things from the Los Angeles of Anaheim Angels, a lot of old Los Angeles Rams stuff. Then there's the major stuff – the Honus Wagner card and the championship rings and trophies. There are 25 Hall of Famer jerseys from the 1960s – Mickey Mantle, Sandy Koufax, Hank Aaron, a Babe Ruth game-used bat and Richard Kazmaier's 1951 Heisman Trophy. It also has what I call an incredible origins of baseball element – Peck and Snyder cards – the earliest baseball cards. A huge and diverse collection of 19th century cards and sets – some of the most amazing complete sets ever complied. There's a really rare card set – the 1888 Joseph Hall Cabinet Baseball set. Chad is the only person to ever put together an entire set of all 18 cards. He's also the only person to have compiled a complete set of Boston Garter cards that includes Joe Jackson, Ty Cobb and Walter Johnson cards."
The question, that seems the most obvious to pose to Dreier, is how one shifts emotionally from putting a collection like this together, to letting it go? Confronted with that query, he is perhaps more nonchalant and pragmatic than one may think.
"Putting this collection together, and then establishing the museum, has been one of the highlights of my life," he says. "The process was so exciting. Every day was like Christmas. I would get two or three packages a day and was like a kid opening them. I loved every minute of it. But, it's time to move on. All my life I have been the type of guy who looks forward, not backward. Then, and this may sound callous, but the fact is that this sale will bring in a substantial amount of money that will become a part of my estate and give me the chance to spend time with my grandkids and show them the world. For me and Ginni, we have decided that, at our age, it's time to transition into another time of our lives. Our grandchildren are four and two, and we just had a new grandson born this past November. We're at a point where we want to spend more time with family than with things. At the end of the day, that's what we based our decision on. I don't want to be one of those guys who regrets not spending enough time with his family. We're looking forward to hopefully another 20 years of enjoying the grandkids and traveling with them." Asked if he harbors a feeling of melancholy in seeing the items go, he shrugs. "Somewhere, between 80 and 90 percent of me, is ready to see the collection go," he says. "Then, there's the other smaller part of me that is a bit melancholy about seeing it go. I think I wouldn't be very human if there wasn't a part of me that won't miss it. But frankly, I think my wife has had a harder time with letting it go than me. She has been so incredibly proud of this collection we put together."
Dreier says that he also feels that one of the reasons he is handling the sale of his items with aplomb is that he and his family members will not be parting with everything. "There are some special things that I will be keeping," he reveals. "I'm a Leo and I went to Loyola, whose mascot is the lion. Because of that, I have a pretty big collection of lions including an original Picasso drawing of a lion and a lion that had been in Elvis Presley's Graceland. I will be keeping those things. My wife collects wine glasses. She has over 2,000 different glasses, and she will continue that collection. Doug collects tintypes – the plate process that proceeded modern photography. He has well over 200 baseball tintypes and he wants to keep those. We have also decided to keep the gems and minerals and fossils which is one of the finest private collections in the country."
Doug agrees with his father's assessment. "We will still be actively collecting first edition book and gems and minerals, so there will still be a lot going on with us from a collecting standpoint," Doug reasons. "We will still have a Dreier Collection, but it will be different. We're refocusing and in a time of transition. There comes a point when you feel you have done all you can do, or all you want to do, with specific things and you want to refocus your energy and resources on something new. It's like climbing Everest. You get to the pinnacle and look around for a little bit, enjoy it, and then, as you take that first step back down, you start thinking about your next challenge."
Doug also says that, to a large extent, it is both the circumstances and the family's unanimous decision to refocus, that has made the parting with their treasures much easier. "We are not depleting this collection because someone has died, or because there's a need for money. We're doing it because, as a family, we're ready to do new things and have new adventures. It's a very positive thing. We feel we have accomplished something rather amazing and we're now ready for the next thing. We're also very excited about these things coming into the hobby."
Meaning to the Hobby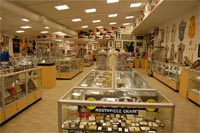 While Doug Allen and Doug Dreier are both acutely aware of what this offering will mean to the hobby, Chad Dreier says he never really gave it much thought until recently. "I really never thought about what it would mean to have these items come into the marketplace until Doug Allen and his team came out, saw this stuff, and, to use a technical term, went ape s--t," he says with a laugh. "Now, I am beginning to grasp what it will mean. I was a big buyer. So, as I exit the market, a lot of things will become available that collectors are going to find very cool. The collection is extensive and vast and I'm really happy it will be going back into the hobby rather than going to the Smithsonian or to a university where it would just be packed away in their basement for the next 100 years."
Dreier also admits that the majority of this offering will not be within the financial reach of the average collector. "As far as things going to the big money guys, well, that's the reality," he says. "I understand that, and for them, this offering will be a chance to get things they could have otherwise never dreamed of owning. I think that one of the flaws in the hobby is with those who don't really care about the items and are only in it because they think they can buy something for eight dollars and turn around and sell it for ten. Hey, it's America, and if that's what someone wants to do, I have no problem with it. But I don't consider the people who do that to really be a part of the hobby. They are certainly not collectors. They're just financial guys looking to make a buck. I just can't bring myself to dwell on that part of it. The money part never meant anything to me – this was all done out of the love for every single piece we ever bought. I put this collection together because I liked these things, and because I thought others would like them too. I've have never been the type of guy who bought something just to flip it and make money. The money has meant so little to me in putting this together that now, as we are cataloging everything for the sale, the Legendary guys keep asking me what I paid for various things and with some things. I just don't remember."
With over ninety percent of the material in the Dreier Collection having been authenticated or graded by PSA and PSA/DNA, Dreier and Allen plan on having every piece submitted to PSA prior to the sale. "I trust PSA, and so do other serious collectors," Dreier opined.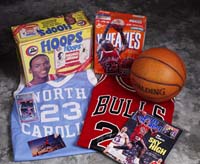 As for how the collection will be offered, both Dreier and Allen feel it will take time to liquidate everything. "We will be offering this collection in installments over the next few years," says Allen. "We will probably do eight separate catalogs. To kick off the offering, I have identified a handful of pieces that are extremely significant and unique including the Honus Wagner card and an uncut sheet of S81 Tobacco Silks that were issued as special premium with Helmar Turkish Trophy Cigarettes in 1911. We will offer those things in a private direct sale."
Grateful to have the opportunity to represent this magnificent offering, Allen says that Legendary Auctions is not just proud to be a part of the collection, but to be a part of the Dreier family. "Chad is a wonderful down-to-earth guy who, along with his family, has really accomplished something truly amazing," says Allen. "They put this collection together with true passion and will now provide the hobby with an offering that will rank right up there with the greatest ever offered."