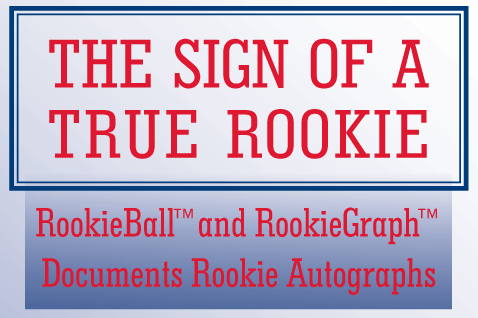 In the sportscard collecting world, there has always been an excitement, desire and premium attached to a player's rookie offering. More than any other cards manufactured throughout an athlete's career, 99.9 percent of the time, it is the player's rookie card that is the most desirable.
"There are exceptions to that," said Joe Orlando, president of PSA and PSA/DNA Authentication Services. "However, that is the general rule with cards and, in fact, it is very much the same with autographs. Look at a Mickey Mantle autograph as an example. For years, there have been premiums paid for vintage Mickey Mantle autographs – ones signed, or estimated to have been signed, during the early years of his career. Any item signed by Mantle in the 1950s will always be in higher demand than items he signed in the 1980s – when his career was over and he was doing a lot of signings."
Understanding that such a premium is placed on collectible items associated with a player's beginnings, Orlando and his team at PSA and PSA/DNA created RookieBall™ and RookieGraph™ – a program specifically designed to assure a future supply of authenticated, certified and documented autographed balls and other items that have been signed prior to an athlete's second full professional season.
"Documenting these items and certifying that they were, in fact, signed prior to their second season of play fits right into what we do as a company," said Orlando. "As more collectors understand how this program works and what it means – specifically what it means to their collection – more and more collectors will want to be involved with RookieBall™ and RookieGraph™. And, subsequently, as more collectors embrace the program, you will see more dealers and promoters holding signings with rookies so we can document the signatures."
Baseball great Frank
Thomas, left, with
Dennis Sidler, owner
of the Chicago-based
SidsGraphs.
According to Orlando, one of the dealers who has already embraced this new program is Dennis Sidler of the Chicago-based SidsGraphs. "Dennis is a dealer who uses the RookieBall™ and RookieGraph™ services," said Orlando. "By embracing this program, he has really become a leader in the marketplace for rookie signed items that have been certified by PSA and PSA/DNA."
Born and raised in Chicago, Sidler has been a lifelong fan of all the Chicago teams. "As a kid, I collected baseball cards and then, when I was a teenager, I started getting into autographs," said Sidler. "I would get them by going out to Comiskey Park and Wrigley Field – usually during batting practice and after games."
Eventually making the transition from collector to dealer, 1999 saw Sidler open his business. "My customers have always liked rookie cards," Sidler pointed out. "So, we figured that the people who are attracted to rookie cards would also be the ones that would like the RookieGraph™ and RookieBall™ concept. Then, in 2003, we decided to take it a bit further and began to specifically do signings with the top baseball prospects of each season."
Giants pitcher Tim
Lincecum is just one
of the many players
who have signed for
SidsGraphs.
While Sidler and other dealers are working with the program to certify rookie signed items, Orlando pointed out that the program is available to any collector who would like to submit a signed item. "We offer the In-the-Presence service, where people can attend signings such as the ones Dennis puts on and get their items signed and then have them certified on the spot," said Orlando. "But, that is just one way to utilize the service. In addition, if someone secures a signature by any other means, the autograph may be eligible for the special program. As long as that signature or signed item is submitted to us prior to the player's second full season, the autograph is eligible. First, PSA has to authenticate the signature as being genuine, and then, if it is certified as being genuine, we can then also apply the RookieBall™ or RookieGraph™ designation to the item."
When it comes to balls signed during a player's rookie season, PSA will label them in a unique way. Whether it be a baseball, basketball, football, tennis ball or golf ball, the key rule of the RookieBall™ service is that the ball must relate to the sport the signing athlete is associated with. As an example: a baseball signed by any Major League Baseball player prior to the start of his second full season would qualify for RookieBall™ certification. Conversely, a golf ball signed by the rookie would not qualify being as that it is not a ball from the sport the signing player is associated with. If, however, there was a situation in which an athlete played professionally in two sports, a ball from each of the respective sports would qualify for certification.
With RookieGraph™ any signed item would qualify for certification. This could be anything from a piece of signed equipment to a photo to a single piece of paper. With this program, the autographed item would not have to be directly associated with the player's sport. For example: if a rookie player from the National Basketball Association were to sign a baseball hat, a program from an awards ceremony, or any non-sports related item, that would qualify for RookieGraph™ certification.
Phillies fielder Domonic
Brown signing a bat for
SidsGraphs during his
rookie season.
As to the timeframe when a player is considered to be a rookie, Orlando said the definition PSA and PSA/DNA has adopted is any time prior to the beginning of the athlete's second full season of play. "To qualify for RookieBall™ or RookieGraph™ certification, an item would have to be received by PSA/DNA prior to the first game or appearance of the athlete's second full season," said Orlando. "The key issue under this rule is the definition of what constitutes 'second full season' being as that in each sport there are rules that pertain to and define this issue."
Having given careful consideration as to the issue of what window of time constitutes a player's rookie season, Orlando said that the RookieBall™ and RookieGraph™ rules are posted on the program's Web site (http://www.psacard.com/Services/Rookie/). An example provided on that site stipulates that for a Major League Baseball player:
"a position player must exceed at least 45 days of service on a Major League roster and/or 130 official at-bats while a pitcher must exceed at least 50 innings-pitched in order for the rookie clock to start ticking. If a baseball player reaches those criteria, the following season, they are no longer considered a rookie."
Among the big prospects
who have signed for
SidsGraphs are power-hitting
outfielder Ryan Braun.
The site also points out the fact that it is fairly common for a Major League Baseball player to be called up from the Minor Leagues late in the season and only play in a few games. In that case, if the player were to play in the Major Leagues the following season, they are still considered to be a rookie. This is documented by the fact that many players, including Mark McGwire, have taken Rookie of the Year honors although they did play in a few Major League games during the prior season.
The site also stipulates that an autograph or signed ball need not have been signed during the player's actual rookie season. According to PSA/DNA's rule, the autograph may have been signed "at any time prior to the second full season of play." According to Orlando, this means that as long as a signed ball or item is received before the beginning of the player's second season of professional play, even if the player is actively playing in the Minor Leagues or in college, the item will be acceptable for certification.
It is also important to understand that in the case of players who have played professionally outside of the United States (with the exception of the Canadian teams), they are still considered to be rookies during their first year of play with a Major League team. As an example, the site points to Hideki Matsui and Ichiro Suzuki who were both considered to be rookies during their first full year of play in MLB despite the fact that they came with years of professional play behind them in Japan.
Rookie signed Jason
Heyward baseballs could
prove to be very valuable
in 10 to 20 years.
While the definition of what constitutes a rookie season can be fairly easy to determine with baseball, football, basketball or hockey players, it is a bit foggier with other sports. The site also addresses how a rookie year is determined when it comes to sports such as boxing, golf, racing and tennis:
"A rookie athlete in those respective sports and others can be defined in a variety of ways. For the purposes of this PSA/DNA program, an autograph that is received prior to the beginning of the athlete's second full year of participation will qualify for this program. The clock will start running from their first professional appearance and then stop one full calendar year later."
As an example: if a tennis player were to make his or her professional debut on June 1, 2010, an autograph from that player could be submitted until June 1, 2011 and qualify for the RookieBall™ or RookieGraph™ certification.
Rangers pitcher Neftali Feliz
signing balls for the RookieBall™
program.
Sidler, who no longer collects himself (although he is actively putting together a collection of baseballs signed by Hall of Famers for his three-year old son) said that both he and his clients are extremely excited and pleased with PSA and PSA/DNA's rookie certification program. "We are the largest RookieGraph™ and RookieBall™ distributor in the country," said Sidler. "We are doing singings all the time and we deal with clients all over the county by mail order. We have seen the demand for rookie material grow as each year goes by so this program fits in perfectly with what we do."
Sidler said that while his company does regular signings with prospects from teams in all major sports, their major focus is on Major League Baseball and players from Chicago teams. "Baseball is the majority of our inventory and we focus on the top 25 prospects of each season. We have a lot of return customers who are always looking forward to the prospects of the new season," he said. "We have been very successful with what we do, and over the years, PSA has been a big part of that. I deal with collectors that are simply not interested in an autograph that has not been authenticated by PSA."
As for the RookieGraph™ and RookieBall™ program, Sidler said that he believes PSA has a brought another great concept to the collecting world. "I think this will become very popular with collectors being as that they can see how the rookie's careers progress and also how their signatures and signing habits may change as the years go by. We're excited about this and are even looking into doing a signed rookie bat program in the future. I believe that, a decade from now, this entire concept will have become a major part of the hobby and that these authenticated rookie items will be in high demand."
Giants pitcher Madison Bumgarner
was one of the top prospects that
SidsGraphs contracted with to sign
baseballs for the special PSA program.
That is music to Orlando's ears. "People like Dennis are extremely helpful in leading the way for collectors to understand this program and filling up the market with RookieBall™ and RookieGraph™ items," said Orlando. "And he is right. It is one of those things that will continue to grow as people become more aware of it."
Pressed on how the idea came to be, Orlando said it just simply made sense. "When we first came up with the concept, we looked at two main things – the rookie card phenomenon and the desirability of things signed during the early part of a player's career," said Orlando. "Look at any sports auction. If you see a circa mid-1950s Willie Mays signed item versus one signed in the 1980s, the older item will always sell for multiple times what the 1980's item will sell for. A precedent has already been set for rookie cards and autographs signed during the early part of a player's career. So, it made sense that we combine the rookie card concept and the desirability for older autographs and create this program that will now provide the hobby with items that have a 100 percent certainty in having been signed prior to an athlete's second full season of professional play."
Orlando said that while collectors have always tried to predict which rookies would go on to become stars, he feels that today's collectors have an advantage that has never before played into the guessing game. "I remember in the 1980s, people would go to shops and conventions and buy up every rookie card they could find," Orlando recalled. "They would buy stacks of players who they thought would pan out. In some cases, they made great purchases, and in other cases, they gambled and lost. Regardless, it was fun. But, in the 1980s there was no ESPN, or 24-hour sports channels, or the Internet. You had to have been able to closely follow a player from college or through the Minor Leagues. Most of the buying resulted from rumor or was totally blind. Today, that is very different. You can find out just about anything about any player, whether they are in college or the Minor Leagues. There is just so much information available today. It makes it easier for sports fans and collectors to make an informed decision on what rookies may break out in their respective sports."
In years to come, these baseballs
will forever have been documented
as having been signed by Rays infielder
Evan Longoria prior to his second
full season.
Still, Orlando admits that there is a risk involved in collecting rookie signed material. "Just like there was a level of risk in the past, that risk still exists," said Orlando. "Look at this past year – a lot of people are really high on Buster Posey. He had an outstanding regular season and the San Francisco Giants won the World Series. I guarantee you there are people out there buying up Buster Posey rookie signed items. If he goes on to be what a lot of the experts think he'll be, you can only imagine what those balls will be worth 10 and 20 years down the road. Still, there is always a risk that an injury could end his career early. So sure, there's a risk, but there is also a lot of fun in speculating on rookies and the potential for a big payoff for the collectors who get in early with our rookie program."
Both Orlando and Sidler also believe this program will inspire more dealers to do signings with rookies. "When we first created this program, one of the first athletes submitted was Ben Roethlisberger," said Orlando. "So now, looking beyond his personal issues, this guy has performed very well and has been a winner on the field. I'm sure there are a lot of people who wish they could go back and submit Ben Roethlisberger items signed prior to his second season. That will always be the case. It would be nice to be able to go back 60 or 70 years and have items that were signed by some of the legends of the past certified by a RookieBall™ or RookieGraph™ program. Sure, but a program like this didn't exist back then. What we can do, however, is help provide documentation for rookie-era signed items into the future."
Orlando said he is very pleased that PSA is once again at the forefront of establishing yet another program to ensure the solid future of the sports collecting hobby. "There is clearly a great future for items that have been certified through this program," said Orlando. "It is one thing to say that it is a belief or an opinion that an autograph is a "rooke-era" example. But imagine if you could prove it? Ten to 15 years from now, because of this program, that will be the case. There will be no doubting that an item certified by RookieBall™ or RookieGraph™ is an autograph from the player's rookie era. In the long-term, that level of certainty will pay off for the owners of these items. Remember, rookie items have been in demand for a lot longer than PSA and PSA/DNA have been around. We didn't create the concept of a premium associated with a rookie-era item, we are just documenting it. We are looking to help dealers like Dennis bring more attention to the program and believe it will bring a tremendous benefit to collectors, and to the future of the hobby."
---
For further information on SidsGraphs, call (815) 405-4578 or visit their Web site at www.authenticautographedmemorabilia.com