PSA Grades First Gem Mint 10 Clemente Rookie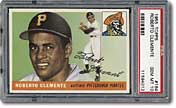 That's right. After 12 years and almost 7,000,000 cards later, PSA has graded its first Gem Mint 10 Roberto Clemente rookie card. Always considered a popular card, this 1955 Topps Gem is simply a superb specimen and part of one of the most popular sets of all-time. The set also includes great rookie cards of Sandy Koufax and Harmon Killebrew. There are PSA Gem Mint examples of those two cards in circulation already with the only PSA Gem Mint 10 Killebrew rookie selling for $55,000 just about one year ago. This Clemente rookie card is certain to set a record and enter exclusive company on the all-time prices realized list for sportscards. We will keep you posted when this amazing card sells – let the bidding begin!
MastroNet Exceeds $9 Million in August Auction
High-end Sports and Americana items fuel vigorous bidding from collectors of all genres
It's getting hard not to sound like a broken record - especially when the record you keep breaking is your own. That's exactly what auction powerhouse MastroNet did in its most recent auction of high quality sports and Americana memorabilia. In the early morning hours of August 30, MastroNet closed the second most successful multi-consignment auction to date, exceeding $9 million. This figure tops MastroNet's April 2003 auction that grossed $8.6 million and closes in on the MOST successful multi-consignment auction of all time $9.5 million - another MastroNet event. All but a handful of lots sold out of the 1964 offered and the average per lot selling price topped $4,582.00.
"There just isn't another auction house that can match the items we offer, our results or our professionalism," said William Mastro, CEO of MastroNet. "We understand the auction process better than anyone and that displays itself in our consistent success."
Specific highlights of the auction include:
Incredible Cincinnati Red Stockings Trophy Ball Collection
Some collector has recently acquired the trophy of a lifetime! These 17 gold painted baseballs, housed in a vintage trophy case, represent one of the most important series of games in the history of the sport. The 1869 Cincinnati Red Stockings were an awesome baseball power and the first all-professional team. Sixteen of the baseballs represent a Red Stockings' win from the series and one of the balls denotes a rainout. The final price tag for this historical treasure was $473,383.00.
1934 Goudey Uncut Sheet with card #106 Napoleon Lajoie
When Goudey left out #106 in their 1933 run of baseball cards, ardent collectors wrote to complain. To solve the growing problem, the famed baseball card company included the 1933 #106 in its 1934 run of baseball cards and this sheet provides the obvious proof. This rare and desirable uncut sheet of 1934 Goudey cards shows the missing #106 quietly tucked in the production run. The sheet sold for $88,006.00.
1939 "Detective Comics" #27 1st Appearance of Batman
This is the key comic book advanced collectors covet – especially when it's unrestored. This copy, graded CFC FN-5.5, unrestored label, has only a color touch to a spot on the cover. It sold for $79,823.00.
1903 World Series Program
This year marks the centennial anniversary of the first World Series. It's a fact that only increases collector interest and significance in this phenomenal survivor of that initial showdown. This Excellent to Mint scorecard meticulously records the second game of the first World Series played on October 2, 1903. The program sold for $70,671.00.
Extremely Rare PSA Graded 1909-1911 T206 White Border Joe Doyle "N.Y. Nat'l" Variation Card
Although the Honus Wagner T206 is more famous than this card, this Doyle card is considerably more rare. Only six are rumored to exist and this copy commanded $64,100.00.
Batman #1 Comic Book
Many consider this comic book one of collectings' "blue chip" investments. It is one of the top five unrestored copies in existence and has been graded CGC VF 7.5 unrestored with off-white pages. The final price for this comic classic was a serious $62,540.00.
Superb 1955 Topps Complete PSA Graded Set
This extraordinary 206-card set is currently ranked the 5th finest set of its kind in PSA's Set Registry. All but three of the cards are graded PSA NM-MT 8. The excellence at this level was $54,147.00.
Ty Cobb 1917-21 H&B Game Used Bat
This incredible H&B 125 game bat was used by the "The Georgia Peach" from 1917-1921. Ty Cobb bats are among the most sought after in sports collectibles. This one commanded $48,048.00.

1887 N28 Allen & Ginter Baseball Card Set
The N28 set, in its 50-card entirely features not only baseball players, but also athletes from a wide range of other disciplines. This collection of 10 cards focuses only on baseball and all are graded at least NM-MT 8 by PSA. The card set of 10 went for $48,048.00.
Babe Ruth 1924-30 H&B Game Used Bat
Babe Ruth used this bat during the height of his career with the New York Yankees. It is a 36", 42 oz. H&B signature model bat that features an exceptional "George 'Babe' Ruth" facsimile signature and all manufacturer's stampings. The bat went for $48,048.00.
Original N.C. Wyeth "Embracing Couple" Cover Painting for "Anthony Adverse" – 1934
Newell Convers (N.C.) Wyeth was the "dean of American illustrators." This work was Wyeth's slip and book cover paintings for Hervey Allen's "Anthony Adverse." Wyeth signed the work with his initials. It sold for $46,000.00.
More Sports Legends
Sammy Sosa's 500th home run baseball sold for $44,824.00; a Mickey Mantle 1960 New York Yankees game worn jersey went for $43,679.00; a 1934 Tour of Japan autographed original team photograph commanded $42,576.00; a Babe Ruth signed baseball went for $42,576.00; Barry Bonds' home run baseball #70 sold for $38,706.00; a 1922 letter from Judge Landis to Joe Jackson sold for $35,187.00; Babe Ruth's 705th home run baseball – signed by Ruth and Gehrig went for $35,187.00; near sets of 1910 T205, T206 and T207 tobacco cards sold for $34,309.00; a Joe DiMaggio 1936-40 H & B game used rookie-era bat commanded $31,987.00; a Bernie Friberg 1922 Chicago Cubs game worn jersey went for $30,162.00; and Larry Brown's Super Bowl XXX ring went for $29,709.00.
Other Comic Book Chronicles
"Wonder Woman" #1 – the highest unrestored copy – went for $31,987.00; an unrestored CGC NM 9.2 copy of "The Amazing Spiderman" #1 – 1939 sold for $26,435.00; the first 70 issues of "Doc Savage" magazine and two vintage hardcovers sold for $12,641.00; the original artwork for the second "Johnny Comet" Sunday page by Frank Frazetta – 2/10/52 realized $9,935.00; a high grade group of 24 early issues of 1930s "The Spider" sold for $9,391.00; "All-Star Comics" #4 – Rockford copy – tied as the highest graded unrestored copy/1941 went for $9,936.00; "All Star Comics" #6 – Rockford copy – 1941 sold for $6,650.00; and "All Star Comics" #18 – Rockford copy – the highest graded copy – 1943 went for $5,768.00.
Music, TV and Movie Memorabilia
An autographed Beatles 8" x 10" photo inscribed to Jerry Schilling (Memphis Mafia) on the night the Beatles met Elvis sold for $21,847.00; Captain Kirk's "Alternate Universe" Hero Tunic and sash from the Star Trek "Mirror, Mirror" episode went for $20,375.00; the original artwork for the "Charlie Chan at Monte Carlo" one-sheet movie poster commanded $19,861.00; the Three Stooges one-sheet movie poster for "Income Tax Sappy" – 1934 sold for $11,666.00; a "Who's on First" Abbott and Costello signed baseball commanded $7,679.00; and Matt Jeffries original concept drawings for the first Start Trek starship Enterprise realized $7,225.00.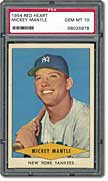 Political Power
A collection of 46 Presidential pens sold for $26,435.00; a 1779 George Washington Revolutionary War handwritten letter went for $18,055.00; a rare JFK and RFK presidential appointment signed as President and Attorney General respectively went for $14,548.00; an extraordinary 16" x 20" original Karsh portrait autographed by President John F. Kennedy went for $12,329.00; a Thomas Jefferson 1792 signed Act of Congress sold for $13,563.00; a circa 1898 "Rough Riders" Teddy Roosevelt signed original photo realized $12,502.00; a late 18th century George Washington wine glass – one of only 3 known – sold for $10,928.00; and a 1905 Theodore Roosevelt Inaugural medal went for $10,330.00.
Phenomenal Historical Highlights
A 1952 Albert Einstein signed typewritten letter with "Theory of Relativity" content sold for $21,300.00; a significant Wilbur Wright pamphlet "Experiments & Observations in Soaring Flight" from Orville Wright's library sold for $14,920.00; a rare Bruno Hauptmann signed photo to his lawyer sold for $10,928.00; an 1820s Declaration of Independence Broadside (Woodruff copy) sold for $8,536.00; a rare 1873 Winchester First-Model saddle ring combine went for $8,210.00; a General George Armstrong Custer signed 1865 2nd Calvary Division Muster Roll sold for $6,560.00; and a Benjamin Franklin signed 1787 naval document commanded $6,536.00.
Non-Sports Card Beauties
The ultimate 1962 Topps "Mars Attacks" complete set sold for $35,187.00; a set of 1962 Topps "Civil War News" went for $19,861.00; a 1935 R60 Gum Inc. "G-men & Heroes of the Law" one-cent display box commanded $13,753.00; a 1965 Topps "Bewitched" never released test issue near set sold for $10,189.00; the original artwork for the 1965 Topps "Battle" attributed to Norm Saunders for card #2 "Attack on Pearl Harbor" went for $7,679.00; an unopened 1966 Topps "Lost In Space" wax box sold for $7,679.00; and an unopened pack collection of cards from 1958-75 sold for $7,054.00.
Crowning Coins
A 1907 High Relief St. Gaudens Double Eagle sold for $32,766.00; an 1849 Mormon $5 Copper Die Trial went for $21,300.00; an 1852 U.S. Assay Office $50 octagonal gold piece commanded $14,920.00; a 1903 McKinley Proof Gold $1 NGC PF64 CAMEO realized $10,189.00; and an 1846 Charlotte Half Eagle sold for $8,625.00.
For More Information
MastroNet's next auction is scheduled for December 2003. Consignments are currently being accepted. For more information or for consignment details, call 630-472-1200 or visit www.mastronet.com.