By Joe Orlando
MastroNet's Latest Sale Surges Towards $3,000,000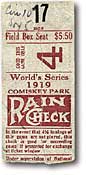 After the bidding stopped, MastroNet's latest premier catalogue auction finished with nearly $3,000,000 in total bids. The exact total was $2,949,807, a result of strong bidding in a number of different areas. Mid-grade PSA cards performed very well along with quality team signed baseballs. Game-used bats, which have been surging in recent months, did not disappoint. In fact, one 1955 Mickey Mantle All-Star bat sold for just under $40,000 making it one of the highest prices ever realized for a Mantle gamer.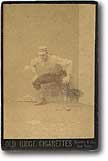 Here's a quick look at some of the auction highlights:
Item and Price Realized
1) 1997 Ichiro Suzuki Game-Used Bat $3,617
2) 1997 Ichiro Suzuki Orix Blue Wave Game-Used Jersey $14,920
3) N173 1888 Old Judge Cabinet Connie Mack $13,905
4) 1974 Minnesota Vikings NFC Championship Ring $3,938
5) 1961-62 Fleer Basketball Unopened Packs $1,572
6) Pete Maravich Signed Autobiography $2,737
7) 1957-58 Jacques Plante Game-Used/Signed Hockey Stick $1,937
8) 1949 New York Yankee Team Signed Ball $3,180
9) 1954 New York Giants Team Signed Ball $2,094
10) 1954 Brooklyn Dodgers Signed Team Ball $5,700
11) 1955 New York Yankees Signed Team Ball $2,922
12) 1957 Brooklyn Dodgers Team Signed Ball $2,922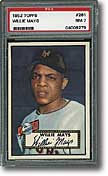 13) 1959 Los Angeles Dodgers Team Signed Ball $6,898
14) 1971 Pittsburgh Pirates Team Signed Ball $2,346
15) 1981 Los Angeles Dodgers Team Signed Ball $1,623
16) 1989 Oakland A's Team Signed Ball $1,179
17) Perfect Game Signed Ball (Koufax, Hunter, etc.) $1,937
18) 1927 World Series Program and Full Ticket Stub $1,667
19) Mickey Mantle/Billy Martin Signed Photo $1,321

20) Mickey Mantle/Roger Maris Signed Ball $2,922
21) Roger Maris 1961-64 Louisville Slugger Game-Used Bat $14,087
22) Joe DiMaggio/Mickey Mantle Signed Oil Painting $3,499
23) Roger Maris Single Singed Ball $3,123
24) 1909-11 T206 Jack Bastian (SL) PSA Mint 9 $3,376
25) 1909-11 T206 Harry Bay (SL) PSA Mint 9 $3,714
26) 1911 T212 Obak Buck Weaver PSA Good 2 $1,558
27) 1911 T205 Cy Young PSA EX-MT 6 $1,937
28) 1914 Cracker Jack John McGraw #69 PSA NM 7$2,580
29) 1933 Delong Jimmie Foxx #21 PSA EX-MT 6 $805
30) 1939 Play Ball Ted Williams #92 PSA EX-MT 6 $1,937
31) 1934 Goudey Lou Gehrig #61 PSA EX-MT 6 $2,415
32) 1952 Topps Willie Mays #261 PSA NM 7$3,499

33) 1955 Topps Al Kaline #4 PSA NM-MT 8 $548
34) 1955 Bowman Willie Mays #184 PSA NM-MT 8 $1,298
35) 1955 Topps Roberto Clemente #164 PSA NM 7 $2,171
36) 1955 Topps Sandy Koufax #123 PSA NM-MT 8 $2,465
37) 1956 Topps Willie Mays #130 PSA NM-MT 8 $991

38) 1957 Topps Roberto Clemente #76 PSA NM-MT 8 $914
39) 1959 Topps Al Kaline #360 PSA Mint 9$1,453
40) 1966 Topps Willie Mays #1 PSA NM-MT 8 $991
41) 1966 Topps Mickey Mantle #50 PSA NM-MT 8 $974
42) 1969 Topps NL Strikeout Leaders #12 PSA Mint 9 $332
43) 1895 Temple Cup Program $3,938
44) 1911 World Series Program (New York)$2,443
45) 1919 World Series Ticket (Chicago) $3,486
46) 1923 World Series Program (N.Y. Giants) $1,647
47) Lou Gehrig Full Memorial Ticket $2,789
48) Eddie Collins 1917-1921 Game-Used Bat (H&B) $18,725
49) Ernie Lombardi 1943-48 Game-Used Bat (H&B)$6,204
50) Ted Williams 1950-60 Game-Used Bat (H&B) $14,066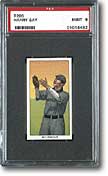 51) Stan Musial Game-Used/Signed Early 1960's Bat (H&B) $10,221
52) Willie Mays 1961-64 Game-Used Bat (H&B) $9,030
53) Mike Schmidt 1970's Game-Used/Signed Adirondack Bat $1,760
54) Cal Ripken 1980-82 (LS) Rookie Era Game-Used Bat $6,412
55) George Brett 1980-82 (LS) Game-Used/Signed Bat $1,572
56) Don Mattingly 1986-89 (LS) Game-Used/Signed Bat $2,580
57) Barry Bonds 1991-92 (LS) Game-Used/Signed Bat $4,158
58) Mark McGwire 1998 Game-Used Adirondack Bat$5,032
59) Ivan Rodriguez 1992 Rawlings Game-Used Bat$1,572
60) Derek Jeter 1997-98 (LS) Game-Used Bat $3,123
61) Manny Ramirez 2000 Rawlings Game-Used/Signed Bat $1,179
62) Mickey Mantle 1955 All-Star Game-Used (H&B) Bat $39,708
63) 19th Century Baseball Figural Napkin Ring $3,215
64) Turn of the Century "Sebring" Baseball Pottery $2,656
65) 1922 Spalding Baseball Trophy $4,158
66) 1928 Photo Including Ruth, Cobb, Speaker and Gehrig $4,495
67) Larry Doby Pennant $2,094
68) 1950's Premier Baseball Gumball Vending Machine $2,839
69) 1960's Wrigley Field Bleacher Turnstile $6,090
70) 1982 St. Louis Cardinals World Series Trophy $6,898
71) Phil Niekro's 1973 Game-Used/Signed No-Hitter Ball $3,683
72) George Brett Signed/Game-Used 2,976 Hit Ball $3,537
73) Fergie Jenkins Game-Used 201st Win Ball $1,558
74) Roberto Clemente's 2,820 Hit Signed/Game-Used Ball $6,345
75) Jackie Jensen Single Signed Ball $1,937
76) Willie Stargell Game-Used/Signed 1982 Home Jersey $4,773
77) Dave Winfield Game-Used/Signed Cap $1,219
78) Kirby Puckett Game-Used/Signed Batting Helmet $1,729
79) Mike Piazza Game-Used Catcher's Mitt $10,101
80) 1996 Mike Piazza Game-Used Dodgers Jersey $3,215
81) 1997 Cal Ripken Baltimore Orioles Jacket $3,537
82) 1910's S21 & S22 Collegiate Silks Collection $7,370
83) Mark McGwire 1980's Signed Game Model Bat $1,760
84) Barry Bonds 1986-89 Rookie Era Game-Used Bat $3,579
85) 1990's Mike Piazza Mizuno Game-Used Bat $2,094

Once again, we are reminded that the hottest items seem to be the $10,000 and under pieces. There are some exceptions in the market. When an extremely rare or desirable high-dollar item hits the auction block, the final bids are still reaching new heights but, right now, it is taking the special items to bring that kind of money.
There is also no question that key cards in mid-grade are performing very well right now. With the economy in an uncertain state, collectors might not be able to spend $15,000-$20,000 on a high-end Gehrig or Ruth but they still have the burning desire to collect and a PSA 3-6, and even the 7's, offer a very reasonable alternative. They can still participate in the market without spending it all in one place.
Jordan Jersey Slam Dunks its Way to $37,510
Michael Jordan always seems to be in the news and, in Sportico's latest auction, he stole the show one more time. A 1992 Olympic jersey, worn by the legendary Bulls player, sold for a very impressive $37,510. Over $132,000 in total sales were produced with some record prices being set on individual items. "The auction was a great success, our clients and consignors where both very pleased with the results and everything ran smoothly," said Ryan Friedman, Chairman and CEO of Sportico.
All in all, the auction sold over 90% of the items and exceeded Sportico's First Auction Gross Sales back in March by over 40%. "We are glad to see our auctions grow in the number of items we offer, and with the total gross sales," Friedman said. "Across the board the numbers are all up from the previous auction and we are looking at expanding even more for the November 29 auction."
Sportico also became the first Internet & Phone Auction for sports memorabilia and sports cards to distribute a full interactive mini CD-ROM to clients. Sportico handed out these mini CD's to clients at SportsFest Chicago. "This was an extremely exciting time for Sportico, we like to be on the cutting edge when it comes to giving our clients more ways to view and participate in our auctions," explained Friedman. "Being the first company to distribute a fully interactive flash auction catalog on a mini CD is just another great way that Sportico allows clients to participate."
"We already have 100's of items on consignment for November and we believe our clients and future clients will be impressed," said Friedman.
Highlights from the August 16, 2001 auction include:
Item#1 Michael Jordan Game Worn 1992 Olympic Jersey sold for $37,510
Item#2 Michael Jordan Game Worn 1994 Barons Jersey sold for $6,820
Item#55 Ichiro Autographed Blue Waves Jersey sold for $4,392
Item#67 Babe Ruth 1938 Presentation Bat sold for $1,815
Item #197 Mickey Mantle Autographed Bat sold for $1,669
Item #215 Mark McGwire Unopened 1985 Topps Rack Pack sold for $984
Item#289 Original Fight Poster of Ali vs. Frazier sold for $1,500
Final Gretzky Jersey Sets Record With $67,791 Bid!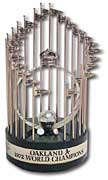 Wayne "The Great One" Gretzky has always led the way in the hockey collectibles market but, this time, Wayne raised the bar again. In a recent Leland's auction, taking place on August 16 & 17, a jersey worn in his final game sold for an astonishing $67,791. The final bid is believed to be the highest price ever paid for a game-used hockey jersey. Usually, any price above $50,000 is reserved for baseball legends when it comes to game-used jerseys. This Gretzky example has now set a new standard for shirts worn by the "Ice Kings."
In addition to the Gretzky jersey, a Leroy Neiman original painting featuring Gretzky sold for $67,791 as well. Here's a peek at some of the other highlights from the sale:
Item and Price Realized
1) 2000 Barry Bonds game-used jersey $5,802
2) 1995 Mike Piazza game-used All-Star jersey$4,255
3) 1984 Don Mattingly game-used jersey $8,719
4) 1930's Lou Gehrig signed photo $19,182
5) 1940's Joe DiMaggio game-used/signed bat $19,850
6) 1969 Catfish Hunter game-used jersey $6,779
7) 1995 Mark McGwire game-used/signed jersey $5,956
8) 1995 Randy Johnson game-used All-Star jersey $5,663
9) 1988 Barry Bonds game-used jersey $7,723
10) 1978 Dave Winfield game-used jersey $6,853
11) 1955 Ted Kluszewksi game-used jersey $15,446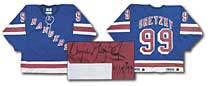 12) 1982 Carlton Fisk game-used jersey $8,292
13) 1976 Brooks Robinson game-used bat $3,197
14) Robert Deniro's bat from The Untouchables $9,695
15) 1966 Bill Mazeroski game-used bat $3,868
16) 1977 Pete Rose game-used All-Star bat $6,393
17) 1971 Pete Rose game-used jersey $14,914
18) 1992 Cal Ripken game-used jersey $6,562

19) 1950 Stan Musial game-used jersey $39,701
20) Late-30's Johnny Mize game-used jersey $9,925
21) 1972 World Series Trophy (A's) $24,020
22) 1988 Joe Montana game-used jersey $15,853
23) 1974 Gordie Howe game-used Team Canada jersey $18,520
24) 1980's Patrick Roy game-used jersey$12,765
25) 1972 Gerry Cheever's Boston Bruins Stanley Cup ring $21,836
PSA Graded Mickey Mantle Gems Go Deep at MintXpress Auction
If there was one thing "The Mick" knew how to do during his major league career, it was hitting home runs. Well, Mickey Mantle may not being roaming the outfield for the New York Yankees any longer but his sportscards continue to have an impact on our hobby. This time, it was "The Mick's" cards that were hitting homers as strong bidding propelled prices at the latest MintXpress auction.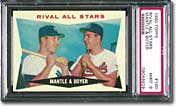 Rain Woodall, Director of Operations at MintXpress, felt that the auction performed very well. "We were happy with the results, especially with the lack of economic stability right now," Woodall explained. "We didn't expect to receive the interest that we did but, despite a couple of lots not meeting the reserve, the lots that did sell brought 131% of SMR value. With the current state of the market, that number was very pleasing to see."
Here's a peek at some of the highlights:
Item and Price
1) 1960 Topps Rival All-Stars (Mantle/Boyer) #160 $1,406
2) 1961 Topps Mantle World Series HL #307 $1,375
3) 1961 Topps Mickey Mantle MVP #475 $6,400
4) 1962 Topps Switch Hitter Connects (Mantle) #318 $6,100
5) 1962 Topps Mickey Mantle All-Star #471 $6,800
6) 1963 Topps A.L. Batting Leaders (Mantle) #2 $1,333
7) 1963 Topps Bomber's Best (Mantle) #173 $3,649
8) 1965 Topps A.L. Home Run Leaders (Mantle) #3 $1,150
9) 1965 Topps AL RBI Leaders (Mantle) #5 $1,256
10)1967 Topps Checklist w/Mantle #103 $430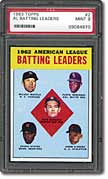 There were several strong prices but one card's success even surprised Woodall. "The 1961 Topps Mantle MVP card received very strong interest," Woodall said. "The winner was ecstatic because it was the last card he needed to complete his run. When someone is determined to get a certain card, the sky becomes the limit. That Mantle example is not easy to find in PSA Mint 9."
There is little doubt as to whether or not that particular price realized was an auction record. The 1961 Topps MVP cards, in general, are very condition sensitive. Dark print marks plague the backgrounds, especially on the cards with red-colored backgrounds like this Mantle. With condition rarities a top priority now more than ever, collectors are drawn to these types of issues.
After a successful offering, MintXpress plans on holding another high-quality sale in the coming months. "We had such a huge response from not only the bidders, but from potential consignors as well," Woodall said. "Anytime you can make additional contacts in this business, it certainly helps. The high-end material is just so hard to come by."