By Evan Thompson
have to admit that when I first heard about Alfonso Soriano, I was a bit skeptical. There are only so many times that one can hear about yet another Yankee middle infield prospect being the next "Derek Jeter" before you become a bit jaded (can anyone say D'Angelo Jimenez?). And how many "can't miss/five-tool players" are there really out there anyway? The whole scouting process sometimes seems a bit like a million dollar "boy who cried wolf" game, where words like "potential" and "natural talent" get applied to players who are long-shots to ever even play a single game in the majors. While I'm on my soapbox here, let's go ahead and do a quick rundown of the other over-valued "can't miss" Yankees prospects that have come through the baseball card world in the last few years: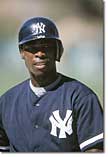 Soriano might be the most exciting current player in the game. Photo Courtesy of John Cordes
1) Brien Taylor- Fire-balling pitcher who received a huge signing bonus from the Yanks before they realized that he had no idea how to consistently throw across the plate. He also went from throwing in the mid-90's to the low 80's. I'm ashamed to admit that I bought his Topps Gold autograph for $100 at the time.
2) Wily Mo Pena - Still in the minors and now with a different team, but his gem mint Bowman Chrome RC cards were selling well over the $100 range for months.
3) D'Angelo Jimenez - Infield prospect that was involved in a terrible car wreck and hasn't been the same since (and was traded away to the Padres).
4) Mike Pagliarulo - Power hitter from the Rob Deer school of batting average. In 1985, his cards were selling for more than Kirby Puckett's.
5) Ricky Ledee - Is now a role-player for the Phillies.
6) Kevin Maas - Hit a bazillion homers in one month and then disappeared off the face of the baseball landscape. In that one month, his cards went from .50 cents to about $10.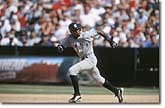 Soriano's speed has led him to the 30-30 Club and beyond. Photo Courtesy of John Cordes
Now that I have voiced my intrinsic dislike for over-hyped/under-performing Yankees prospects, I must state that the most notable exception to this has been Alfonso Soriano. As of this writing, "Alf" is currently a member of the 30-30 Club, and has a very realistic shot at reaching 40-40. Now in this age of 50,60, and 70 homerun seasons becoming blasé, one might think that someone reaching the 40-40 mark might be a bit "been there, done that", but please make note of the following facts. The only other players to accomplish this feat are Alex Rodriguez, Barry Bonds and Jose Canseco, all of which would be classified as "physical specimens." Now in comparison, please note that Alfonso Soriano is a middle infielder (a second baseman no less), is of relative normal build (6'1, 180) and is a leadoff hitter. Granted, he plays in a lineup that might go down in history as being one of the best of all time, but this still does nothing to downplay his achievements to date.
Another little known fact, is that Soriano, after reaching the 30-30 mark, is the only Yankee in history to do it. It's hard to believe that with so many star-caliber players that the Yankees have fielded over the years, that they have yet to produce a player who could reach even the 30-30 milestone. The other key is that Alfonso is the only lead-off hitter in Major league history to achieve this feat.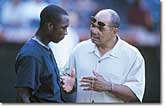 Reggie Jackson takes time to give advice to the young star. Photo Courtesy of John Cordes
Alfonso Soriano's best RC cards:
1) 1999 Upper Deck Ultimate Victory
2) 1999 Bowman Chrome
3) 1999 Topps Finest
4) 1999 Bowman's Best
5) 1999 Fleer Tradition Update
Card to get: 1999 Topps Traded Autograph (tough to pull and very condition sensitive).
As the season starts to wind down, it will be interesting to see how Soriano deals with the pressure that comes with being on the cusp of doing something great. The media hasn't started talking about it yet, but you can be sure that if Alfonso is at the 35/35 mark by mid-September, the media blitz will become relentless. And as if that wasn't enough, playing in New York for the Yankees tends to be like playing under a microscope.
You didn't ask for it, but my prediction for Soriano's final statistics is as follows: .300 Batting average, 36 homeruns, and 39 stolen bases. And even though I don't think that he will reach the coveted 40/40 this year, make sure you remember that this is only his second full season, and the kid is only 24. And you can bet that George Steinbrenner will continue to sign amazing talent to support Soriano's leadoff hitting skills, so make sure you leave a spot open for Soriano in your card collection as well as on your fantasy baseball squad. The kid's for real.