ost card collectors, no matter how large their collections, will admit to having a favorite genre. Some are most attracted to a certain sport, team or player, others collect from a certain era or manufacturer. Kevin Roberson, the manager of an office supply store in Folsom, CA, has a clear favorite – vintage basketball.
Roberson's NBA Topps 50 Rookie set currently sits atop PSA's registry, and he is striving to be named into PSA's registry Hall of Fame.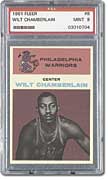 Wilt as a Warrior in this 1961 Fleer #8 is one of Kevin's favs
We recently caught up with Kevin who shared some of his insights and feelings on collecting vintage basketball cards.
SMR: When did you begin collecting PSA graded vintage basketball cards?
KR: I first became interested in vintage basketball cards about eight years ago. I would go to the big card shows and would see tons of vintage baseball stuff, some vintage football, but very little vintage basketball. The fact that vintage basketball material seemed to be less popular was what really sparked my interest. I have always been most attracted to things that are rare or different. It became very clear to me that if I wanted to collect cards that were different than the norm, vintage basketball would be for me.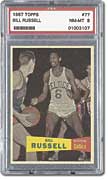 This card has eluded Kevin and its a tough one!
SMR: Having decided to collect vintage basketball, what made you decide that you wanted only PSA graded cards?
KR: Well, when I first started collecting, I was not purchasing graded cards. Then two things happened to make me realize how important it is to only buy graded cards. The first thing was the Internet. I began purchasing cards from Web sites and on-line auctions and rapidly found out that some collectors and dealers had a very different idea than me as to what is meant by Gem Mint. I started receiving poor quality cards and cards that were not of the condition that they were being represented. At that point, I began realizing that I was making a big mistake by not purchasing graded cards. The second thing that happened was that I started to purchase more and more expensive cards. I consider myself to be a good grader, however, when a card graded PSA 8 has a value of $500 and the same card in PSA 9 has a value of over $4,000, I knew that I had better let the true experts do the grading for me.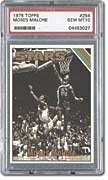 One of Kevin's Gem Mint 10's is his 1975 Topps #254 Moses Malone
SMR: What has been your greatest challenge in collecting vintage basketball cards?
KR: Oh, that's an easy one – Back in 1996, to celebrate this Golden Anniversary, the NBA came out with a list of the NBA's Top 50 players of all time. The list includes all of the expected superstars and legends such as Mikan, Russell, Chamberlain, West, Johnson and Bird. As soon as I saw that list, I knew I would be facing a huge challenge. I thought it would be great to collect the rookie card of each one of those 50 players in PSA 8 or better. From that day on, I decided it would be my goal to complete that set. I am now eight years into that search and I am still attempting to complete the set. Thanks to PSA and the registry program, I have been able to list my set on the registry and last year won the 1st Place Award for the NBA Top 50 Rookie set. Today my set is 97.96% complete. All of the cards are PSA 8, 9 or 10 with an average grade of 8.59. The only card I am missing is the Bill Russell #77 and I am hoping to find one of them soon. I am always upgrading my set and that has been the greatest challenge I have faced over the past eight years.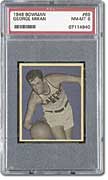 Kevin's most favorite card is his 1948 Bowman #69 George Mikan NM-MT 8
SMR: Almost every collector has a favorite card. Is that the case with you?
KR: Yes. My 1948 Bowman George Mikan PSA 8 is my favorite card. I am also very proud of a few other cards such as my 1961 PSA 9 Chamberlain, my 1969 Cunningham and Hayes cards in PSA 9, my 1970 Maravich in PSA 9, a 1975 Moses Malone in PSA 10 and all of my 1986 Fleer 10 Rookies.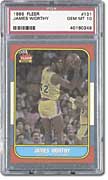 Kevin is proud of his Gem Mint 10's which include this 1988 Fleer #13 James Worthy
SMR: What do you like most about collecting vintage basketball?
KR: First and foremost, the thing that I truly enjoy is the people I have met over the years. I have met so many friendly and knowledgeable people thorough the hobby. They are not just fellow vintage basketball collectors, they are friends. Secondly, the thing I greatly enjoy is the challenge. I enjoy searching for the one card that I need and then finding it. I like setting a goal and then seeing that goal become a reality.


Kevin Roberson, the King of the vintage hoop cards
SMR: Speaking of a making your goals become a reality, what's next for you?
KR: Well, of course, my first goal is to find a1957 Bill Russell # 77. When I have that card in my possession, I will have completed my NBA Topps 50 rookie set. When that set is complete, I will still always be working to upgrade it whenever I can. My second goal is to complete the Basketball HOF Rookie PSA registry set. With the cards I currently own, I am 56% done with that set. That goal may take some time, however, as we all know, patience must be one of the collector's best friends. My third goal is to teach my son, Brandon, the joy of collecting vintage basketball cards. He is only four months old so I consider that to be a long-term goal.