By Evan Thompson
Randy Johnson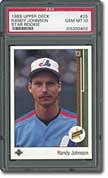 Okay, okay, so I'm usually the first person to tell the world that it's not a good investment to purchase the cards of a pitcher. Having said this, I have to urge collectors to buy some cards of mega-strikeout artist Randy Johnson. After doing some research on Randy, I discovered that out of all of the pitcher's in history who have at least 3,000 K's, Randy has established a gaudy 11.17K's per 9 innings ratio. The only thing I can compare the big-unit's dominance over both left-handed and right-handed batters to, is the way Mark McGwire made all of the other players on the field look like little boys. He is far and away the most valuable pitcher in fantasy baseball leagues the world over, yet still fails to garner much hobby attention. The key question is will Randy ever reach the 300-win plateau? And the answer is that Randy will have to maintain the same quality of pitching for approximately 6 more years in order to reach this milestone. In the interim, however, his rookie cards both graded and un-graded can be had for a mere pittance when compared to the likes of Sandy Koufax, Roger Clemens, Nolan Ryan, etc. Go out and buy some 1989 Upper Deck PSA 10's. You'll be glad you did.
Rafael Palmeiro
"Raffy" is the poster-child for the "how many homeruns do I have to hit before people notice me" club. Palmeiro came into this season with 447 dingers under his belt and, barring any serious injury, will reach the 500 mark by early next season. The sheer "obviousness" of his impending feat forces us to ask the question, "Why doesn't he get any hobby love?" Granted, playing for the Orioles and the Texas Rangers isn't akin to being in a media spotlight, but Cal Ripken and Alex Rodriguez play(ed) for those respective clubs and they have become household names. It's always amazing to me that a guy who continually does his job better than everyone else, and without creating a stir, can be so invisible to collectors. Rafael's 1987 Donruss card is his best RC, and can be had in a PSA 10 grade for less than $125 bucks. Considering that this guy has showed no signs of slowing and is a first-ballot hall of famer, I think he's a steal.
Sammy Sosa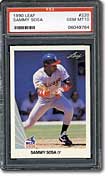 Well, I guess "Slammin Sammy" isn't exactly a hobby secret, nor can his better cards be purchased "for a song." The real reason I am including him on this list is because he will reach the 500 Homerun Club this year (510 would be my guess), and is my favorite to break Hank Aaron's all-time homerun record. I realize this is a bold statement, but take into consideration that Sammy is in great shape and has shown no signs of slowing down. There is no reason to think that he won't average 50-60 homeruns for the next 5-6 years. Sosa's 1990 Leaf card is fairly plentiful by hobby standards, but I guarantee you that, if he breaks the record, there won't be enough to go around. There is no reason to think that Sammy's Leaf PSA 10 rookies won't be $1,000 on the secondary market should he accomplish this feat.