astroNet's April 11-12 Chicago auction saw two of the fight game's most recognizable pieces of memorabilia go on the block. The first of the two historic pieces was, perhaps, the most important item of boxing memorabilia ever offered at auction – the fight trunks that The Greatest, Muhammad Ali wore when he first tangled with Joe Frazier in "The Fight of The Century" at New York's Madison Square Garden. The white trimmed red trunks garnered a whopping $99,445.


One of the most important pieces of boxing memorabilia in existence, these Ali worn trunks fetched $99,445.
The second item, fetching a staggering $81,812 dollars, was the powder blue and white satin robe that Ali wore when he entered the ring of the Araheta Coliseum in Quezon City, Philippines for his third and final duke out with Frazier. To be forever remembered as "The Thriller in Manila", the two aging warriors beat each other unmercifully on that October day in 1975. When it was over, The Greatest, who KO'd Smokin' Joe in the 15th round, said it was the closest he had ever come to death.
This robe, worn by Muhammad Ali when he took on
Smokin' Joe in The Thriller in Manila, sold for $81,812.
front back
The robe had been beautifully signed by Ali on the front right side with a black Sharpie. On the left pocket, using a ballpoint pen, Ali wrote "Frazier was the gorilla in Manilla – Muhammad Ali – 8/9/93".
Two incredible collections of vintage baseball cards also attributed to the success of MastroNet's April auction.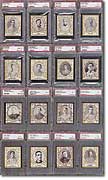 This elegantly designed complete T204 1909 Ramly set brought the gavel down at over $61K!
A collection of 120-year old N172 Old Judge cards, featuring 310 different player, closed bidding at $92,407 dollars. The cards, which all ranged from VG to NM, are part of an issue that is considered by some to be the ultimate baseball card set. There are over 2,000 cards, featuring more than 500 players, in the set. There is no known complete set in existence, and, no collector in the hobby has yet been able to amass one card of each player.
The second superb card offering was a complete T204 1909 Ramly PSA graded set that sold for $61,046 dollars. Considered to be among the most elegantly designed cards ever produced, the 121 cards of the Ramly T204 set include photographic portraits surrounded by gold-embossed oval frames. This offering included a VG 3 Johnny Evers, an EX 5 Frank Chance, an EX-MT 6 Joe Tinker and 15 cards, including the set's centerpiece card, a Walter Johnson, and a Harry Stienfeldt and Bobby Wallace in NR-MT 7.
A Cooperstown-quality item that came on the block was a Babe Ruth "notched" home run bat from the mid-to-late 1920s. The Bambino was known to "notch" his bats when it was used to send a ball over the fence. Very few of these "notched" Babe Ruth bats have surfaced. One is on display at the Baseball Hall of Fame and another resides in the H&B Louisville Slugger Archives. Small wonder MastroNet garnered $ 82,598 dollars for what was described as one of the finest Ruth bats to ever become available.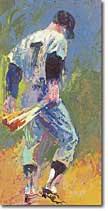 It took $56,670 to become the owner of this original LeRoy Neiman oil painting of Mickey Mantle.
Another item that received strong action during the auction was an original paining of Mickey Mantle done by famed sports artist, Leroy Neiman. Painted in 1965, this Neiman painting is one of only two that the artist ever did of the Yankee great to be offered at auction. The first to be sold, by Robert Edward Auctions in 1977, saw a winning bid of $108,000 dollars. This smaller painting, measuring 10½ inches x 21 inches, brought the gavel down at $56,670 dollars.
· · ·
Bidding was relatively light on Sportico's March 4-21 auction with a few unique items unable to garner an opening bid. Among those one-of-a-kind offerings that did not sell was a signed Los Angeles Dodgers uniform that Duke Snider wore in the 1976 Old Timers Day game which had an opening bid of $2,500, and a life-size plaster statue of Michael Jordan. The 7 foot 4 inch, 200-pound statue of Jordan had been used at Chicago's Nike Town to display Air Jordan shoes. The opening bid on the statue was $3,500.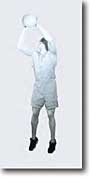 This life-size plaster state of His Airness failed to get an opening bid.
One Jordan item that did sell was the 1984 Collegiate Basketball Player of the Year Wooden Award that was presented to His Airness by the Los Angels Athletic Club. The same award, which was presented to Larry Johnson, sold for $10,000 which appears to make the $6,000 final bid on the MJ trophy a steal.
Perhaps the most unusual item Sportico made available during their March auction was a flannel Peaches jersey that was signed by 134 players from the All-American Girls Professional Baseball League.


Along with 133 other players, this jersey was signed by Dotie Schroeder, the only woman to play all 12 seasons in the All-American Girls Professional Baseball League.
The all-woman league, that inspired the film A League of Their Own, was established by chewing gum mogul and Chicago Cubs owner Phillip K. Wrigley during World War II. Among the 134 signatories to the jersey was Dotie Schroeder, the only woman to have played from the league's inception in 1943 to its demise in 1954.
The jersey sold for over $3,100 dollars.