et's play a little fantasy baseball...
It's October 2002 and you're the manager of a Major League Baseball team that is preparing to take the field for the seventh game of the World Series. To further the fantasy, you have the choice of any currently active pitcher to take the mound.
Who would you select?
What's that? You say that you would immediately narrow it down to two players, but that you just can't decide which one of the two to go with.
The strong arms of Randy Johnson (Photo courtesy
of VJ Lovero) and Pedro Martinez (Photo courtesy
of John Cordes) have strengthened the potential of their
cards, game used equipment and autographed items.
Well, here's a tip, as long as your two choices include the Arizona Diamondbacks' "Big Unit", and the man who hurls controlled fear for the Boston Red Sox, you should probably check your ring size so they can start crafting that piece of championship jewelry you'll soon be sporting.
Oh, and if by some chance you've been banned from watching baseball over the past few years, the names of the men behind those strong arms are Randy Johnson and Pedro Martinez.
There's just no doubt about it. If you were going into game seven of the World Series, it would be either Johnson of the World Champion Diamondbacks or Martinez of the Red Sox, who would be THE guy you would want on the mound.
From the National League side, Johnson is, simply put, the ultimate pitcher. To say he throws hard is a major league understatement. The guy just slings a ball in from the left like it was being shot from a cannon. His main weapons are a fastball that has clocked triple digits on the radar gun and an 89 MPH slider that starts out looking like a fastball, only to break onto a right-handed hitter's shoetops. He is also known to have a backdoor slider in his arsenal, along with a split-finger pitch and a two-seam fastball.
Last season, Johnson exceeded the accomplishments of his first two seasons with the Diamondbacks, and wound up garnering his fourth, and third straight, Cy Young Award. The 2001 season also saw him set a career high in wins and he piled up the third highest strikeout total in major league history. Although Johnson is only two years away from the "Big 4-0" he shows no signs of tailing off and is expected to continue to be a major force for batters to contend with in 2002.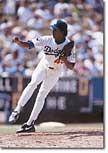 Many collectors may not realize that Pedro began his career in L.A. (Photo courtesy of John Cordes)
On the American League side, Martinez is perhaps the most dominating pitcher in the game. Despite the fact that he sports a wiry frame, in a position where most players are taller and heavier, his "stuff" has been compared to that of the legendary Nolan Ryan. The only difference is, it took Ryan years in the majors to perfect his control, while Martinez has had stunning control from the get-go.
"I've seen Nolan Ryan and Roger Clemens at their finest," said American League Umpire Larry McCoy. "Martinez has better control than either (of them). He throws about 2 or 3 miles per hour slower than they did, but he throws the breaking ball for strikes more often than they did."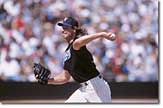 Johnson's upper-90's fastball made him a major force for batters to reckon with. (Photo courtesy of John Cordes)
That breaking ball has in fact been known to be a true knee-buckler. His fastball, which clocks in the mid-90s, runs in on right-handed hitters. His change-up is a killer, and he has an amazing slider and a great curve.
Coming into last season as the game's premier starting pitcher, his performance was a bit spotty due to a small tear in his rotator cuff. By August, he had hoped the injury had healed enough for him to return to making his high velocity deliveries to the plate. It had not, and while some wonder if his stunning performances are behind him, others say they expect Martinez to pitch as effectively as ever in the upcoming season.
The upcoming season may also be the one that inspires collectors to begin thinking of both Johnson and Martinez in a more serious way. "Up until now, neither Johnson nor Martinez have been as big with collectors as one may think," said Sports Market Report editor-in-chief, Joe Orlando. "But I believe that they both have great future potential, especially Johnson, who has slowly and steadily become a real force in Major League Baseball. He really sneaked up on everyone and has become a shoe-in for the Hall of Fame."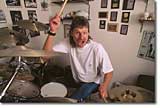 All business and totally in control on the mound, Johnson only gets wild when the uniform comes off. (Photo courtesy of VJ Lovero)
Quiet and shy, Johnson, who was born in Walnut Creek, CA and attended the University of Southern California, is perceived by many to be a bit arrogant. "That may be a very unfair perception," said Orlando. "He's just all business when it comes to baseball. He's not a personality player. He just does his job, and that may be why his collectibles are undervalued. But I see that changing and savvy collectors have already begun seriously looking at Johnson's collectibles – getting things now, while prices are still reasonable."
Collectibles pertaining to Martinez, who was born in Manoguayabo in the Dominican Republic and educated at Ohio Dominican College, are also currently available in fairly moderate price ranges, although his authenticated autographed items are commanding a higher price than may be expected. "That is because Martinez, like Johnson, does not make many personal appearances," Orlando reasoned. "Johnson has only done a few shows and signings here and there, but Martinez has done even fewer. He is a very private person and, because neither of these men have signed much, they are both very tough signatures by modern player standards."
The fact that a Pedro Martinez autograph is difficult to come by is a bit surprising when one considers that, in 1998, he told an Associated Press reporter that he can't understand why some players are less than gracious when asked for autographs. He went on in that interview to say that when he began playing in the major leagues he vowed to never turn down an autograph request. "It's an honor for me to be asked," Martinez told the AP reporter. "It means some of those guys look at me as somebody really special."


Martinez's unusual finger flexibility allows him to create incredible movement on his pitches. (Photo courtesy of VJ Lovero)
Whether Martinez is living up to his vow or not, Orlando points out that the reason why there are limited supplies of authenticated Martinez signed items on the market is simple: "It's just not being produced," he said pragmatically. "He may be graciously signing for fans at the stadiums, but he isn't doing very much as far as putting out authenticated material."
As for Johnson and Martinez game-used equipment and uniforms, there is a high demand for both, and dealers report strong sales whenever game-used items pertaining to either one surface.

Despite his wiry frame, Martinez is perhaps the most dominating pitcher in baseball today.
"That's not surprising at all," said Orlando. "I know that their game used jerseys are very much in demand, and pitcher's bats are always popular. That's because they are rare, and rarity is one major key to desirability and valuation. Pitchers make far fewer plate appearances, especially in the American League, so there is a high demand for these rare items."
As for sportscards, both Johnson and Martinez cards can be found in much more moderate price ranges than their game-used material. That probably has much to do with the fact that many experts in the sport's collectibles field opine that, while there is a significant crossover market for game-used equipment and sportscards, there is also a different mentality at play between the two genres.


Although he professes to be a willing signer, authenticated Martinez signed items are not easy to come by.
"When it comes to current player cards, a player's popularity is a major factor in the desirability," said Orlando. "That is why there are some extremely talented current day players whose cards see little demand. They may be great performers, but they are not necessarily great personalities. When you look to game-used items, however, popularity is not as important a factor as it is in cards. When it comes to game-used material, collectors tend to look more at the piece's historical significance."
Considering that most dealers agree, that Johnson and Martinez cards are currently very undervalued for their accomplishments, it would make sense that collectors should start looking at them now.
For Randy Johnson, the most desirable cards are, of course, his rookie cards, and the most valuable of the Johnson rookie cards is the 1989 Fleer Glossey #381. These cards were released in very limited numbers and are currently the most sought-after of Johnson's cards. Another Johnson rookie, the 1989 Topps Traded Tiffany # 57 was also released in limited numbers, although not as limited as the Fleer Glossy #381.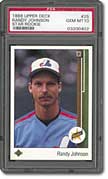 Experts feel that this 1989 Upper Deck Randy Johnson rookie card may be a wise investment.
Rounding out the top three Johnson rookie cards, is the 1989 Upper Deck # 25, which like the other two, may just prove to be a wise investment. While there is really nothing unique about the card itself, it was a part of a set that also included Ken Griffey Jr.'s rookie card. A few other Johnson rookie cards were produced, but the aforementioned are the most desired. With their prices being as moderate as they are, if you are in search of a Johnson card, it would make no sense to purchase anything other than one of these three.
As for Pedro Martinez cards, the 1992 Bowman #82 is THE Martinez card to own. One of the reasons it is the most popular is due to the fact that it is a part of an excellent set that includes the rookie cards of Carlos Delgado, Manny Ramirez and Mike Piazza. The 1991 Upper Deck Final Edition includes the #2 Martinez card. It is far from rare, but it is a popular card that can be easily found and purchased for an extremely modest outlay of cash. The 1992 Donruss Rookies set also includes a Martinez rookie – the #69. It is valued just a little bit higher than the #2 Upper Deck Final Edition, and is also quite easy to come by.
Although they have both come into their own as fierce competitors, neither Randy Johnson nor Pedro Martinez have reached the same level in the collectibles field as they have on the playing filed. Conventional wisdom, coupled with common sense, points to the fact that it will only be a matter of time before that changes. In the mean time, prognosticators in the collectibles field tend to agree that smart collectors have already shelled out a modest investment to procure and tuck away a few high-grade Johnson and Martinez cards.
Both men are closer to the end of their careers than they are to their beginning, and it's only a matter of time before the strength of their cards and collectibles catches up with the awesome strengths of their arms.