avid Louie grew up in the shadows of Shea Stadium in Queens, New York, so it's probably no big surprise to learn that he has been a life-long Mets fan. Today Louie lives across from Queens in Manhattan, but the separation of the East River has done nothing to diminish his love of the Mets, and more specifically, the lumber that has been swung by Mets players. When he isn't on the job, as a database administrator for a large financial services firm, he is sure to be looking for new wood to add to his Mets game-used bat collection. We recently caught up with Louie who was more than willing to share his collection with us.


These game used bats are just a part of Louie's collection of lumber from the starting line up of the 1986 Mets.
SMR: How and when did you first catch the collecting bug?
DL: I started by collecting baseball cards when I was a kid, back in the 1970's and 1980's. Then during the 1980s and 1990's I attended a lot of card shows run by folks like National Pastime and Double D Promotions. It was by attending these shows that I got to meet some of baseball's greatest legends such as Mickey Mantle, Joe DiMaggio and Ted Williams. It was also during that time that I started building a nice collection of signed balls and photos from every living HOFer. Then in 1990, I obtained by first game-used bat. It was a Ray Knight Worth bat from 1986. That bat started it all for me. From then on I decided to build a collection of game-used bats from every member of the 1986 Mets World Championship team.


A 1969 Bob Pfiel bat; a 1973 Duffy Dyer bat; a 1986 Darryl Strawberry bat and a 2000 Matt Franco bat can be found in Louie's collection.
SMR: What was so special about that team?
DL: 1986 was a magical year for the Mets and perhaps the most memorable baseball season for me, so I wanted to focus on memorabilia from that team. Having seen the way the sportscard market had become so saturated, I wanted to collect something different – something that was unique and special. A card is one thing, but holding a game used bat in your hands is an incredible feeling. Knowing that the bat you are holding was used by a player in an actual game – well, you just can't get that feeling from holding a baseball card or even a game-used bat baseball card.


Louie has four special hit bats that were used by Gary Carter when he hit five HRs in two games; his 250th HR, his 900th RBI and his 1500th hit.
SMR: How do you usually acquire bats?
DL: I've obtained some through dealers and auctions. All of the major Mets collectors kind of know each other and what each of us specializes in. We usually help one another when it comes to locating specific pieces, which sometimes leads to private transactions. e-Bay has also been a great source.


This poster and bottle of celebratory Champagne went from the Mets clubhouse during the 2000 Wild Card celebration to David Louie's collection.
SMR: What are some of your favorite or most unique pieces?
DL: My favorites are all highly unique and at the top of that list is a set of Gary Carter game-used bats from 1985 and 1986. These are the bats that he used to obtain several milestone hits in his career. Among them are his 1500th hit, his 900th RBI, his 250th homerun, and five homers in two games to tie a MLB record. I had intended to lend these bats to the Hall of Fame when Gary was inducted in 2003, however, Peter Clark informed me that Carter himself had sent more than enough memorabilia to fill up his display. One of the biggest thrills for me was getting to meet Carter at a show in 2003 and showing him and his agent, Mead Chasky, a photo of his bats that I own. They actually remembered them and were surprised that I had them in my collection. I am also very fond of my collection of a World Series player game bats from every World Series that the Mets have ever appeared in, 1969, 1973, 1986 and 2000. I have game-used bats from every member of the 2000 Mets team and I even have an empty Champagne bottle and a Budweiser poster from their clubhouse celebration. I also have what is probably the world's largest collection of Ed Hearn (Mets backup catcher in 1986) game-used memorabilia, which consists of five game-used bats and three game-used jerseys.


David Louie loves the lumber that was swung by the boys out at Shea.
SMR: Why are the Ed Hearn items so special to you?
DL: Ed Hearn has been a great inspiration to me. He was at the pinnacle of his career when he was a member of the 1986 Mets. Then, after he was traded to the Royals in 1987 for David Cone, he got injured and his career ended pre-maturely. Soon after his retirement, he encountered several life threatening ailments and has since undergone two kidney transplants. But through all that adversity, he was always able to find the strength to inspire others and keep a positive outlook. His inspirational story is outlined in his book "Conquering Life's Curves". Most ballplayers are admired because they can throw the ball 100 mph or hit a ball 500 feet, but to me, what Ed Hearn has done off the field has left more of an impression.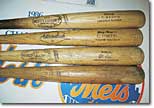 Louie has game-used bats from 1969 Mets stars Jerry Grote, Al Weiss, JC Martin and Ed Kranepool.
SMR: David, can you offer some advice for someone who may want to begin collecting game-used bats?
DL: Well, as with every high-end collectible, educating yourself is the most important thing. You can do that by reading books and articles on game-used bat collecting. There have been many articles written in various publications on different bats and their labeling. I clip all of those articles and save them for reference. I even save advertisements from most of the major bat dealers, and during the 1990s I saved all the auction catalogs for reference. "Sports Market Report" and PSA/DNA online articles on game-used bat collecting are a great source of information. I also feel that Vince Malta's book,"BATS", is THE game-used bat bible for HB & Rawlings bat collectors. I would also suggest that new collectors look at bats that are pictured in baseball cards and publicity pictures of players, and that they take notice of bats when they watch games. This is a great way to learn about bats and see what type of bat a player uses. I would also advise rookies to network with more seasoned collectors and of course, reputable dealers are always open to answering questions.


Capturing a special place in Louie's heart is his Ed Hearn collection that includes three game-used jerseys and five game-used bats.
SMR: What are your collecting goals from here?
DL: I've been very blessed to have acquired the pieces that I have in my collection. But still, like every collector, I have a Holy Grail. Actually I have two Holy Grails – a Rick Anderson and a Randy Niemann game used bat. Both were relief pitchers for the 1986 Mets. I've been in the hunt for those pieces for the past fifteen years, which is what makes collecting fun.
David Louie would love to hear from collectors, both rookies and seasoned vets. He would especially love to hear from you if you have a Rick Anderson or Randy Niemann game-used bat that you would be willing to part with. You can e-mail David at [email protected]