n the world of collecting, whom can you trust? Where can you get quality memorabilia? Consider the story of Harold Haley. The Boston native is an avid fan of the New England Patriots. Naturally, when the team won Super Bowl XXXVI, he searched for some sort of memento to commemorate the event. What could he possibly get? After searching on various online auctions, he stumbled across a game-used football signed by Otis Smith. It was the best find! He even won the ball for the bargain price of just over $300! After payment and receipt of the ball, there was something unsettling about it. His gut instinct proved him right. Haley submitted the ball to PSA/DNA, the Official Authenticator of the Super Bowl XXXVI Game-Used Footballs and discovered that the ball was in fact, a counterfeit! Every ball used in the game was marked by PSA/DNA with invisible synthetic DNA-laced ink that fluoresces green under a specially calibrated laser. Haley's ball didn't exhibit the mark. To make matters worse, the autograph by Otis Smith was deemed unlikely genuine by PSA/DNA. Two other facts suggest non-game use. All footballs are prepped and rubbed down thoroughly prior to the game, but Haley's ball didn't show any evidence of this. And finally, the ball did not show physical signs of any game-use traits. The foil Super Bowl XXXVI logo, somewhat delicate, easily cracks and flakes (imagine the wear and tear the football goes through in one simple play). Haley's ball exhibited a pristine logo. Without this information, how did Haley know something was wrong? Some tips he advises are: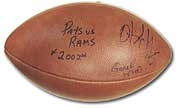 Counterfeit signature of
Otis Smith on Haley's football
1. If the deal seems too good to be true, more often than not it is.
2. Ask the seller for strict provenance or the exact chain of custody of how he/she came into possession of the item.
3. Ask for the PSA/DNA Certificate of Authenticity and verify the item.

Counterfeit Super Bowl XXXVI
Game-Used football
This year, for the fourth consecutive year, PSA/DNA is the Official Authenticator of the Super Bowl XXXVII Game-Used footballs. Over 100 footballs will be used in the game and marked. And for the first time, all NFL Pro Bowl game-used footballs and jerseys will be authenticated as well to protect future consumers. Each item will be tagged with the dna-ink prior to the game and verified with the laser after each use. A PSA/DNA Certificate of Authenticity with a serialized tamper evident label will accompany each ball and jersey. Moreover, all items authenticated can be verified online at www.psadna.com. Simply type in the seven-digit alphanumeric number. Information on the item, including a photo, will be displayed! It doesn't get any easier.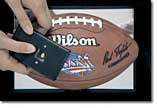 Genuine Super Bowl XXXVI Game-Used
football with invisible dna-laced ink
You can also consider purchasing items directly from NFL Auction on www.NFL.com. It is your only source for unique collectibles, memorabilia, one-of-a-kind items, exciting fantasy experiences — and much more — direct from your favorite NFL team through the official NFL Auction site on eBay. You'll find items here that are available nowhere else. All proceeds benefit the activities of NFL and Players Inc. charities. Bid with confidence because all products are guaranteed authentic by PSA/DNA.


Verify the authenticity of your
item on www.psadna.com.
So when you're looking for genuine game-used NFL memorabilia, take Mr. Haley's lesson to heart and ask the seller to Get Real! It will be your best move.