at Boone and Eminem are both singers. Black Truffles and Spam are both edible. The father of television's Nelson family had the same name as the father of television's Osbourne family.
Do you kind of get where we're going with this?
You can get from your home to the market in a Hyundai Excel just as quickly as you can in a Rolls-Royce Corniche. You can ring in the New Year with Kool Aid just as well as you can with Krug Clos du Mesnil Champagne, and, for all intents and purposes, the final destination on a golf course's green and the Grand Canyon are both holes in the ground.
The point here is, that just because people and things are characterized the same way, doesn't mean that they won't have great differences. Take, for example, the fact that the Oakland Raiders' Rich Gannon is a quarterback, just as was his childhood idol was Joe Namath. Both men came from the quarterback producing state of Pennsylvania and showed athletic promise from an early age. They each went on to learn how to throw a pass, handoff to a runningback, structure an offensive play and read a defense, and both were tapped to use those talents professionally.
That is where the similarities end and the light years of difference begin.
Gannon never cruised the watering holes and nightclubs of Broadway in a limousine. He has never lived in a penthouse with a lama rug, or done one thing to increase profits for the Johnnie Walker and Sons distillery. He has never been known to associate with fellas whom former NFL Commissioner Pete Rozelle once described as "undesirables", nor with platinum-haired young ladies who awoke to see him embracing the new day knowing that he had gotten better looking overnight. If Gannon has ever purchased a full-length fur coat it was for his wife Shelley. And, just like that coat, it's a pretty safe bet that the only pantyhose to be found in the Gannon home are Shelley's.
Still, despite the fact that Gannon's personal style is more in line with Middle America's Main Street than the Big Apple's Broadway, it was in fact Broadway Joe who served as young Gannon's role model, not by his extra-curricular activities, but by his talent and command on the field.
"Growing up I was a big fan of Namath's," Gannon says. "I liked his flamboyance. His self-confidence appealed to me."
To better grasp an understanding of Rich Gannon, one must start at the beginning, in Philadelphia. As one of six athletic boys, he grew up in a middle-class Catholic home where his foundation was built upon the teachings of family values and commitment to doing a job as well as it could possibly be done.
"I learned good values," Gannon says. "The value of hard work, dedication and discipline. Those are the things that I carry with me to this day."
They are the things, along with childhood memories of Joe Willie guaranteeing a victory in Super Bowl III, that have taken him from the field of St. Joseph's Prep to the stadiums of the NFL. They are the things that have seen him go from a forth-round draft pick out of the University of Delaware to a processional career that has seen him pass for over 20 thousand yards, rush for over 2 thousand yards and break longstanding records. They are the things that took him from being just another borderline journeyman quarterback to being the most indispensable player on the Raiders' roster.
"I (didn't come) into the National Football League with a sliver spoon in my mouth," says Gannon. "I have had to work for every opportunity I got."
Drafted in 1987, by the New England Patriots, who wanted him to play the safety position, Gannon balked and never suited up. He was traded to the Minnesota Vikings where he spent the following five years primarily roaming the sidelines with a clipboard, not a football in his hands, and a team cap rather than a helmet on his head. The chance to perform did however come, in 1992, when he started in all twelve games and led the Vikings to the NFC Division title.
Were the Viking's owners, coaches and fans impressed with that performance?
Hardly.
Following that season he was jettisoned to the Washington Redskins where things deteriorated so greatly that Gannon's career might have just faded away. A knee injury sidelined him throughout the Hog's '94 campaign. His shoulder had been damaged to an extent that surgery was a necessity, and by the end of the season he was out of work.
That was a major turning point in Gannon's life. Was it time to hang up the cleats permanently, or was there something left that he could offer another franchise?
Gannon had the strong feeling that there was something left.
He had learned that when things went right, the quarterback, perhaps unfairly, got too much of the credit. He also learned that when things went wrong, the quarterback, also perhaps unfairly, got all of the blame.
"I took my beating like a man," he said. "(The quarterback is) going to be criticized by other players, by coaches, by the media, by the fans. I think that at this position, in particular, experience is most important. I've been through a lot of fires."
By 1995, with the fire still burning in his belly, Gannon was determined that he could still ignite a team in the NFL and signed on with the Kansas City Chiefs as a free agent. The following two seasons however gave him little chance to do any igniting as he was once again relegated to the sidelines to tend the clipboard.
"You don't sit out of football for a year and become a starter," he has said of that time. "I had to work my way back onto the field and fight for the opportunity to play again. It took me a couple of years to get into that position."
By 1997, Gannon's hard work had begun to pay off and he earned nine starts of which he won six, which included a five-game streak that saw the Chiefs claim the AFC West title.
"I played quite a bit in my last two years in Kansas City, and finally catapulted myself into a position where teams were considering me a starter," he said.
One person who made that consideration was the Raiders' head coach, John Gruden, who offered Gannon the role of starting quarterback in 1999.
"I finally have a team I can call my own," Gannon said when he inked the contract with Oakland. "It is important for a starting quarterback to know he is going to line up behind the center every week and have a chance to compete and put his team in a position to win. That's my role and I take it seriously."
With that team of his own, Gannon finally came into his own, completing 304 of 515 passes for 3,840 yards and being named to his first Pro Bowl.
"Rich needed an offense that was the right fit, and John Gruden gave him one," said Tom Flores, former Raiders quarterback-turned-coach-turned-sportscaster. "He wouldn't have made it out of training camp with anyone else. Heck, he wouldn't have made it out of training camp if I was the coach. When I coached the Raiders, our first thought was always to throw down the field. But when I look at this team's offense, there's only one quarterback in the league that could run it. That's Rich."
While Gannon has perhaps not garnered the respect he deserves, his career with the Raiders has been impressive. In 2000 he threw 28 touchdown passes, the second highest in the AFC and the forth best in the franchise's history. That year also saw him chalk up a quarterback rating of 92.4, the third highest in the AFC. The following season he led his team to their second straight AFC Western Division title while completing a career high 65.8 percent of his passes. His rating escalated to 95.5 which ranked him first in the AFC and second in the NFL.
That performance earned him his third consecutive invitation to the Pro Bowl where he was named MVP for the second year in a row.
Still, despite the impressive stats, Gannon has never been glorified to even a fraction of the extent that ol' Joe Willie was, and it doesn't seem to bother him much.
Gannon, who classically lowers his eyes, shifts nervously from one foot to another and sort of mumbles when he speaks to reporters, says that his personal accomplishments are not paramount. "The most important thing for me is not to put up big numbers and not to go to Pro Bowls, but to put our football team in a position to win each Sunday. I feel like I have done that on a consistent basis over the last few years. Now is our job complete? No. Our ultimate goal is to win a world championship. We haven't done that yet, but we're working on it."
And boy is he ever working on it – diligently working on it – with the work ethic that was instilled in him as a kid. He is well known to be the first on the field and the last off for practice. He has also become the master of what is perhaps the most complicated playbook in the NFL.A playbook that describes the strategies for the leagues most intricate offense punctuated with a defense-boggling array of formations and shifts.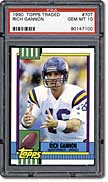 Running that kind of an offence takes experience and hard work, a fact that is extremely well known to Gannon's team mate, tight end Roland Williams. "For this offense, it doesn't work without a quarterback who can dissect defenses and call the right audibles," says Williams. "In this offense, you've got to have a quarterback who can run the whole ship."
In 2002 Captain Gannon did run the ship, leading the Raiders to their third straight appearance in the post season and eclipsing Warren Moon's 11-year NFL single season completion record to boot.
So, could it be that after all these years, that his coaches, his team mates, Raider fans and the media have finally been willing to give Rich Gannon the respect he is due?
It looks like it could happen!
Could Rich Gannon really be named the NFL's MVP? Could he cap off his career with a Super Bowl appearance? Could a Championship ring really adorn his finger? Could this guy actually be immortalized in Canton bronze someday?
The answer to those questions is (and who would have thunk it) that the possibility is there.
If all, or even any, of those things do become a reality, it will surprise the critics as much as it did the skeptics of yesteryear when they rolled their eyes as a brash young playboy guaranteed that such things were possible. It will prove that hard work and dedication really does pay off. And while Gannon clearly has those goals in his sights, he already harbors a sense of personal happiness and contentment that titles, records and rings would only enhance.
A golf enthusiast, Gannon also loves his collection of antique advertisements, juke boxes, old gas pumps, soda pop machines and classic cars which include a couple of Corvettes and a Shelby Mustang. He is a spokesperson for celiac disease, a gastrointestinal disorder that his youngest daughter, Danielle, has been diagnosed with, and one need only be around him for moments to realize that his family and his faith are the most important things in his life.
"When I first came into the NFL I had a lot of money and nice cars. I was single and I had everything I thought I ever wanted," says Gannon. "My first year in the league, I thought I was doing what I had always wanted to do and at the same time it was a total let down; it was disappointing. I realized all those things couldn't fill me up inside. They couldn't make me happy. I was missing something. So I decided to find out more about where I really was. I found out that I wasn't really walking with the Lord. My life has been so much better since I realized those things. It gave me focus and perspective. My faith is a major part of who I am and I want people to know that."
A low key, clean cut preppy-type, committed to his family and his faith –and this is the guy who was inspired my Namath!
That's right – and perhaps when Rich Gannon's career comes to an end, we will look back with a clearer perspective and realize that despite their differences, there were also quite a few similarities between the way the two quarterbacks prepared for and played the game. Perhaps we will finally see Gannon earn the respect that has so far been elusive. Perhaps it won't be so odd to see the name Gannon associated with Namath.
Still, even if he does garner that respect, one can be assured that no llama's will be shorn for floor coverings in the Gannon's home. Furriers should not be expecting him to come coat shopping. The Walkers need not assume that he will ever acquire a taste for their Red Label Scotch. And Shelley Gannon shouldn't lose any sleep over the thought of having to share her pantyhose.