The latest Mile High Card Co. auction sizzles with record prices on high-grade cards and memorabilia
Parker, CO.-Mile High Card Company's November 13th auction closed with a bang! When the gavel fell the final sales had grossed $556,784.00. The auction was fierce and hard fought for many of the high grade cards and key rarities contained within the sale. Company principal Brian Drent was unabashedly upbeat regarding the levels at which many items topped out at, summarizing the sale by stating "as a company we are extremely pleased with the overall performance of the material within this auction, and continue to see an upward trend in prices for ultra high grade examples of rare sportscards and memorabilia".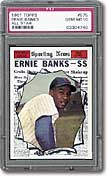 A stupendous array of high grade singles commanded extensive bidding and realized the following prices: 1911 Sporting Life (Blue Background) Nap Lajoie PSA 9 $7,416.00, 1911 Sporting Life Walter Johnson PSA 8 $4,033.00, 1934 Goudey #37 Lou Gehrig PSA 8 $10,189.00, 1964 Topps #200 Sandy Koufax PSA 10 $5,768.00, 1961 Topps #575 Ernie Banks AS PSA 10 $4,660.00, and a 1915 Cracker Jack #17, Roger Bresnahan PSA 8 found a new home at $3,487.00.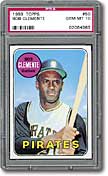 As amazing as some of those prices the following cards performed to equally strong levels led by: 1955 Topps #194 Willie Mays PSA 9 $5,227.00, 1965 Topps #510 Ernie Banks PSA 10 $8,763.00, 1969 Topps #50 Roberto Clemente PSA 10 $6,271.00, 1980 Topps Bird/Magic PSA 10 $6,495.00, 1933 Goudey #1 Benny Bengough PSA 7 $6,726.00, 1033 Goudey Bill Terry PSA 8 $4,164.00, 1935 Goudey Dizzy Dean (etc.) $2,737.00, 1950 Bowman #14 Alex Kellner PSA 9 $3,043.00, 1952 Topps #88 Bob Feller $4,878.00, 1953 Bowman #59 Mickey Mantle PSA 8 $4,180.00, 1956 Topps #135 Mickey Mantle PSA 8 $3,376, and a 1959 Topps #450 Ed Mathews PSA 9 $3,891.00.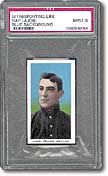 The select pieces of memorabilia featured within the 281 lot auction realized outstanding prices led by a mid 1920's H&B game used Babe Ruth bat selling at $24,653.00. Other leaders included a 1971-79 game used Mike Schmidt Adirondack bat $2,195.00 and a pair of 2003 game used Air Jordan Michael Jordan shoes for $4,485.00 as well a double figural stadium seat from the Polo Grounds for $5,822.00.
Mile High Card Company is planning an October auction as a follow up to this tremendously successful sale. The company is actively seeking quality consignments for the spring 2004 auction. For more information regarding Mile High Card Company and their auctions visit there website at www.milehighcardco.com or call (303) 840-2784.
It's Official – PSA Launches Turkey Red Cabinet (T3) Grading with a Bang!
It took some time to put the finishing touches on the super-sized PSA holder but they are finally done! These holders are constructed much like the PSA holders collectors are accustomed to; they are merely bigger – much bigger. The very first card to, in essence, inaugurate this service is considered by many experts to be the finest T3 in the hobby.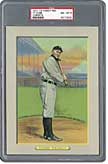 This card just happens to feature Ty Cobb! The response has been tremendous to the larger holder – the larger cabinet-style cards, which include more than just T3's, just look awesome housed in the new PSA holder.
In fact, in addition to the incredible Cobb, PSA has already graded some T3's for Mastronet's upcoming mega-auction in December. Keep your eye on some of those beauties. This particular issue has long been considered one of the most, if not the most, difficult and beautiful issues ever produced. Now that PSA is grading this issue with a high-quality holder, unlike other grading services, collectors are sure to take notice.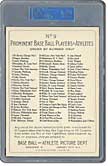 In the future, PSA will release a list of other issues that can be submitted for grading with this holder. In the meantime, T3's and any super-sized cards that measure very close to them (ones that do not currently fit in any of our existing Tall Boy holders), can be submitted for grading.
Before you submit non-T3's that fall into this category, please call to check with our staff to confirm sizing requirements.