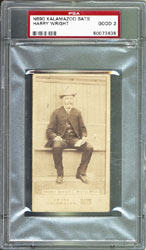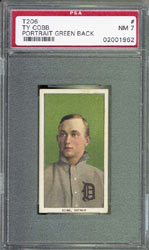 Mile High Card Company is pleased to follow up its record-breaking fall 2008 auction with a no less impressive offering of what may be the single most comprehensive selection of scarce, high-grade sports cards and collectibles offered in recent memory. Despite the global financial crisis, the success of Mile High's fall '08 auction helped to further establish the Colorado-based auction firm as one of the nation's leading and most trusted clearinghouses for premium sports cards and memorabilia, and the fruits of Mile High's continued success and hobby leadership have once again been expertly presented with engaging, no-nonsense descriptions in the sprawling 352 pages of its current Spring 2009 collector's catalog. Striving for nothing but unsurpassed levels of expertise and customer service, Mile High sincerely encourages interested bidders to communicate questions or concerns with the Mile High staff well in advance of the auction closing date of March 25th. The auction will be available online at www.milehighcardco.com or by phone at 303.840.2784 starting Monday, March 2nd.
PRE-WAR HIGHLIGHTS
In addition to an impressive offering of nearly every 1909-11 T206 White Border Hall of Famer in grades of NM 7 or better as well as a strong selection of "E" series caramel cards, high-grade T205 Gold Borders, Mecca Double Folders, and Hassan Triples Folders. MHCC is also pleased to offer E90-1 Joe Jackson example in PSA 2. Other pre-war highlights include a presentable 1887 N690 Kalamazoo Bats example of Harry Wright, the so-called father of professional baseball, as well as a 1909 T204 Ramly example of Bobby Walace, graded PSA 7. Rounding out Mile High's pre-war offering are PSA 8 examples of Lou Gehrig's 1933 DeLong issue and both of the Yankee Captain's 1934 Goudey issues.
POST-WAR
Among the most impressive pieces from Mile High's staggering selection of 80 plus post-war gems are PSA 10 GEM MINT examples of Sandy Koufax's second-year 1956 Topps issue, pristine 1959 Topps examples of Duke Snider and Gil Hodges, the hobby's single finest 1963 Topps Willie Mays, and a perfect copy of Mr. Cub's final and most challenging Topps issue, the one and only 1971 Topps Ernie Banks example ever graded PSA 10 GEM MINT. Other pop chart-topping baseball notables include the hobby's only 1963 Fleer Brooks Robinson in GEM MINT condition, the only known 1971 Topps example of Juan Marichal in GEM MINT, and the only known 1975 Topps second-year issue of Dave Winfield evaluated at the lofty PSA 10 tier. Ultra high-grade set collectors will be pleased, as usual, to encounter a wide-ranging selection of unique, low-pop, post-war commons in PSA 10 GEM MINT condition, and non-sport enthusiasts will be especially shocked and awed to see the first ever 1956 Topps Davy Crockett example in PSA 10 GEM MINT condition. According to the MHCC staff, it's a real "knockout."
Other post-war highlights include a perfectly centered example of Mickey Mantle's 1953 Topps issue graded PSA 8, a stupendous 1954 Topps example of Ted Williams graded PSA 9, an incredibly sharp 1957 Topps Brooks Robinson rookie graded PSA 9, a brilliant 1958 Topps Roger Maris rookie graded PSA 9, as well as drool-worthy examples of Roberto Clemente's and Sandy Koufax's challenging 1962 Topps issues, both graded PSA 9, and an exceptionally high-end (and borderline GEM MINT) example of Nolan Ryan's 1968 Topps rookie, also graded PSA 9.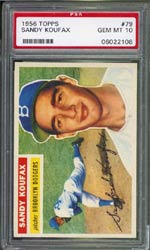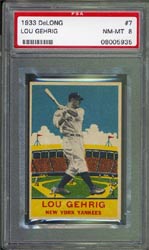 "PRESENTATION" SETS
Set highlights from Mile High's March 25th auction, in addition to the expected slew of completely graded, partially graded, and raw sets and groups, include an exceptionally high-grade 1934 Goudey near complete set with every card graded PSA 8, a partial set of (152) T205 Gold Borders, all graded PSA 5, the #2 finest 1952 Bowman Baseball SGC Set Registry, the #12 finest 1953 Topps PSA Set Registry, the #10 finest 1955 Topps All-American PSA Set Registry, a 1955 Bowman Football completely graded assembly boasting an impressive 8.03 GPA, a 1957 Topps Baseball set completely graded PSA 8 (as well as another '57 set completely graded PSA 7), the #5 finest 1961 Topps Football PSA Set Registry, and a 1986 Fleer Basketball set with every single card graded PSA 10 GEM MINT, one of just five such sets in the world. Finally, and directly hailing from the estate of a Hall of Fame baseball writer, Mile High is also extremely proud to offer a series of scintillating Topps Baseball "Presentation" Sets, complete with boxes, from 1959, 1961, and 1962.
MEMORABILIA, etc.
Included among Mile High's select offering of memorabilia are a sprawling 1912 Cleveland Naps Panoramic photograph featuring a young Joe Jackson, a profoundly scarce 1913 Fatima T200 Premium of Cleveland, also featuring a super-sized image of Joe Jackson, two beautifully framed team cut signature ensembles of both the 1927 and 1961 World Championship New York Yankees, and a remarkable Thurman Munson single-signed baseball graded PSA 8. Among the more intriguing pieces from Mile High's memorabilia selection include the world's only 1968 Topps Plaks complete set in 3-player sprue form and comprised of the very finest examples from Brian Drent's 2008 Topps Plaks find, as well as MLB's 250,000th homerun ball, launched into orbit by Gary Sheffield (his 496th career big fly) on September 8th, 2008.
NON-SPORTS
A sure sign of Mile High's dependability and increasing capacity for handling large, high-grade collections is clearly evident in the company's expansive Spring '09 non-sports selection of completely graded, partially graded, and raw sets and groups, many of which hail from a large Connecticut collection of pack-fresh and perfectly preserved issues spanning the 1930s to 1970s. Highlights include the #2 Finest 1953 Topps Who-Z-At Star PSA Set Registry, the #4 Finest 1953 Bowman Antique Autos PSA Set Registry, the #6 Finest 1956 Gum Inc. Adventure PSA Set Registry, the #4 Finest 1964 Topps Beatles Color PSA Set Registry, high-grade groups from 1939 War News and World in Arms, 1941 Uncle Sam and War Gum, and 1951 Bowman Red Menace, as well as a veritable compendium of incredibly high-grade (partially graded) sets, including 1950 Topps Bring 'Em Back Alive, 1950 Topps Freedom's War, 1953 Bowman Frontier Days, 1954 Topps World on Wheels, 1955 Topps Rails and Sails, 1956 Topps Davy Crockett, 1956 Topps Elvis Presley, 1957 Topps Planes Red Back, 1957 Topps Robin Hood, 1957 Topps Space, 1963 Topps Beverly Hillbillies, and a high-grade assembly of the highly coveted 1966 Topps Batman "Blue Bat" Set, among many others. Closing out Mile High's incredibly comprehensive catalog is a superlative array of PSA examples from the ever popular 1959 Fleer Three Stooges issue.
Registered bidders can expect Mile High Card Company's Spring 2009 Auction catalog to arrive at their doorsteps by the end of the first week of March. New bidders can register for the auction at www.milehighcardco.com or by calling 303.840.2784. According to Mile High President, Brian Drent, this may be the company's best work yet. MHCC was founded by Drent in 1996 and has grown to become one the country's leading buyers and sellers of premium sports cards. According to Drent, "We are as confident as ever in the tremendous amount of work our diligent staff has put into our current auction, confident in our expertise in selecting and presenting the material, confident in our consignors, and confident in our customers. Despite the economy, we're excited to prove to the collecting community, once again, that Mile High is firmly entrenched as the hobby's preeminent sports card auctioneer."