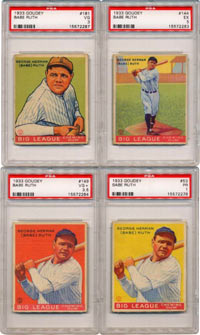 Clean Sweep Auctions' latest big auction closes on Wednesday January 28, 2009. The auction is live right now at www.cleansweepauctions.com. This auction features an outstanding mix of high quality vintage cards, autographs and memorabilia from all of the major sports. The auction also has many fine signed Presidential and historical and entertainment vintage signed items.
Special cards in this auction include 1933 and 1934 Goudey Complete Sets, 1903 T200 Baseball Comic Set, 1931 Metropolitan Studios Cardinals Complete Set, 1941 Play Ball Complete Set and near sets of 1935 Schutter Johnson and 1933 R337. Better single cards include an 1890 Cap Anson PSA 4, N28 Mike King Kelly PSA 3, E92 Crofts Cocoa Cy Young graded, T206 Walter Johnson graded and Cy Young, D304 Brunners Bread Johnny Evers PSA 1, E93 Ty Cobb PSA 3, 1941 W754 Cardinals Branch Rickey PSA 9 and many fine 68 - 69 Kahns PSA graded cards, including two tens!
Autograph collectors can choose from items signed by Christy Mathewson, Urban Shocker, Hack Wilson, Abner Doubleday, Babe Ruth, Lou Gehrig, Mel Ott, Ty Cobb, Walter Johnson and many more. There are hundreds of great single signed balls (including a vintage example of the newest HOFer Joe Gordon) and some wonderful team signed baseballs, including a 1934 Yankee, 1936 Yankee, 1937 American League All Star and a 1941 Red Sox with Ted Williams.
Baseball memorabilia collectors can choose from World Series Trophies from the 1975 Reds and 1996 Yankees, some interesting rings and World Series programs and other rare scorecards going back to the 19th century.
Key items from the other major sports includes framed golf collages, including one with a 19-year old Tiger Woods autograph from his first tournament, a Bobby Jones signed book, a Four Horseman framed display and a wealth of signed flats.
Our auction closes on Wednesday, January 28, 2009. Bids are welcome by phone 516-338-8557 Monday through Friday 9 a.m. - 5 p.m. EST. You may also bid via our website at: www.cleansweepauctions.com. Initial bids must be placed by 6 PM EST on Wednesday January 28 and the ten minute rule begins at 11 PM EST.
If you have never bid in one of our auctions, enjoy the tranquil experience of never having to bid against a hidden reserve or the owner of the lot.